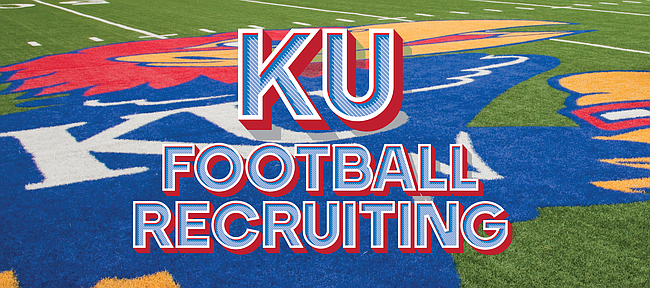 The Kansas football coaches' 2020 recruiting class already boasted commitments from prospects residing in Texas, Oklahoma, Louisiana, Alabama, Michigan, California, Minnesota, Iowa, Ohio, Missouri and Kansas. Now they can add Florida to the list.
Chris Jones, a three-star prep defensive end according to Rivals, announced Sunday night his commitment to the Jayhawks.
"I am truly blessed to say that I will be committed to Kansas University, where I can showcase my talents," Jones, from Coconut Creek, Fla., wrote in a tweet that revealed his decision.
Listed at 6-foot-4 and 217 pounds, Jones reportedly had also received scholarship offers from Florida State, Nebraska, Maryland, Penn State, Central Florida and several other programs before declaring his intentions of playing at KU.
Jones traveled to Lawrence in late July for a Les Miles camp, as reported previously by Jayhawk Slant.
"The people are great and the atmosphere here is different from anything I've seen," Jones told Jon Kirby of Jayhawk Slant a few weeks back. "Everyone here is so nice."
https://n.rivals.com/news/chris-jones-has-ties-to-ku-program-talks-about-visit
The newest verbal pledge for KU brings the program's 2020 recruiting class to 24 strong — all of them are high school prospects.
All verbal commitments, of course, are nonbinding. The earliest any of KU's recruits can sign and make their ties to the program official is December.
2020 KU football recruiting class
- Verbal commitments
• Brennon Scott - 4-star LB from Texas
• Duece Mayberry - 3-star CB from Oklahoma
• Jackson Stoefen - 3-star OL from Iowa
• Keenan Hambrick - 3-star WR from Alabama
• Trevor Kardell - 3-star TE from Missouri
• Will Huggins - 3-star TE from Kansas
• Krishawn Brown - 3-star LB from Oklahoma
• Khari Coleman - 3-star DE from Louisiana
• Garrett Jones - 3-star OL from Michigan
• Ja'Cobee Bryant - 3-star CB from Alabama
• Malik Johnson - 3-star WR from Texas
• Caleb Taylor - 3-star DE from Missouri
• Kenean Caldwell - 3-star DT from Louisiana
• Jaylin Richardson - 3-star athlete from Kansas
• Taiwan Berryhill - 3-star LB from Louisiana
• Lawrence Arnold - 3-star WR from Texas
• Chris Jones -3-star DE from Florida
• DaVonshai Harden Jr. - 2-star QB from Kansas
• Luke Grimm - 2-star WR from Missouri
• Tommy Brandt - 2-star OL from Minnesota
• Juan Jarrett - 2-star LB from Ohio
• Nicholas Martinez - 2-star OL from California
• Kyler Pearson - 2-star WR from Oklahoma
• Daniel Hishaw Jr. - 2-star athlete from Oklahoma
More like this story on KUsports.com