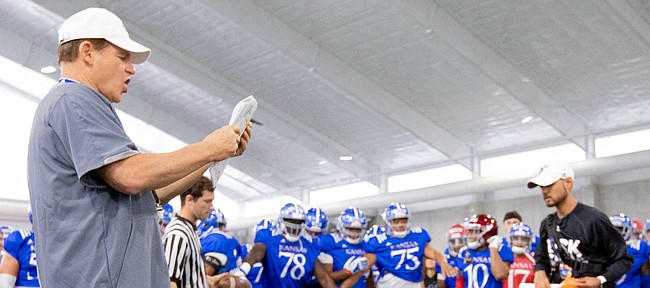 With three weeks left before he leads the Kansas football team onto the field for a game for the first time, Les Miles and his assistants spent much of Saturday's practice in scrimmage mode, trying to gauge how far away the Jayhawks are from being ready for the season.
While what Miles witnessed didn't strike him as flawless, the head coach mostly reported favorable takeaways from the scrimmage.
According to Miles, the first team offense and defense went through 42 plays during KU's eighth August practice, and some third team players got in "25 reps or so."
With the closed practice including what the coach described to reporters as "a lot of special teams," Miles said overall the scrimmage "probably" featured about 110 to 115 plays.
Although the offense's quarterback competition remains unresolved, Miles spoke favorably of the play of junior Thomas MacVittie, senior Carter Stanley and even freshman Torry Locklin on Saturday.
Photo Gallery
Kansas Football Practice-Friday Aug. 9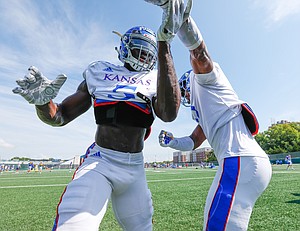 View a gallery of photos from Friday's Kansas football practice
He came across even more upbeat about the KU running backs. Per Miles, sophomore Pooka Williams, junior Dom Williams, senior Khalil Herbert and freshman Velton Gardner "really all contributed" to the offense's scrimmage success.
"And we rushed the ball for about 200 yards," Miles added. "No fumbles, no turnovers."
During a post practice interview, Dom Williams pointed to a deep ball from Stanley to junior receiver Stephon Robinson as likely the biggest highlight for the offense.
Williams thought the running back unit more than held its own, too.
"Just a lot of plays from me, Khalil and Pooka," the junior said of the offense's other bright spots. "A lot of exciting plays."
KU's latest practice, Dom Williams went on, showed to him that the offense is accomplishing many of its objectives this preseason.
"I feel like what stood out was us being able to run the ball and pass efficiently, and be able to balance it out," Williams said.
The Saturday scrimmage, junior receiver Andrew Parchment said, proved to be more extensive than the Jayhawks' first one of camp, earlier in the week.
"Today ramped up a little bit more," Parchment said. "I feel like we're getting closer and closer to game time, so implementing new plays and stuff like that. Just trying to get connection with the offensive line, quarterbacks, things like that. So today was a lot longer scrimmage, getting ready for our opponent, because August 31st (KU's season opener versus Indiana State) is coming up real quick."
The scrimmage, Parchment related, included a lot of situational work. The offense started, he said, at its own 20-yard line with 80 yards to cover. Later came third down, fourth down and short, and red zone scenarios.
"Pretty much just getting ready for Indiana State right now," Parchment said.
Defensively, Miles highlighted the play of just a couple of individuals. Sticking with his theme throughout camp so far, the coach spoke highly of some linebackers.
"We had some guys that really kind of showed up for the first time," Miles said. "Gavin Potter, freshman from out of Oklahoma, played extremely well. Had a couple of tackles."
Miles also singled out junior linebacker Dru Prox for "another really quality performance."
KU's coach didn't terminate his scrimmage conversation, though, without referencing the errors he saw and pointing out how problematic they were.
"Defensively, too many penalties. Offensively, too many penalties," he said, adding that the offense got flagged "about" three times and the defense picked up six penalties.
Even so, just as he did in the spring and during more recent camp interviews, Miles repeated that he likes this team.
"I like where we're at," he said. "And we're three weeks away from playing football games. I think we're all kind of looking forward to it."