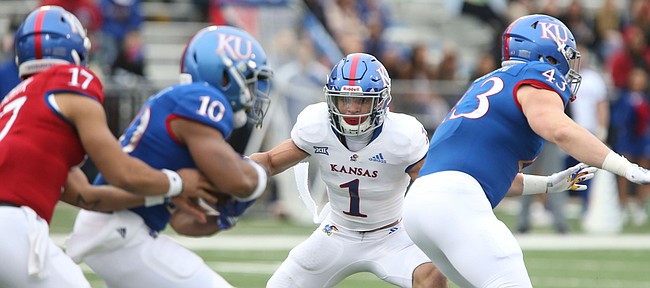 Even though camp practices this August haven't been "too different" compared to the previous three years, senior safety Bryce Torneden said he is still cognizant of what this preseason means.
"I mean, obviously it's my last one, so I'm trying to take everything for what it is," Torneden said Thursday during post practice interviews. "I know I'm not going to get this whole experience again."
While it may not feel different now, Torneden's role as a senior for KU football has changed even before the first kickoff of the season, on Aug. 31.
KU football coach Les Miles said he immediately saw Torneden, a Lawrence native and Free State High graduate, as a leader, and has made efforts to include him further in team decisions.
Photo Gallery
Kansas Football Practice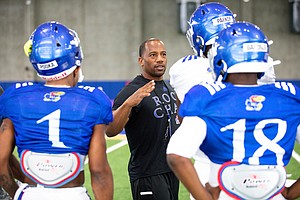 View a gallery of photos from Thursday's Kansas football practice.
Miles created a unity council, which serves as a collective of players to speak for the team and discuss what the Jayhawks want to accomplish this season. Players voted for two leaders at each position, and senior left tackle Hakeem Adeniji and Torneden were chosen as the leaders of the council.
On the player side, Torneden said the inclusion already has made a difference and being selected as a leader "means a lot" to him personally.
"We're kind of the voice of the team, so just having that input and being able to talk to coach about some of our needs as well as talking to the team about what he needs," Torneden said. 
Miles described Adeniji and Torneden as players who have "bought in" to what KU wants to improve upon this season.
"I think that when you have leaders who buy in to what you're trying to get accomplished, it becomes a much easier transformation, because everybody wants to and everybody's saying the same thing," Miles said. "'We're going to do hard things for people in this room. We're going to do small things better than anybody.'"
And Torneden said the small things have been a focal point during camp, particularly on the defensive side of the ball. Torneden said the team is still in the beginning stages scheme-wise, but the defense is "settling in" nonetheless.
Photo Gallery
Kansas Football Practice-Friday Aug. 9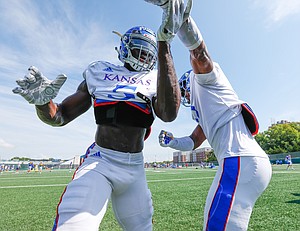 View a gallery of photos from Friday's Kansas football practice
"We haven't installed too much, just starting fall camp, but I think we're flying around, hustling and we're doing the little things right that coaches shouldn't have to teach," Torneden said.
The tempo also increased at practice, particularly on Thursday, which Miles described as a "get after it practice." 
"And that's how they've conducted business this entire camp schedule," Miles said.
Torneden also has noticed the overall intensity and play step up, particularly from safeties Davon Ferguson and Jeremiah McCullough. Torneden said McCullough has a noticeable "confidence and swagger" in the way he plays.
"Obviously fall camp's not an easy feat for anybody, so just having that tempo kind of makes us continue to push and have that energy," Torneden said. 
In the absence of former defensive leaders such as Joe Dineen, Daniel Wise and Keith Loneker Jr., Torneden is a veteran who other Jayhawks will look to for guidance and leadership. Whether it's through the unity council or play on the field, Torneden said he's "confident in the way the team's coming together" and looking forward to opportunities to best help the team.
"I think it's just every day being a servant leader, putting others in front of yourself — teammates, coaches. Doing what you do to serve the team best," Torneden said. "Through that I think you kind of become a leader and become more vocal. Guys look up to that."