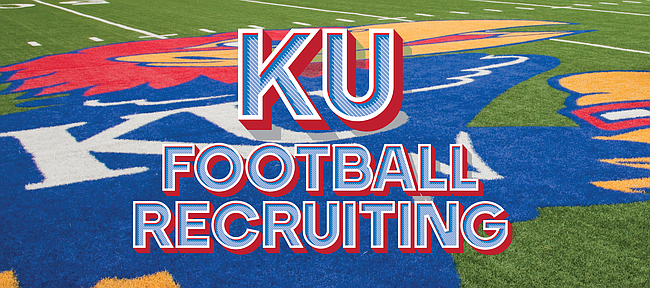 For all of the Kansas football program's recruiting success this summer, as it stacked up new commitments in bunches, the Jayhawks' 2020 class lacked a marquee talent.
Until Tuesday night.
Even though four-star Dallas linebacker Brennon Scott's list of five finalists included programs synonymous with college football success — Texas, USC, Auburn and Oregon — Scott ultimately decided to commit to KU.
Scott, recruited by KU receivers coach and Dallas native Emmett Jones, announced his allegiance to head coach Les Miles' program on Twitter, sharing his plans to "make a name for myself regardless of what people think."
Listed by Rivals at 6-foot-2 and 233 pounds entering his senior year at Bishop Dunne, Scott racked up scholarship offers from more than 30 schools before choosing KU. Along with his aforementioned finalists, Scott also possessed offers from LSU, Oklahoma, Nebraska, Missouri, Kansas State, Georgia, Florida, Arkansas and Arizona, among others.
He reportedly took official visits to not only Kansas but also USC in June.
According to an interview with Rivals' Sam Spiegelman, Scott chose KU because he though it provided him with "the best opportunity for me to play early and get my feet wet early in college football."
Scott also told Rivals: "It was a tough decision, because I have many good schools and — normally people wouldn't even look at Kansas — but by giving them a shot and knowing what they could do for me was a big help."
Scott, currently ranked by Rivals as the 24th-best outside linebacker in the nation, immediately became the most lauded prospect in KU's 2020 class.
His nonbinding pledge to Kansas gave the program and Jones their second Dallas area commitment in as many days, following three-star receiver Lawrence Arnold, of De Soto, Texas, announcing on Monday his intentions to join KU.
The Jayhawks now have 23 high school seniors lined up to potentially sign. Three of them — Scott, Arnold and three-star receiver Malik Johnson — hail from the Lone Star State and were recruited by Jones.
Miles explained earlier this summer why finding players from the Dallas metroplex is important to him.
"Well, one, it's really kind of close," Miles began. "And we have several coaches — Emmett Jones, certainly one — that have contacts in the Dallas area. And I think that's key."
KU's head coach, as one would expect, has recruited players from Texas for years, dating back to his former head coaching stops at Oklahoma State and LSU, in particular.
"They're playing football at a place where high school football is important," Miles said of one appealing factor of finding recruits from Texas, "and then, the next level, college football is important."
All verbal commitments, of course, are nonbinding. The earliest any of KU's recruits can sign and make their ties to the program official is December.
2020 KU football recruiting class
- Verbal commitments
• Brennon Scott - 4-star LB from Texas
• Duece Mayberry - 3-star CB from Oklahoma
• Jackson Stoefen - 3-star OL from Iowa
• Keenan Hambrick - 3-star WR from Alabama
• Trevor Kardell - 3-star TE from Missouri
• Will Huggins - 3-star TE from Kansas
• Krishawn Brown - 3-star LB from Oklahoma
• Khari Coleman - 3-star DE from Louisiana
• Garrett Jones - 3-star OL from Michigan
• Ja'Cobee Bryant - 3-star CB from Alabama
• Malik Johnson - 3-star WR from Texas
• Caleb Taylor - 3-star DE from Missouri
• Kenean Caldwell - 3-star DT from Louisiana
• Jaylin Richardson - 3-star athlete from Kansas
• Taiwan Berryhill - 3-star linebacker from Louisiana
• Lawrence Arnold - 3-star receiver from Texas
• DaVonshai Harden Jr. - 2-star QB from Kansas
• Luke Grimm - 2-star WR from Missouri
• Tommy Brandt - 2-star OL from Minnesota
• Juan Jarrett - 2-star LB from Ohio
• Nicholas Martinez - 2-star OL from California
• Kyler Pearson - 2-star WR from Oklahoma
• Daniel Hishaw Jr. - 2-star athlete from Oklahoma