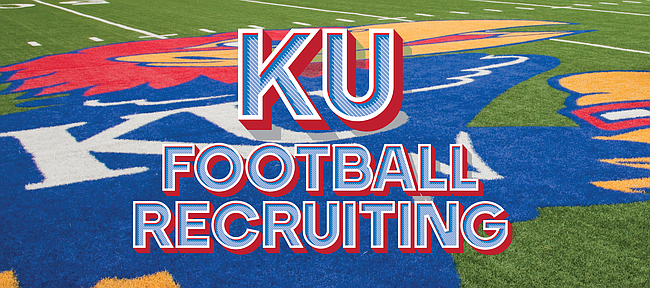 The massive recruiting weekend enjoyed by the Kansas football program in late June is still paying dividends for the Jayhawks more than a month later.
One of the numerous visitors to Lawrence the weekend before KU's 2020 recruiting class exploded with nine new commitments in a span of five days earlier this summer, Texas high school receiver Lawrence Arnold announced Monday his intentions to join Les Miles' program, as well.
Arnold made his decision known on Twitter, declaring himself "110%" committed, in a post that included both a photo of him decked out in a full KU uniform and a KU-produced graphic representing his scholarship offer.
Recruited by KU receivers coach Emmett Jones, Arnold is from De Soto, Texas. Rivals rates Arnold as a three-star prospect at wide receiver and lists him at 6-foot-4 and 175 pounds.
Arnold reportedly also had picked up offers from Cal, Colorado, Iowa State, Kansas State, Missouri, Wisconsin and other programs.
As reported earlier this summer by Jon Kirby of Jayhawk Slant, Arnold has known Jones since the now KU assistant worked at Texas Tech.
"Coach Jones is my guy," Arnold told Jayhawk Slant in June. "I've known Coach Jones for a long time and just being around him is a good feeling. He has always kept it real with me and told me how it is. I can see him as my coach."
KU now has 22 players in its 2020 recruiting class, 15 of which are rated as 3-star talents.
All verbal commitments, of course, are nonbinding. The earliest any of KU's recruits can sign and make their ties to the program official is December.
2020 KU football recruiting class
- Verbal commitments
• Duece Mayberry - 3-star CB from Oklahoma
• Jackson Stoefen - 3-star OL from Iowa
• Keenan Hambrick - 3-star WR from Alabama
• Trevor Kardell - 3-star TE from Missouri
• Will Huggins - 3-star TE from Kansas
• Krishawn Brown - 3-star LB from Oklahoma
• Khari Coleman - 3-star DE from Louisiana
• Garrett Jones - 3-star OL from Michigan
• Ja'Cobee Bryant - 3-star CB from Alabama
• Malik Johnson - 3-star WR from Texas
• Caleb Taylor - 3-star DE from Missouri
• Kenean Caldwell - 3-star DT from Louisiana
• Jaylin Richardson - 3-star athlete from Kansas
• Taiwan Berryhill - 3-star linebacker from Louisiana
• Lawrence Arnold - 3-star receiver from Texas
• DaVonshai Harden Jr. - 2-star QB from Kansas
• Luke Grimm - 2-star WR from Missouri
• Tommy Brandt - 2-star OL from Minnesota
• Juan Jarrett - 2-star LB from Ohio
• Nicholas Martinez - 2-star OL from California
• Kyler Pearson - 2-star WR from Oklahoma
• Daniel Hishaw Jr. - 2-star athlete from Oklahoma