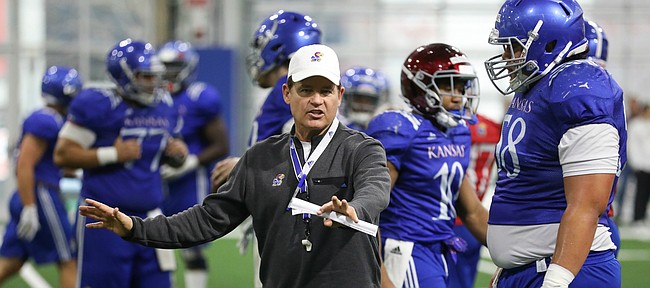 Early preseason impressions don't win college football games, but the ones made by Kansas football players on their head coach this week seemed to reveal that the Jayhawks opened camp right on track.
Minutes after walking out of the team's indoor practice facility on Friday for his first camp press conference, Les Miles opened his session with reporters by declaring the Jayhawks looked "a lot better" during their first practice since April.
"They had a strong summer and it's obvious that they worked on our offense, defense and special teams. And we're better," Miles announced during a brief opening statement that followed a closed practice. "I like it. I like my team. I'm proud of their efforts."
The first two preseason practices don't include shells or pads under the player's jerseys and shorts, so the work put in doesn't involve the physicality and pounding that will come in the weeks ahead. To get the players prepared for what's next and keep the team on pace preparation wise, Miles said he and his staff outlined specific objectives to accomplish.
"Here's what you do," the former LSU and Oklahoma State coach began. "You work on things that are space oriented. In other words there's no reason for you to line up in a bunch and do a bunch of in line smacking and hitting and stuff. It just doesn't make any sense. So what you do is we started with two-minute," Miles said of Friday's practice. "And we did scramble drill and we did really a number of things designed to view what this team's going to be like in space. It took a lot of different situations but it was really productive."
After two practices in shorts on Friday and Saturday, KU players will add shells to their gear for Sunday and Monday before full pads are introduced for the fifth practice on Wednesday.
Throughout camp, of course, the Jayhawks will prepare for the season by reviewing and aiming to perfect every play they might run in a game. A bulk of the installation work for KU's offensive and defensive plays was completed during the team's 15 spring practices, according to Miles.
"I don't know what percentage that was, but there's some more to do," he added.
Leading up to KU's Aug. 31 opener at David Booth Kansas Memorial Stadium against Indiana State, Miles said the plays the team will focus on at practices will be the ones they expect to rely upon during nonconference play.
"This month we'll have to deal with installation as we look at three opponents," KU's coach said, referencing ISU, Coastal Carolina and Boston College. "It will be the things that we've done in the past and the things that fit game plans."
While Miles didn't put a ballpark number on it, he suggested there won't be a ton of new plays introduced during camp.
"I think we're about where most of my teams have been, in position to put a couple more things in and make a difference," Miles said.
In total, KU will practice 19 times before they enter game week preparations and practices for their debut versus Indiana State. Coaches and players alike, naturally, will have to plug away through it all and hit a number of checkmarks along the way if the Jayhawks want to experience a more successful season than what the program is used to.
"The game that is of this length, it's always the amount of mistakes that you make versus your opponent," Miles replied, when asked to identify the most important thing he hoped to get done during camp. "If I can make a down payment on less pre-snap penalties, less holding penalties, less extended plays… I guess what I'm saying is if we can stop pre-snap penalties, post-snap penalties and we make sure we takeaway and not turn over, oof, we'll be a really good team."