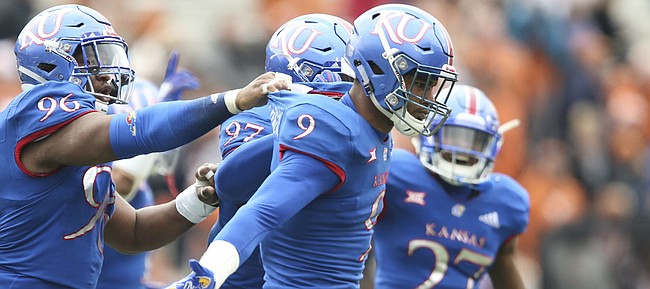 For a man who lost a potential starting linebacker ahead of preseason camp, Kansas football coach Les Miles came across as more upbeat than worried about the position following his team's first practice on Friday.
Although Miles declined to get into what exactly led would-be KU junior Drew Harvey to leave the program and enter the transfer portal, saying all he could divulge was that Harvey isn't with the team any longer, the head coach named a few linebackers he thinks he can trust in senior Najee Stevens-McKenzie, junior Kyron Johnson and sophomore Hayden Hatcher.
A reserve linebacker during his first year at Kansas, in 2018, Harvey seemed to be in contention for a starting job this fall after taking first-string reps in the spring and making 4.5 total tackles in the spring game.
In the absence of Harvey, who appeared on KU's roster as recently as Thursday and was listed at 6-foot-1 and 230 pounds, the defense could end up relying on a pair of athletic veterans at linebacker.
When asked while fielding questions at a press conference to assess the state of the position group, Miles began by talking up Johnson and Stevens-McKenzie.
"Kyron Johnson we moved from outside to inside, and I think he's going to be a difference," Miles revealed of Johnson, previously listed on the roster at the hybrid "Hawk" position.
A speedy junior from Arlington, Texas, in 2018 Johnson started seven games, played in all 12, and finished with 16 total tackles, four tackles for loss, two sacks, two forced fumbles, two pass breakups and one fumble recovery.
"And I think Najee really has had a nice summer," Miles went on, "and should be prepared to play significantly."
Still listed at "Hawk," Stevens-McKenzie, a senior from Cleveland, Ohio, played in 11 games for KU in 2018, his first year with the program after playing at the junior college level. A year ago he was credited with one tackle and intercepted a pass.
Miles also pointed to a newer member of the program, Hatcher, a sophomore who transferred in this summer from Iowa Western Community College, as a possible answer at linebacker.
"I think that he's going to be a talented guy in our defense once he learns the system," KU's coach added of the 6-3, 201-pound Council Bluffs, Iowa, native.
With one less body at linebacker, the avenue to playing time for freshmen Steven Parker and Gavin Potter looks a little wider now, too.
A four-star Class of 2019 signee from Dallas, Parker, according to Miles, "can really fly" at outside linebacker.
"I think he's somebody who will play significantly," Miles predicted regarding Parker, noting the 6-4, 220-pound freshman was the Texas 6-5A Player of the Year as a senior at South Oak Cliff High.
At 6-2 and 205 pounds from Broken Arrow, Okla., Potter was an all-state linebacker and three-star prospect before signing with KU.
"So I think both of those guys can play significantly, given an opportunity to learn," Miles estimated. "They'll take advantage of it."
Other linebacker options on the roster — there are 14 listed in total — include junior Dru Prox, senior Denzel Feaster and sophomore Cooper Root.
Pooka returns to practice
Friday's practice marked the first one for sophomore running back Pooka Williams since the end of the 2018 season.
Miles suspended KU's star rusher from all team activities after Williams was arrested this past December and charged with domestic battery. Williams later reached a diversion agreement in the case.
Williams didn't practice with KU football during the spring, but he was in attendance at David Booth Kansas Memorial Stadium for the spring game, watching from the bleachers.
The victim in the case told a KU police officer that Williams punched her in the stomach and grabbed her throat. The officer found the victim had bruises on her arms and side, according to the affidavit. She also showed the officer text messages from Williams admitting to punching her in the arms.
After reinstating Williams, a preseason All-Big 12 running back, in July and announcing with athletic director Jeff Long that the sophomore would be suspended for KU's season opener, Miles has described Williams as "remorseful" and someone who is taking responsibilities for his misconduct.
On Friday, after seeing Williams practice in person for the first time, Miles said the team's best offensive player was "so glad" to be back with the program.
"Back to sweating in a football uniform and just being a part," Miles reported. "We've kept him kind of away from play, because he's not going to play in the first game. But it hasn't stopped him from smiling and enjoying being with us."
KU players were not made available for comment on Friday.
Dineen makes NFL preseason debut
The Jayhawks' leading tackler each of the previous two seasons, Lawrence native and Free State High and KU graduate Joe Dineen played in his first NFL preseason game Thursday night.
An undrafted free agent who landed with the Denver Broncos, Dineen played as a reserve inside linebacker in the league's annual Hall of Fame exhibition in Canton, Ohio.
In a 14-10 Broncos victory over Atlanta, Dineen, who wore No. 53, picked up a solo tackle and an assist while playing in the second half.
His first preseason contribution came in pass coverage, as Dineen forced Falcons receiver C.J. Worton out of bounds after a reception.
Later, Dineen teamed with Broncos defensive lineman Mike Purcell to stuff Atlanta running back Qadree Ollison for a three-yard loss in the fourth quarter.
The Broncos' next preseason game is Thursday at Seattle.