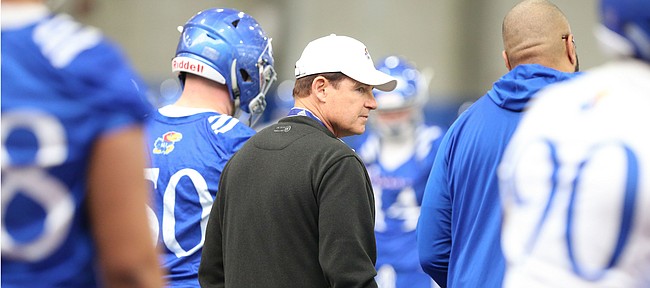 It was expected, but that doesn't necessarily mean it was easy to see.
For the ninth year in a row, the Kansas football team was picked to finish last in the Big 12 conference in the preseason poll as voted on by media members. Most KU seniors were in junior high the last time the program didn't have such lowly expectations entering a year.
Yet the Jayhawks don't seem concerned by the outside perspective, at least according to the players asked about the preseason poll during Big 12 Media Days in Arlington, Texas.
"I feel like the doubters are going to doubt us," KU senior safety Mike Lee said. "We just have to prove them wrong. We have to prove we can compete and go out there and win a lot of games. It doesn't change that because of the poll."
On the surface, it makes sense that Kansas was listed last once again. The Jayhawks have finished at the bottom of the Big 12 conference in seven of the previous eight seasons, with a ninth-place finish in 2014 being the lone exception.
Kansas has not won multiple Big 12 games in a single season since 2008. The last time KU was picked somewhere other than 10th in the Big 12 was 2010, when the conference still had two divisions and 12 teams.
"I don't put too much interest in it. I don't wait up for them," Kansas senior safety Bryce Torneden said of preseason polls. "I look at them in general. Obviously it comes up, but we have to work every day regardless if you are at the top or the bottom. You have to put in the work."
While KU players don't seem to be using the preseason poll as billboard material, it is clear that the seniors expect the results to be different in 2019.
The biggest reason for that belief is Les Miles, of course. Miles has provided the program with plenty of optimism since becoming the head coach this offseason, especially given his success at both LSU and Oklahoma State.
It also helps that three other programs are experiencing coaching transitions at the same time. Kansas State, Texas Tech and West Virginia all have new head coaches this season. All teams under new leadership were picked in the final four spots of the preseason poll, though it remains to be seen if that will translate to more conference success for KU.
"It is really about the guys in the room," Torneden said. "Take it one day at a time. I think the end result will be winning games. That will be under coach Miles."