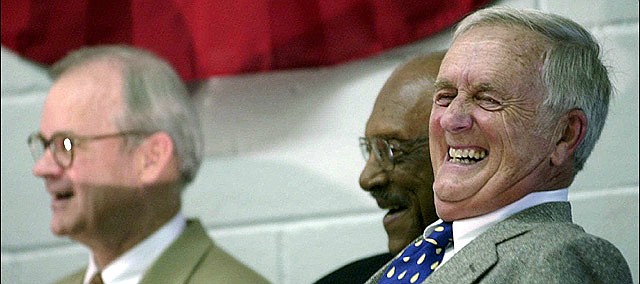 The family of Max Falkenstien, in conjunction with Kansas Athletics, will host a celebration of life for the late KU broadcaster at 2 p.m. on Aug. 24 at the Lied Center on KU's west campus.
Falkenstien, who died Monday at the age of 95, called Kansas basketball and football games on the radio for 60 years before retiring in 2006.
Twenty-two of those years were spent as part of the dynamic broadcast team known simply as "Bob and Max," and Falkenstien's longtime broadcast partner, Bob Davis, will emcee the celebration later this month.
The event, which is open to the public, is expected to include a short and sweet ceremony, with a handful of speakers sharing their thoughts and memories of Falkenstien's life and career.
Hundreds of friends, former colleagues, admirers and KU fans have flooded various social media sites this week with their own tributes to Falkenstien, who is the only non-player to have his jersey retired in the rafters at Allen Fieldhouse.
"Kansas Athletics is thrilled that the family is giving us and the general public a chance to say goodbye to someone who has meant so much to all of us," KU associate athletic director and longtime Falkenstien friend Jim Marchiony said Thursday night.
Falkenstien is survived by his wife, Isobel, to whom he was married for 70 years. They had two children – a son, Kurt, and a daughter, Jane, along with three grandchildren and five great grandchildren.
According to his obituary on the Warren McElwain Mortuary website, in lieu of flowers, Falkenstien has requested that memorial contributions be sent to the Lawrence Humane Society or KU's Williams Education Fund.
They may be sent in care of the Warren McElwain Mortuary, 120 W. 13th Street, Lawrence, KS 66044.