It's nearly go time in Year 1 of the Les Miles era at the University of Kansas.
With the KU football team's season opener rapidly approaching, Miles and the Jayhawks will spend most of the upcoming four weeks making sure they're as prepared as possible to put a competitive product on the field and distinguish themselves from KU teams of recent memory.
Exactly how successful they prove to be in those ventures will be determined in large part by what they accomplish during preseason camp, beginning with the first practice on Friday.
Miles' presence undoubtedly has created some buzz around the long struggling program. But some real questions will need to be addressed between now and the Aug. 31 opener versus Indiana State
Here are five important questions to track in the coming weeks, as Miles and his assistants attempt to turn around a program that has won three or fewer games each of the previous nine seasons.
How quickly will a starting QB emerge?
Guess what. It's August and there isn't a definitive starting quarterback for the Kansas football team. The Jayhawks haven't entered camp with a can't miss QB since the days of Todd Reesing. And that hasn't changed yet, so we know that hiring a new coach with SEC and national championship pedigree doesn't magically change a program's outlook overnight.
Even so, if the as of yet unresolved QB competition between junior college transfer Thomas MacVittie and senior Carter Stanley doesn't stretch through August that would signal the offense is headed in the right direction.
Miles has indicated since the spring that MacVittie, a Miles recruit who transferred to KU in January from Mesa Community College (Ariz.), owns a slight edge over Stanley, entering his fifth season with the program. If the season started tomorrow, MacVittie would get the nod.
The longer this competition lasts, the more it would seem KU's coaches aren't sure they have a surefire starting QB.
However, if MacVittie secures the spot quickly — or even if Stanley pulls off the upset with haste by wowing KU's coaches in early practices — it would indicate the offense at least has a trustworthy QB instead of a shaky situation entering the season.
Are some defensive newcomers good enough to start?
The Kansas defense is basically set in the secondary, a unit that features experienced veterans such as Bryce Torneden, Mike Lee and Hasan Defense, as well as sophomore Corione Harris, one of the program's most highly touted recruits of the past several years.
The personnel within the defensive front, however, is far less proven, and the spring came and went without Miles or any players really raving about the emergence of any particular defensive lineman or linebacker.
So it seems plausible that at least one or two players from KU's 2019 signing class could earn himself an immediate role in the starting lineup by outperforming a player at his position with more seniority.
On the D-line, senior defensive end Codey Cole III might prove to be the unit's most dependable player. But there are enough unknowns up front that newcomers could have a chance at joining Cole as contributors. Miles and his staff targeted recruits this past winter to fill defensive needs and they signed four D-linemen: juco prospects Malcolm Lee and Caleb Sampson, as well as preps Da'Jon Terry and Marcus Harris.
A similar situation exists at linebacker, where juniors Drew Harvey and Dru Prox started in the spring — Harvey has left the program and reportedly entered the transfer portal, though, just as KU preseason practices were about to begin. Two of the most heralded recruits in KU's class happen to play linebacker. And while both Steven Parker and Gavin Potter would have to first demonstrate they have the ability to make an impact as freshmen, it probably wouldn't shock too many people if they do enough in August practices to force their way into the starting lineup.
Will this finally be Daylon Charlot's breakthrough season?
It's been almost three full years since Daylon Charlot arrived at KU as a ballyhooed transfer from powerhouse Alabama.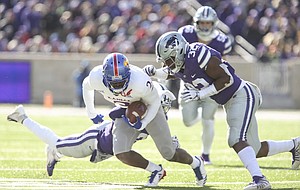 Charlot, of course, had to sit out the 2016 season per NCAA rules, but since he became eligible to suit up and contribute in 2017, the 6-foot wideout from Patterson, La., has yet to accomplish what many envisioned for the four-star prospect in the Class of 2015, who was ranked the No. 78 overall prospect in the nation by Rivals.
Now that he's a senior, it's now or never for Charlot at KU. In 2018, he caught 12 passes for 178 yards and two touchdowns while appearing in 10 games as a reserve. He not only hopes but expects to blow those numbers away in his final college football season this fall.
With a new head coach in Miles, new offensive coordinator Les Koenning and new receivers coach Emmett Jones, this season should feel like a bit of a fresh start for Charlot, as well. Plus, KU lost its three most productive receivers from 2018, and the team could really benefit from Charlot finally emerging as a No. 1 option in the passing game.

KU's running backs as a unit might be productive enough that the Jayhawks can survive offensively without a go-to receiver. But it's always better to have more playmakers, and Charlot possesses the potential to become a far more valuable receiver than he has shown thus far in his time with KU.
What type of impact will a slew of new coaches make?
The answer to this question won't truly be known until the Jayhawks play actual games during the season, but the work put in by Miles and his staff between now and then will determine how much better KU looks on the field in Year 1 of this era than it did in Year 4 of the David Beaty regime, in 2018.
Offensively, the only holdover on the staff is running backs coach Tony Hull, and he's in charge of the most talented group on that side of the football.
The rest of the offensive assistants will bring completely new voices and likely some different concepts and teaching techniques to a team that has spent years failing to score enough points to be competitive.
Koenning, KU's offensive coordinator and quarterbacks coach, will need to make sure the Jayhawks enter the season fully understanding and executing his playbook.
He'll of course have help on that front, too, from not only Hull and Jones, but also offensive line coach Luke Meadows and tight ends coach Jeff Hecklinski.
They will have to identify KU's strengths in the running and passing game and make sure their position players head into the season ready to make the most of their fortes.
Defensively, former coordinator and cornerbacks coach Clint Bowen is the only other KU assistant who survived Beaty's firing. Now overseeing the safeties, Bowen is one of four assistants working with coordinator D.J. Eliot.
While the Jayhawks experienced success in creating turnovers a year ago, they also lost two of their most important players, Daniel Wise and Joe Dineen, to graduation.
So it will be up to defensive line coach Kwahn Drake, inside linebackers coach Mike Ekeler and outside linebackers coach Eliot to find the right combination of contributors up front, while Bowen and defensive backs coach Chevis Jackson work with a more experienced group in the secondary.
Eliot and his fellow assistants will need to discern what formations and play calls work best for KU in his 3-4 scheme, as they try to build on the defense's relative success from a year ago and become a unit that not only comes away with fumbles and interceptions but also stops drives.
Will KU be able to find an effective pass rusher?
Applying QB pressure wasn't exactly a strength for the Jayhawks in 2018, when KU averaged 1.8 sacks per game. And they lost their best agitator in Wise. With the Big 12 being such a passing league it can be difficult to get off the field defensively without disrupting the quarterback.
Eliot and company could make their game days a little more manageable by coaching up some capable disruptors on the edge.
The leading returning sackers on the roster are safety Torneden and linebacker Kyron Johnson, with two apiece. Who will end up racking up the most sacks in 2019 is really anyone's guess at this point.
Some candidates include the two players listed at the hybrid "Hawk" position on the roster, seniors Azur Kamara and Najee Stevens-McKenzie, as well as Cole, and senior Darrius Moragne, both traditional defensive ends.
While others could potentially surface, as well, a best case scenario for KU would be one or two legitimate pass-rushing threats emerging, and occupying the attention of opposing offenses as a result.
If no one is consistently getting to the QB and/or evoking some fear that they're capable of doing so, it will be difficult for KU's secondary to do its job, even with a group of veterans at safety and cornerback.