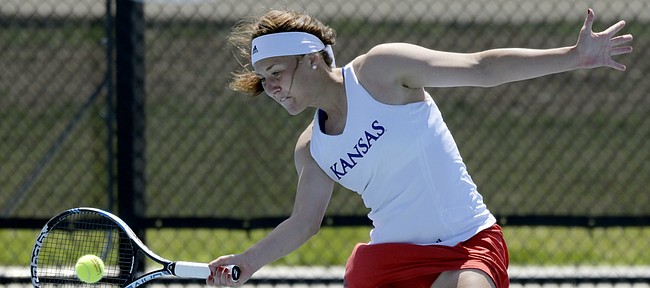 It had been nearly two full decades since the University of Kansas tennis team advanced to the second round of the NCAA Tournament. And all Anastasia Rychagova could do was watch.
Two separate rib injuries during her junior year robbed Rychagova of the opportunity to play in the 2018 tournament.
"It was definitely like the hardest thing I've ever done," Rychagova, now a senior, recalled this week. "Seeing the girls playing and knowing you can't do anything. Obviously I could cheer as loud as I could, but it was breaking my heart every time."
Although head coach Todd Chapman got to watch his Jayhawks move past Denver University in the opening round a year ago, he could also see that Rychagova wanted desperately to be a part of that significant step for the program.
"It killed her," Chapman said of Rychagova being forced into a spectator role as KU played in the postseason.
Broken ribs on the right side of her body rendered Rychagova's dominant right arm useless. The surgery to mend her ribs came with a metal plate. In the early stages of her recovery she couldn't even move her right arm without experiencing significant pain.
It would be months before Rychagova, ranked the No. 1 singles player in the nation at two separate points during her junior year, would feel like herself again, despite a remarkable showing at the 2018 NCAA Doubles Championship, when she helped KU defeat Central Florida despite serving underhanded because her still recovering ribs weren't yet ready for the typical overhand approach.
Even while playing at the ITA Women's All-American Championships in Malibu, Calif., with KU this past fall, she didn't feel the same as she had during the peak of her junior year.
"I didn't have confidence," she explained. "I didn't have enough game experience, because I hadn't played (singles) for so long. It took me some time to actually feel my arm back again after surgery."
It wasn't until early November, when she won the singles title at a professional tournament in Mexico City, that Rychagova regained trust in her ribs and could tell she was back to normal.
With Rychagova victorious in all but two of her 21 No. 1 singles matches this spring — two losses, three matches unfinished — Kansas enters the NCAA Tournament this week as the No. 14 overall seed and a first- and second-round host for the first time since 1997.
"With Nas at number one singles," Chapman said, "we know we have a chance no matter who we play in the country."
Ranked No. 13 in the nation ahead of KU's Friday matchup (1 p.m.) with Denver at Rock Chalk Park's Jayhawk Tennis Center, Rychagova, Chapman pointed out, achieved that ranking while only playing three singles matches this past fall, as she fully recovered from her surgery.
"She didn't even have a ranking going into the spring," the coach said, "and now she's up to as high as she is."
That's not to say Rychagova's return has been without any bumps. Chapman spoke of one instance recently when the senior from Moscow, Russia, was having a "rough day." That's when her coach reminded her of where she was at this time a year ago. In May of 2018, Rychagova repeatedly told her KU teammates and coaches she would give "anything" to be playing in the NCAA Tournament instead of watching.
"And now you're getting to play," Chapman reminded his top singles player. "So let's reevaluate what you're thinking right now and how you're feeling right now and let's think big picture — you are getting to play."
The brief speech did the trick, too.
"The next day we were back on the train tracks," Chapman related, "and going the right direction. Sometimes you just need a little reminder."
Now that she'll be contributing to KU's NCAA Tournament run, beginning this week, Rychagova is thrilled about the possibilities of what's to come.
"I feel like I appreciate things more now. I actually go into practice and I appreciate the opportunity to play," she said. "I appreciate the opportunity that I can compete for my girls."
After all, Rychagova shared while recalling how it felt to watch last year's tournament, it was recalling the play of her teammates on that stage that kept her going through a challenging rehab process.
"I hope," she said of joining them at the NCAA Tournament this time around, "I can somehow help."