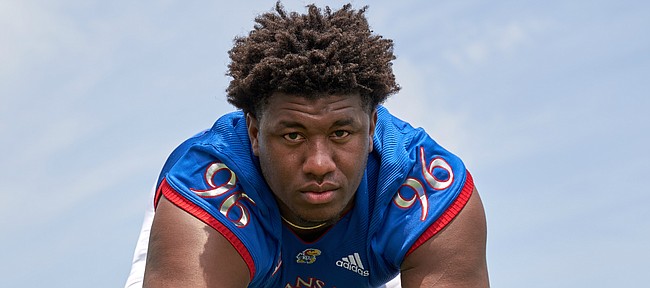 One of the Kansas football program's most important players during the past three seasons, Daniel Wise found out Saturday, later than anticipated, he's leaving the Big 12 for the the NFC East.
But the news didn't come the way many figured it would.
Various mock drafts s projected Wise to land anywhere from the fourth round to the seventh. Ultimately, though, the seven-round, 254-pick event concluded without Wise or any of his KU teammates hearing their names called.
Calvin Watkins of The Athletic reported shortly after the draft ended that Wise will sign with Dallas as an undrafted free agent.
At the college level, Wise was often disruptive at and behind the line of scrimmage for KU's defensive line once he became one of the team's leaders during his redshirt sophomore season in 2016. He finished his college career with 44 tackles for loss and 18.5 sacks.
Thanks to the Cowboys, who drafted his former KU teammate Dorance Armstrong in the fourth round a year ago, Wise will soon discover how well the skill set he honed in Lawrence translates to the NFL level.
In an interview with The Draft Wire of USA Today this past week, Wise said the team with which he ended up would be getting someone who loves playing football.
"That comes first and foremost," Wise said. "I'm going to bring a lot of energy and passion to the locker room that I join. I'm the same guy off the field. I'm very passionate about this game. I'm a caring, charismatic guy. I'm energetic off the field. That's just who I am."
The KU football program hasn't had players selected in back-to-back drafts in 14 years, dating back to when the New York Jets took offensive lineman Adrian Jones in the fourth round in 2004 and Cleveland drafted defensive end David McMillan in the fifth round in 2005.
The only Jayhawk invited to the NFL Scouting Combine this year, Wise will not be able to join his older brother, Deatrich Jr. (a fourth-round pick of New England's in 2017), and father, Deatrich Sr. (a ninth-round pick of Seattle's in 1988), as draftees in the Wise household. But he could end up sticking with the Cowboys as a rookie if he's able to impress the organization as a priority free agent.
Over the course of the past year-plus, first while looking into leaving KU early to enter the 2018 draft with Armstrong, then while preparing for and going through the pre-draft process following his redshirt senior season at Kansas, Daniel often called upon his brother and father for advice.
Deatrich Jr. even attended Daniel's KU pro day in late March.
"Just relax and do what you trained to do," Daniel told local media members of Deatrich's recommendation that day. "You're prepared."
A first-team All-Big 12 defensive lineman during each of his final two seasons with KU, Wise further made a name for himself on the NFL landscape this past January, at the East-West Shrine Game, where scouts were able to watch him both practice and play.
"It probably helped me move up in a lot of guys' books," Wise predicted during an interview in late March.
More post-draft deals
Wise was considered the most likely Jayhawk to be drafted in 2019, but some of his teammates also reached agreements with NFL teams not long after the draft's completion.
Lawrence native and Free State High graduate Joe Dineen, an All-Big 12 linebacker at KU, agreed to an undrafted free agent deal with Denver.
Former KU receiver Steven Sims Jr. received a similar deal from Washington.
Long snapper John Wirtel, meanwhile, reached a deal with Chicago.
Before the night was over, three more Jayhawks found themselves in position to impress an NFL franchise in the near future.
Offensive lineman Dwayne Wallace reportedly reached a free agent deal with Pittsburgh, cornerback Shakial Taylor accepted a free agent offer from Indianapolis and tight end Mavin Saunders picked up a rookie minicamp invite from Cleveland.
KU NFL Draft picks — since 2000
Year — Player (position) | Round selected/Overall pick | Team
2018 — Dorance Armstrong Jr. (DE/LB), 4/116, Dallas
2015 — Ben Heeney (LB), 5/140, Oakland
Jacorey Shepherd (CB), 6/191, Philadelphia
Dexter McDonald (CB), 7/242, Oakland
2012 —Tanner Hawkinson (OL), 5/156, Cincinnati
2010 — Darrell Stuckey (S), 4/110, San Diego
Kerry Meier (WR), 5/165, Atlanta
Dezmon Briscoe (WR), 6/191, Cincinnati
2008 — Aqib Talib (CB), 1/20, Tampa Bay
Anthony Collins (OT), 4/112, Cincinnati
Derek Fine (TE), 4/132, Buffalo
Marcus Henry (WR), 6/174, New York Jets
2005 — David McMillan (DE), 5/139, Cleveland
2004 — Adrian Jones (OT), 4/132, N.Y. Jets
2002 — Nate Dwyer (DT), 4/113, Arizona
Justin Hartwig (OT), 6/187, Tennessee
2001 — Moran Norris (RB), 4/115, New Orleans