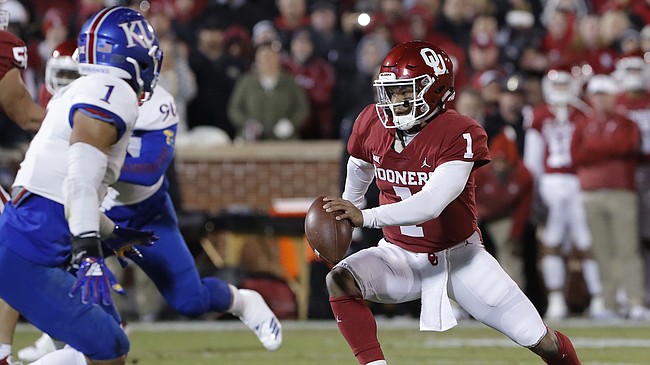 Late in the first quarter, Oklahoma quarterback Kyler Murray motioned his receiver in the left slot to the other side of the field.
It allowed Murray to take on Kansas nickelback Bryce Torneden one-on-one inside the redzone. Murray faked a pitch on a speed option and coasted into the end zone for a 7-yard rushing touchdown. It was OU's first score of an eventual 55-40 win over KU on Nov. 17, 2018.
After the play, Murray made sure to acknowledge Torneden.
"I was trying to read it," Torneden said. "We were a guy short, he read me and scored. On his way back, he gave me a little tap on the helmet."
After the game, the two linked up outside Oklahoma Memorial Stadium. Not to talk about that specific play, but rather allow an opportunity for two childhood friends to catch up.
Because their families were close, Torneden admitted that he and Murray spent plenty of time together before he eventually moved to Lawrence when he was 9-years-old. The two even played on the same little league team in the Lewisville Football Association in Lewisville, Texas.
Although Torneden doesn't remember too many details from those days, he could tell back then how gifted Murray was on the football field.
"You can definitely tell he was athletic," Torneden said. "The rest of his family was crazy athletic too. He's a great ball player, obviously."
Murray is expected to be the first quarterback taken in the 2019 NFL Draft, which begins Thursday night. He has been predicted to go No. 1 overall to the Arizona Cardinals for much of the draft process following his Heisman Trophy-winning 2018 season at Oklahoma.
In 2018, Murray completed 260-of-377 passes for 4,361 yards to go along with 42 touchdowns and seven interceptions. Murray also ran for 1,001 yards and 12 scores on 140 attempts as the Sooners' signal caller.
The summer before his lone year as the starting quarterback for OU, Murray was drafted ninth overall in the 2018 MLB Draft by the Oakland Athletics. Murray ultimately decided in early February that he would pursue a professional career as a football player, meaning he's likely going to be a top-10 pick in two different sports.
"It is just great to see any of your friends that you grew up with do great things," Torneden said. "It is pretty cool to just see a guy like that grow into what he is now."
Since moving away, Torneden has only seen Murray when Kansas and Oklahoma have met during Big 12 play. Yet the two still keep in touch, and Torneden even wished Murray the best of luck in early April. He said he plans to send his former teammate a congratulatory message when Murray is officially drafted as well.
But Torneden has had a successful football career in his own right. He's racked up 159 total tackles and forced three takeaways during his three-year career with Kansas. Last season, Torneden finished second on the team with 88 total tackles, trailing Joe Dineen's mark of 142 stops.
While his friends are joining the professional ranks, Torneden is focused on making the most of his final year as a Jayhawk. He hopes to help Kansas, which hasn't posted a winning record since 2008, to turn things around.
"That's the sole reason I came here," Torneden said. "We have one year left, so we have to put it all together."