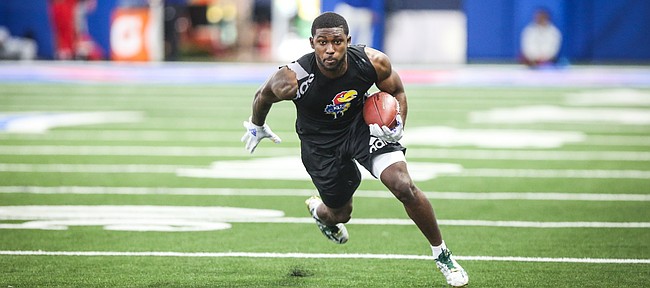 There's no doubt Steven Sims Jr. wanted more out of his final season with the Kansas football program.
After leading the Jayhawks in receptions and receiving yards in both his sophomore and junior campaigns, the wideout from Houston pulled the feat off again in 2018. But his numbers dipped just when he needed them to spike and improve his NFL stock.
When All-Big 12 teams were announced after the season's completion, Sims didn't even receive the token honorable mention nod from the league's coaches that he had the previous two seasons.
With the NFL Draft this weekend, the 5-foot-10, 184-pound receiver remains hopeful that some scout from some franchise will like what he saw out of Sims — even if that means his chance at the next level comes as an undrafted free agent.
"I didn't have the production that I wanted," Sims told the Journal-World regarding his senior season, when he finished with 53 receptions, 535 yards and four touchdowns, "or that I had in the two years previous, junior and sophomore year. But the film speaks for itself, and the scouts, that's their jobs to figure out why I wasn't getting the ball and what was going on. So I leave it in their hands."
Sims is banking on the idea that when evaluators determine his worth as a prospect, they will see enough of his in-game speed and footwork to think it could translate for him as a slot receiver in the NFL.
He especially needs that to be the case after his showing at KU's pro day in late March, when he was disappointed with his time of 4.5 seconds in the 40-yard-dash.
"I feel like in the 40, I've done better since I've been training. So my 40, it didn't speak on what I've been training for," Sims explained. "I ran slower than what I've been training these past few months."
When Sims, who has trained in his hometown of Houston since his college career ended, was back in Lawrence for KU's pro day he was able to speak with representative from a few teams, including Detroit and Washington.
"Hopefully just whoever gives me a shot," Sims said. "I know I'll make them proud."
While discussing how much he missed being a part of the KU football program, Sims took a long exhale before sharing his optimism that he will work his way onto an NFL roster if some team gives him an opportunity.
"I believe I will. I know when I get to camp I'm gonna make a lot of noise," Sims said. "They're doubting me. They don't think I'm a fast guy. The underdog always comes on top at the end, so I've just got to keep working."
Typically KU football's best graduating prospects, even if they go undrafted, receive at least rookie camp invitations, or the more desirable priority free agent status, which makes it likely they'll be around for a franchise's organized team activities ahead of preseason training camp at the very least.
Just two years ago, KU safety Fish Smithson had a deal set up with Washington as a free agent while the final round of the draft was still going on.
"I'm excited," Sims said about his football future. "We put in a lot of work to get to where we're at now, so I'm just glad to have this over with, the 40. Just thinking about having to run the 40 and all that stuff. It's just back to straight football. I'm a football player; I'm not a tester. I don't test. I'm not a test guy. I play football. When we line up 11 on 11 I'll stand out. That's all I care about."