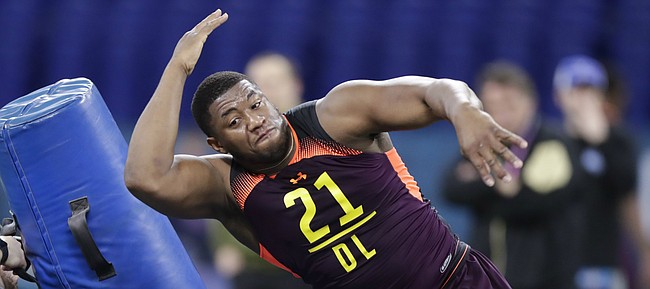 It's not often that the University of Kansas football program can boast it had players selected in back-to-back NFL drafts.
By the end of this weekend, though, the Jayhawks should be able to make that claim.
A year after defensive end Dorance Armstrong ended the team's two-year drought at the draft when Dallas chose him in the fourth round, his former KU teammate on the defensive line, Daniel Wise, projects as a late-round pick in 2019.
Kansas hasn't had players drafted in consecutive years in more than a decade — the New York Jets took offensive lineman Adrian Jones in the fourth round in 2004 and Cleveland selected defensive end David McMillan in the fifth round in 2005.
When Wise was in Lawrence recently for KU's pro day, he said he planned to watch the draft with his family, down in Texas.
"There will be a lot of anxiety built up," Wise predicted at the time about the draft. "But I won't be too nervous. I think I trust my hard work up into this process and up until then. So I'll be feeling good."
A 6-foot-3, 281-pound defensive lineman from Lewisville, Texas, Wise contemplated leaving KU early for the draft with Armstrong a little more than a year ago, before deciding to play his redshirt senior season with the Jayhawks.
In his final year with KU, Wise earned first-team All-Big 12 honors for the second year in a row, after making 12.5 tackles for loss, five sacks, 34 total tackles and five quarterback hurries in 2018.
The only Jayhawk invited to the NFL Scouting Combine this year, Wise wasn't expected to hear his name called on Thursday night, which is reserved for just the first round. Nor is he projected as a second- or third-round choice on Friday.
The drama regarding his future in the NFL will most certainly come on Saturday, when the fourth through seventh rounds play out.
The draft's final day is the most difficult to predict, and depending on whom you ask, Wise could land anywhere.
The Draft Wire of USA Today gave Wise a fourth-round grade on its big board, and ranked the defensive lineman 135th overall.
Meanwhile, one CBS Sports mock draft has Wise going to Arizona in the fifth round and one from another author on the site predicts Wise will go to Oakland in the seventh.
Over at WalterFootball.com, Wise is projected as a mid-fifth round pick for Denver.
Other Jayhawks with NFL dreams
The NFL futures of some of Wise's KU teammates are far less clear at the moment.
The most likely Jayhawk to join him as a draftee is linebacker Joe Dineen, another All-Big 12 first-teamer in 2018. But none of the aforementioned mock drafts include Dineen.
CBS Sports' prospect rankings, which place Wise at No. 185 overall, list Lawrence native and former Free State High standout Dineen at No. 353. WalterFootball.com ranks Dineen as the No. 26 inside linebacker available, and describes him as a potential sixth- or seventh-round pick or undrafted free agent.
Dineen's chances of hearing his name called may have been hurt when he injured his right hamstring during KU's pro day in late March. But even before that the intel the 6-2, 231-pound linebacker received regarding his draftability indicated he would either go in the late rounds or undrafted.
"Obviously you hope you get drafted," Dineen said, "but if not it's not gonna hold me back or anything. I feel like some team will get lucky to have me and I'll go out there and make it hard for myself to get cut."
Earlier this month, Dineen and other former KU players attended the Kansas City Chiefs' local pro day. Although his hamstring injury kept him from working out, the Chiefs had Dineen and a few other prospects stick around after the workouts for physicals. Dineen told the Journal-World his hamstring has recovered since then and he's back to lifting weights and running and his typical offseason football activities.
Dineen led all FBS players in solo tackles per game each of the past two seasons — 9.0 per game in 2018, and 7.8 in 2017.
While it's unlikely any other players from the 2018 KU roster will get drafted this weekend, there are some Jayhawks who could end up taking the undrafted free agent route to a rookie camp invitation or better.
Here are some Jayhawks that could do that once the draft concludes:
• Jeremiah Booker, 6-2, WR
• Alex Fontana, 6-1, C
• Gabriel Rui, 5-9, K
• Mavin Saunders, 6-4, TE
• Ryan Schadler, 5-10, WR
• Steven Sims Jr., 5-10, WR
• Shakial Taylor, 5-11, CB
• Dwayne Wallace, 6-3, OL
• John Wirtel, 6-3, LS