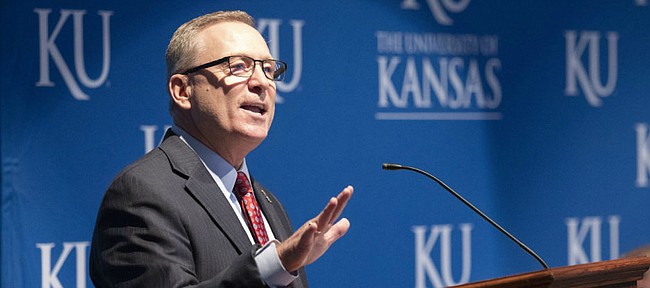 Adidas will do more in the future to help prevent college basketball recruiting scandals, a Kansas Athletics official said Wednesday as KU and Adidas announced a nearly $200 million dollar extension of their marketing partnership.
But specific steps the apparel company will take to prevent a repeat of the past scandal — where three of its former employees or consultants have been convicted on federal fraud charges — weren't announced.
Also left unsaid is whether KU itself did enough to protect its men's basketball program from a recruiting scandal that has implicated the families of one former player and one current player. KU Athletic Director Jeff Long on Wednesday declined to be specific when directly asked whether he was comfortable there was nothing more KU could have done to protect the men's basketball program from the recruiting scandal.
"You are asking me to be a Monday morning quarterback, which I won't do," Long said as part of a conference call for members of the media. "We will let the process of the NCAA play out and, once that is, we will have the information we need to move forward."
NCAA officials currently are looking at matters related to the KU basketball program, including an appeal that KU basketball player Silvio De Sousa has made of a previous NCAA ruling that declared him ineligible for the next season. The NCAA has determined De Sousa's guardian had taken money from an Adidas representative who was trying to steer De Sousa to attend KU. The NCAA also has asked federal prosecutors for evidence that was gathered as part of a federal fraud case that convicted an Adidas employee and an Adidas consultant, both of whom dealt directly with KU.
A separate federal case resulted in a guilty plea by a third Adidas employee, T.J. Gassnola. Gassnola also worked directly with the Kansas basketball program, frequently exchanging text messages or phone calls with members of the basketball coaching staff.
Long was asked Wednesday whether KU officials were comfortable with how close Gassnola was allowed to get to the men's basketball program, given his history. Multiple sports media outlets in 2012 reported that Gassnola was part of a suspension handed down by NCAA officials, who believed Gassnola and other AAU basketball coaches had an improper relationship with prominent sports agent Andy Miller. Gassnola's youth basketball teams were prohibited from participating in NCAA sanctioned tournaments in July 2012 as part of the suspension.
Further, a 2006 investigation by the Boston Globe found that Gassnola had handed cash to members of his Adidas-sponsored summer travel teams for expenses unrelated to basketball, which would put those players in violation of NCAA rules. The same article also said Gassnola had a list of criminal convictions that included assault and three cases of larceny or receiving stolen property in excess of $250 in value. The newspaper also found that he had been ordered by judges in at least 11 civil cases to make good on more than $45,000 in bad debt.
The newspaper also highlighted a case in which Gassnola was indicted but ultimately found not guilty of a felony assault and burglary charge. A witness in that case told police that Gassnola told him that he could have the witness killed because he belonged to one of the highest organized crime families in Springfield, Mass.
In an interview with the Boston Globe, Gassnola denied having any connection to organized crime but did say he once was involved in the illegal gambling trade of bookmaking.
Fast-forward to 2018, and Gassnola is the Adidas employee who admitted in court that he had paid the guardian of De Sousa $2,500 in an effort to steer the prized recruit to KU. Gassnola also testified that he paid the family of former KU player Billy Preston $89,000, and was working to pay the guardian of De Sousa another $20,000 before federal investigators started homing in on the plot.
On Wednesday, Long — who was not KU's athletic director at the time of the alleged payments — was asked whether he was concerned that a man with Gassnola's past was allowed to get so close to the KU basketball program. Long said Gassnola's relationship with Adidas put him in contact with the KU basketball program.
"TJ Gassnola was an employee of Adidas," Long said. "He had an agreement with Adidas that put him in contact with our program. As I said earlier, we have spent months and months and exhaustive conversations about going forward and how we will handle these things in the future, and arrived at the conclusion that Adidas is committed, like Kansas is, to make sure we abide by NCAA rules, and certainly the law of the land."
What agreement Gassnola had that put him in contact with the KU basketball program, however, is unclear. The marketing and apparel agreement that KU and Adidas had in place at the time, makes no mention of Gassnola or any other employee who would be discussing potential recruits with the Kansas coaching staff. The KU-Adidas agreement covers more traditional marketing services and terms under which Adidas will provide athletic apparel and cash in exchange for recognition as a sponsor of KU Athletics.
Testimony in last year's federal trial, though, paints a picture of Gassnola as a youth basketball coach and fountain of information on college basketball recruits. Gassnola appeared to have no formal role in marketing or apparel matters related to the KU account. Instead, evidence in court showed that Gassnola had frequent phone and text conversations with head coach Bill Self and assistant coach Kurtis Townsend.
Evidenced entered into court shows Townsend gave Gassnola contact information for De Sousa's guardian during a time when KU was recruiting De Sousa to attend KU. Townsend later then asked Gassnola, via text, for an update related to any conversation Gassnola had with De Sousa's guardian.
Self and Gassnola then exchanged text messages where Gassnola informed Self that he had talked with De Sousa's guardian.
"We good?" Self asked Gassnola via text.
"Always. That was light work," Gassnola responded.
Other text exchanges show Self and Gassnola talking about recruiting matters and Adidas' youth basketball program. In that text message, Gassnola said he was tired of fighting "internal wars when it comes to the Jayhawks." He said he thought those wars partially were the result of people being jealous about the relationship he and Self had.
Gassnola testified in court that Self never knew of the payments he was making to the families of recruits. Defendants in the case argued that Self did know of the payments. Self has denied knowing of any wrongdoing.
On Wednesday, Long was asked what his understanding was of the official role Gassnola was playing with Adidas and with KU. Specifically, he was asked whether there was anything in the KU-Adidas agreement that said Adidas would provided someone to make contact with the family members of recruits. Long said the contract did not involve that type of language, and he indicated those types of recruiting matters may be looked at by the NCAA.
"It is not in the contract," Long said. "We will let the NCAA process play out and, once it has, we will have more information."
As for the new agreement, Long said KU and Adidas spent "months and months and months" discussing issues surrounding the sport, and especially many issues raised in an NCAA sanctioned review of the sport by a committee led by former Secretary of State Condoleezza Rice, which highlighted several problems the entire sport is facing with recruiting issues.
"We have commitments from Adidas to work with with us to help change the nature of college basketball," Long said.