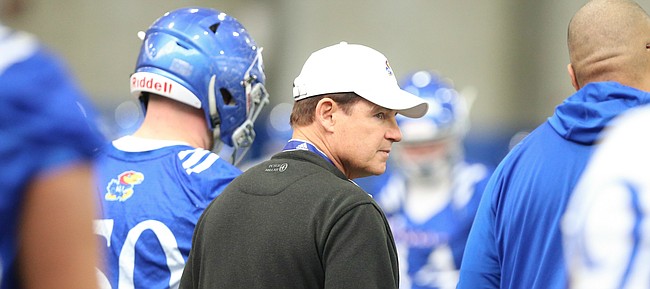 Since its inception in 2018, college football's transfer portal has yet to lure any of the University of Kansas football program's prominent players away from Lawrence with the idea of playing somewhere else, where the grass or artificial turf is greener.
Even so, the Jayhawks' head coach, Les Miles, didn't come across as a supporter of the portal's existence during his appearance on the Big 12 coaches media teleconference this week.
Asked for his thoughts about and experience with the new system and process, which really first began drawing attention at the end of this past season, right when Miles was getting started at KU, the man in charge of the Jayhawks' roster said the "only thing" he questions about the transfer portal is the "ease of transfer" for players.
In the past, college football players and other Division I athletes needed permission from their team's coach to transfer. Now they can just enter their name into the transfer portal.
"I think there's a number of people that really are transferring," Miles said, "not out of necessity."
KU's head coach made no mention of how he thought the portal has impacted the Jayhawks specifically — good or bad. Nor did he bring up any of the KU players who have reportedly entered into it, per 247 Sports, which tracks the movement of players in the portal.
As of Wednesday, that list included offensive lineman Cameron Durley, linebacker Robert Topps III, defensive back D'Juan Moore and fullback Caperton Humphrey. Additionally, former KU receiver/tight end Kenyon Tabor's name is in the portal. In the summer of 2018, then-KU coach David Beaty said back issues forced Tabor to give up football at KU.
Durley, Topps, Moore and Humphrey all are still listed on KU's 2019 roster. Just because a player is in the portal doesn't mean the athlete has already left a university, or will inevitably do so.
Topps appeared in 12 games on special teams in 2018. Humphrey played in all 12, even making three starts. The fullback caught three passes for 29 yards.
Neither Durley nor Moore played in a KU game this past year.
"The ease of transfer, I don't know that that's — I think it's wonderful for the player," Miles said. "I don't know that it's great for the coaches."
KU's head coach didn't mention during this teleconference discussion that one of his sons, Manny, a senior reserve quarterback at North Carolina the past few years, is in the transfer portal. Manny Miles tweeted in February his plans to graduate from UNC this spring semester and transfer elsewhere to complete his college career.
Listed most recently on UNC's roster at 6 feet and 210 pounds, Manny Miles completed 3 of 5 career passes with the Tar Heels.
"I think there's quality reasons to transfer and I think certainly the senior that just graduated and is looking for an opportunity, I see that as very likely a good reason," KU's Miles said on the Big 12 teleconference. "And then if a young man had other extenuating circumstances I think that those things are what that's for."
Miles' primary take on the transfer portal was that he thinks it changes college football "so much."
"I mean, you learn an allegiance, you learn an identity, you like your team," Miles said, "and then 'Ah, what the heck? For the last year I'll go take a flier.' Or maybe it'll be the next two years."
Still no update on Pooka
During spring football, Miles provided no updates about the status of suspended running back Pooka Williams, nor did the coach speak of any timeline for Williams' possible return.
Nothing had changed on that front when Miles was asked about the program's offensive star on the Big 12 teleconference.
"There's no updates as far as I'm concerned," Miles said. "We'll certainly kind of see how that goes."
Miles suspended Williams from all team-related activities this past December, after KU police arrested Williams and he was charged with domestic battery.
Williams agreed to a domestic violence diversion in late March. Per his diversion agreement, Williams is required to complete 40 hours of community service by Nov. 30. He must also undergo a domestic violence offender assessment by April 30, and barring additional recommendations from the evaluator, he would have to complete an anger management course by Nov. 30.
While Williams didn't practice with KU football during the spring, he was in attendance at David Booth Kansas Memorial Stadium for the spring game, watching from the bleachers.