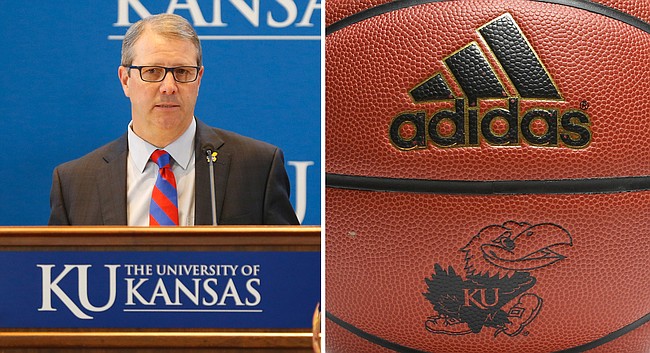 KU Chancellor Douglas Girod acknowledged Wednesday that internal procedures of the men's basketball program have changed after a pay-for-play scheme ensnared two KU players, saying KU has to "make sure we do it right going forward."
Girod said changes have been made regarding which individuals are allowed to have access to the men's basketball program and its staff, but he did not elaborate on what those changes involved.
Girod also declined to provide specifics about what Adidas officials told University of Kansas leaders that made the university comfortable with signing a 14-year extension with the company after three of its employees who dealt directly with KU were convicted on fraud charges.
Girod said multi-month discussions led "our side of the house and their side of the house to put infrastructures in place that we are comfortable with." When asked what those infrastructures involved, Girod declined to say.
"I'm not going to speak for them," Girod said of anything Adidas may have said. An attempt to reach a spokesperson for German-based Adidas wasn't immediately successful Wednesday evening.
When asked if the public would ever get details about what convinced KU to be comfortable moving forward with Adidas, Girod said: "I don't know."
Girod, though, did confirm that KU has taken some steps to change how its basketball program operates in the wake of the scandal. KU faced questions on Wednesday about how one of the former Adidas employees managed to get such close access to the men's basketball program.
T.J. Gassnola admitted in federal court that he had paid the families of two KU basketball players, current player Silvio De Sousa and former player Billy Preston. Evidence from a federal fraud trial showed Gassnola had easy access to both KU coach Bill Self and assistant coach Kurtis Townsend. That's despite the fact that Gassnola had a past that raised many red flags about NCAA compliance issues and legal troubles. Gassnola in 2012 was part of a suspension of AAU teams handed down by the NCAA, who believed Gassnola and others had an inappropriate relationship with an NCAA agent. Earlier reporting by the Boston Globe found Gassnola had several criminal convictions and also unearthed other allegations of Gassnola improperly paying potential college recruits.
"They have put changes in place to more closely monitor who has access," Girod said of the athletic department and its oversight of the basketball program.
Girod, however, stopped short of saying he was concerned about how Gassnola was able to have such close dealings with the KU basketball staff.
"I'm not going to judge my predecessors and how that played out," Girod said. "I just know we have to make sure we do it right going forward."
Girod began his role as KU's chancellor in early July 2017. Preston made his commitment to KU in November 2016 and De Sousa made his in late August of 2017.