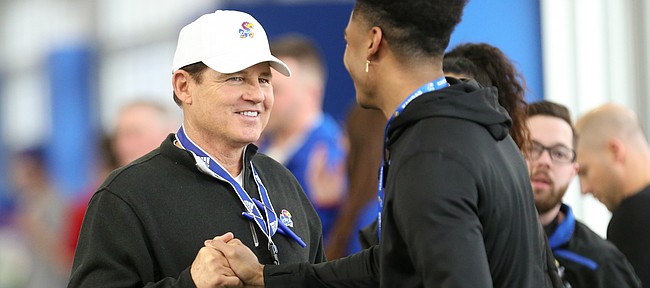 On the job at the University of Kansas for a little more than five months, head football coach Les Miles repeatedly has made clear his plan to win over as many local prospects as possible while rebuilding the program.
Miles' first recruiting class included three signees from the Sunflower State. Though the 2020 class is in its early stages, three out of the five prospects who have already committed to KU reside in what Miles has referred to as "the Kansas footprint."
The Jayhawks have nonbinding verbal pledges from Topeka quarterback DaVonshai Harden Jr., Shawnee Mission South tight end Will Huggins and Lee's Summit, Mo., hight end Trevor Kardell.
As soon as KU's spring practices wrapped up this past week, Miles' assistants headed out to see what they could do about adding to that list, while also building relationships that could help them in future recruiting endeavors.
The morning after KU's final spring practice, the staff embarked on what was branded as "Operation Capture KC," to open the current evaluation period. Full-time assistants spent Tuesday and Wednesday of this past week visiting high schools in and around the Kansas City, Mo., metro area, as well as other parts of Kansas.
From there, coaches travelled Thursday to Wichita, Oklahoma and Nebraska, before returning to Lawrence for the holiday weekend.
On the eve of their latest recruiting push, Miles reiterated during his spring football wrap-up press conference how important it is for KU football to establish recruiting success in the K.C. area in particular.
"We're going right to the home fires. We'll be in Kansas City and in the footprint of the university," Miles said on April 15. "So we'll be recruiting, the entire staff, in our state or in our footprint."
The top-rated prospect in the state of Kansas, Free State High offensive tackle Turner Corcoran committed to Nebraska on April 13, while visiting the Cornhuskers.
On that same day, more than 20 high school prospects from the Sunflower State — though less heralded than Corcoran, a four-star talent — were at David Booth Kansas Memorial Stadium for KU's spring game.
Asked during an interview session a few days after that mega offseason event for the program whether all local football prospects, especially those from the K.C. area, should look at Kansas football as an option, Lawrence native Bryce Torneden, a senior safety from Free State, gave his recruiting pitch.
"Obviously I've loved every bit of my time here," Torneden began. "I've got one season left, but I feel like I just got here. Obviously I call this place home. My family's here. Especially being form Kansas City, you're away from home, you still get that distance, you still get to grow into the man you want to be. But you still have that home cooked meal whenever you need to. I think that's definitely a major draw to come here."