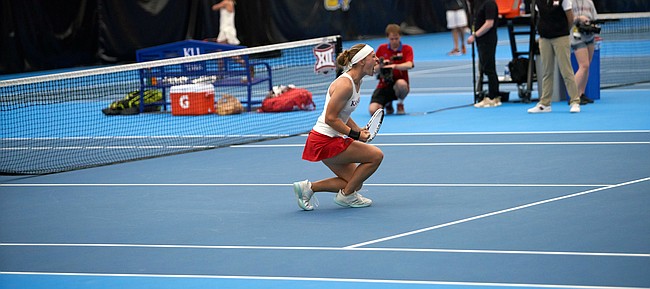 Kansas junior Maria Toran Ribes lofted the shot over the head of Texas senior Katie Poluta.
As soon as the tennis ball landed on the other side of the net, Toran Ribes turned to her right and flung her racquet in the air. The racquet flipped five times before falling to the floor on the sixth court at the Jayhawk Tennis Center. The rest of her Kansas teammates, who were watching the match intently from the next court over, rushed toward her for a postgame mobbing.
Toran Ribes had netted the final point of a 4-2 win over Texas in the Big 12 Championship final Sunday afternoon. She also had the honors of delivering the decisive blow in the semifinals against Oklahoma State the day before.
"It feels great, but it is all thanks to my team. We just put in the effort together," Toran Ribes said. "We worked so hard, it was time to make this happen."
Toran Ribes, who was named the Most Outstanding Performer of the tournament, netted KU's third and final win in singles play to knock off top-seeded Texas.
Toran Ribes took down Poluta (6-2, 3-6, 6-4) in her singles match. Freshman Sonia Smagina defeated Bojana Markovic (6-4, 6-0), while senior Nina Khmelnitckaia topped Fernanda Labrana (6-2, 6-4) to claim two wins in singles play for the Jayhawks.
No. 20 Kansas, which was the third seed in the tournament, set up the monumental win by claiming doubles point against No. 7 Texas. The Jayhawks have now tallied the doubles point in 22 of their 23 matches this season, including 11 in a row.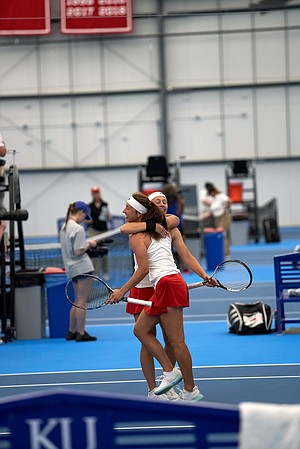 Senior Anastasia Rychagova and Smagina recorded a 6-2 victory over Labrana and Tijana Spasojevic at No. 2 doubles. Freshman Malkia Ngounoue and Toran Ribes notched a 6-3 win over Markovic and Petra Granic in No. 3 doubles.
"We have been wanting it for four years," Khmelnitckaia said. "We have been working so hard for it. As seniors, we were like, 'we are not leaving this place without getting one.'"
In the end, Kansas was able to hoist the trophy for the first time in the Big 12 era. It marked the first time KU has won the conference tournament since 1996, when it played in the Big 8.
"Six years ago when I got here, I knew this was a possibility," KU head coach Todd Chapman said. "That's what I told them in the interview, that tennis could be relevant at Kansas. It takes a village. It is just special."
But, given all that, it was still a scene that looked bleak just a little over a month ago.
On March 15, Kansas was dismantled in a 6-1 loss at Oklahoma State during the first conference match of the season. After the defeat, Chapman gathered his team and had a conversation about what they wanted to accomplish this year.
"We had a long sit down with the team and we just told them we weren't working hard enough," Chapman said. "I think there was a different level of commitment (after that conversation). I think they all realized this is what we want to do."
Since then, the Jayhawks have only dropped one match, which was a 4-3 decision at Texas on March 24. Even then, though, Chapman saw plenty of potential in his team. KU has not lost since, winning eight matches in a row.
Over that span, Kansas has outscored its opponents by a 43-9.
"It was more about trusting ourselves, trust the process and trust our teammates," Toran Ribes said. "We just had the mindset (of being) ready to fight no matter what. That was the biggest thing."
The Jayhawks are not satisfied either. They will now turn their attention to the NCAA Tournament, which begins May 3. Kansas will find out its destination during the selection show on Monday, April 29.
"The exciting thing is that we have a lot of tennis left to play," Chapman said. "We are not settling for just winning the Big 12 Championship. We believe this team is built for more than that. I think now they see it and realize how good they can be."