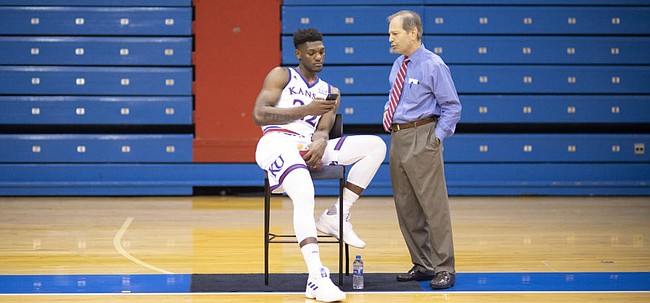 Kansas Athletics on Thursday afternoon announced the retirement of a second member of its administrative staff this week, with Associate AD Jim Marchiony slated to call it a career in July.
Marchiony, who came to KU in 2003, will relocate closer to his family in Dallas, putting an end to a career of more than 40 years in college athletics.
He joins fellow KU veteran Larry Keating, who announced his retirement earlier this week.
Most recently working as the KU athletic program's director of public affairs, Marchiony also served as the sport administrator for volleyball and tennis and worked closely with other administrators and student-athletes in all sports.
Prior to coming to KU, Marchiony worked in a similar role at the University of Connecticut and worked for 18 years at the NCAA, the final five as the media coordinator for the NCAA Division I men's basketball tournament.
"I've known Jim since his NCAA days and was very pleased to work with him since my arrival," KU Athletic Director Jeff Long said in a news release. "Jim is respected throughout college athletics because of his friendliness, sense of service, dedication and commitment. He will be missed, and, frankly, you can't replace Jim Marchiony."
During his time at KU, Marchiony has served on the NCAA Division I Women's Volleyball Committee, won the U.S. Basketball Writers Association's Katha Quinn Award, given to those in college basketball who provide special service to the USBWA and sportswriters who cover the sport.
In addition, the St. Bonaventure graduate also served as a media liaison for the United States Olympic Committee at the 1984 Olympics in Los Angeles and at three USOC National Sports Festivals.
"Jim has made an invaluable contribution to Kansas Athletics during his time in Lawrence," KU volleyball coach Ray Bechard said in the release. "He cares deeply about the mission of this athletic department but was heavily invested in the student-athlete experience, as well. His value won't be measured in wins and losses, but more importantly by the impact he had on all those he worked with and his unwavering commitment to Kansas Athletics. We wish him nothing but the best."