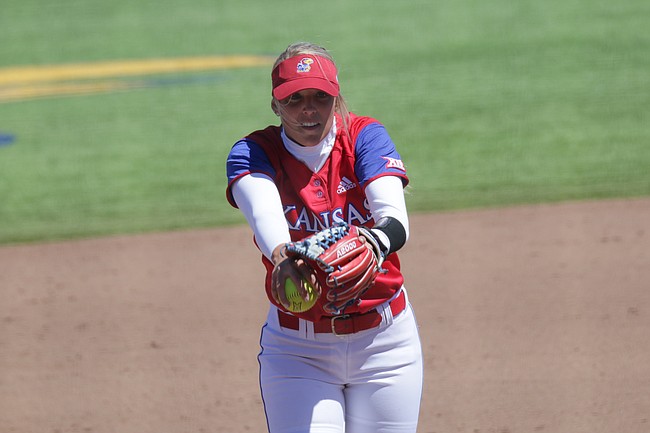 In her first at bat of the series, Oklahoma senior infielder Sydney Romero struck out in the first, just one of the four times she got out over the course of the Sooners' series with Kansas.
Romero, a 2018 NFCA All-American, erased any doubts from general managers of the National Pro Fastpitch League still deciding on who their first round selection will be Monday in Nashville. She went a combined 5-for-9 at the plate, reaching on walk twice with two doubles, a home run, and three RBIs.
"I thought we did a great job against her," Kansas coach Jennifer McFalls said. "Obviously, she's going to get her hits, (and) she's just as good defensively for them as she is at the plate."
No. 2 Oklahoma's four home runs were enough to seal an 8-0 run-rule win in six innings over Kansas Sunday afternoon at Arrocha Ballpark. The Jayhawks (14-27, 2-7 Big 12) were unable to score any runs in the series, which included two shortened games, and recorded a total of five hits.
The Sooners (38-2, 9-0) swept their third Big 12 foe of the season.
Becki Monaghan, Morgyn Wynne and Miranda Rodriguez each had a hit for Kansas Sunday. All three came against Shannon Saile (8-1), who had allowed less than three hits in all but three of her 19 appearances in the circle entering Sunday.
"I've been telling our pitching staff that we need to make them earn it," McFalls said. "If they're going to hit the ball hard, then obviously their earning their runs that way. I'd much rather see them earn it than us giving them free passes with extra walks."
Freshman right hander Lexy Mills (6-7) opened the game surrendering three early runs. Mills gave up a leadoff walk to Romero, who later scored on a three-run homer by Caleigh Clifton.
Hannah Todd came in relief for Mills to allow five hits over her five innings of work, throwing three shutout innings.
Oklahoma's Grace Green hit a leadoff homer to open the fifth inning to give the Sooners a four run lead. In the next inning, Romero hit a solo shot in the sixth and Green hit her second of the game.
"It's hard to keep Oklahoma quiet offensively for that long," McFalls said. "When you face a team like Oklahoma, you need to have a pitching staff. You're not going to beat them with one or two great pitchers."
Kansas travels to Texas Tech at 6 p.m. Thursday.
OKLAHOMA 8, KANSAS 0
OU: 300 014 X – 8 8 0
KU: 000 000 X – 0 3 1
W: Saile (8-1); L: Mills (6-7).
More like this story on KUsports.com