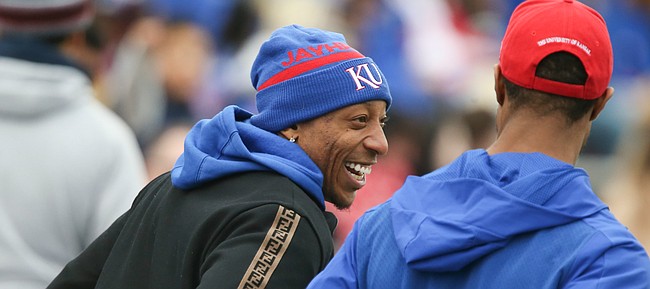 The last time the Kansas football program fielded the type of teams capable of generating national attention, Todd Reesing was tossing touchdowns at quarterback and Chris Harris Jr. was making plays in the secondary.
They haven't been teammates since 2009, and the Jayhawks have won three or fewer games every season since then.
But as two of the more impactful players in program history returned to Lawrence for the spring game and a weekend full of reunions and trips down memory lane with other Jayhawks who not so terribly long ago helped Kansas win the Orange Bowl, both Reesing and Harris felt upbeat about the current direction of KU football.
Speaking with reporters at separate times before Saturday's scrimmage at David Booth Kansas Memorial Stadium, the two former KU standouts both repeatedly used the term "energy" to describe what Les Miles' presence has injected into the long-struggling program.
Photo Gallery
Kansas football Spring Game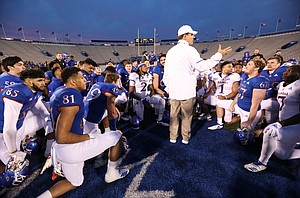 View a gallery from the Kansas football Spring Game on Saturday, April 13, 2019 at Memorial Stadium.
"There's a lot of excitement with Coach Miles coming in," Reesing said, also giving credit to Jeff Long, the athletic director who hired the former LSU and Oklahoma State head coach for KU's latest attempt at a rebuild. "So it's been exciting to be back. You can tell today, even with bad weather, we've got a great turnout and I think people are real excited to see the guys play."
From the conversations Harris had with KU's players this weekend, the Denver Broncos cornerback related that the current Jayhawks "love" Miles.
"And he's proven," Harris added. "He's a proven champion. To have that knowledge and experience is huge."
KU's true debut under Miles won't come until the 2019 season opener on Aug. 31. And it would be impossible for any coach to come in and completely turn the program around overnight. Still, Harris thinks having Miles in place will be "huge" for the program going forward.
"He knows what to do. He knows the ins and outs of the college football game," Harris said. "He's won at the highest level. To be able to have a guy to lead this program like that, him and Jeff Long, I mean, it's a great partnership. So I'm excited for the future, for sure."
Roughly 175 former KU football players were in town for the spring game and related events, including Saturday's postgame Rick Ross concert. On Friday, Reesing said, he got a chance briefly to speak with Miles at an alumni golf outing.
"He's excited about all the guys being back," Reesing shared.
Likewise, former KU players seem fired up about what having Miles at the helm could mean for upcoming seasons.
"He obviously knows how to recruit, he knows how to coach, he knows how to build a program," Reesing said of Miles. "So we're excited to have someone like that at the top."
Seeing this year's spring game, the first with Miles in charge, up close, Reesing gave his thoughts on what the whole extravaganza could mean for KU's recruiting success.
"If you're a recruit, you want to come somewhere that has a fun environment," Reesing said. "I think game day on the hill can be really fun to play football at. I know, because it was like that when I was here. And we want to get it back to that. And I think creating that kind of buzz, even for a spring game, is awesome."
According to Reesing, who played QB for head coach Mark Mangino's KU teams from 2006-09, spring games weren't nearly as grand back in his heyday.
"Everything that they're doing — the alumni game and the concert and trying to get the fans involved in various ways — I think it's really awesome. I think it's supposed to be fun. It's supposed to be entertaining and exciting," Reesing went on. "That's what sports is all about, especially at the college level. You've got kids out there playing and having fun, so create an environment that people want to be around. I think they've done that here."
What's more, according to Harris, it's important for former KU players, and him in particular, to play some part in the program's rebuild.
"It's a huge deal for me," Harris said. "I always want to give back the love and support KU's done to me, and just give it back to the players and the future Jayhawks that are going to be here."