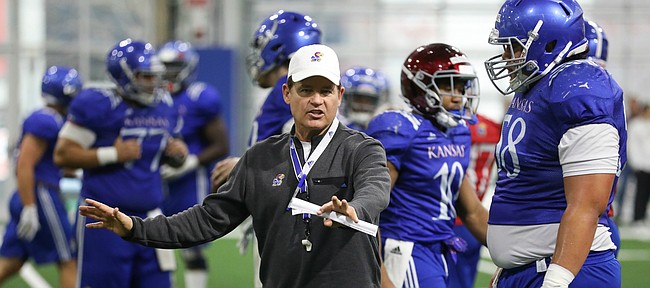 From the day Les Miles arrived at the University of Kansas as the football program's new head coach and hypothetical knight in a shining white cap, die-hard fans and deserters alike wondered what the Jayhawks might look like under the guidance of a man who once led LSU to a national championship.
Anyone interested in getting a peek at the early stages of Miles' overhaul has the chance to do so at Saturday night's spring game (6 p.m. kickoff at David Booth Kansas Memorial Stadium).
Although Miles earlier this week warned that, from a play-calling standpoint at least, the scrimmage will look more "rudimentary" or "vanilla" than the product he and his staff hope to put on the field this fall, the culminating event of the program's spring schedule nonetheless should serve as somewhat of a barometer for the current level of fan interest in a program that has failed to win more than three games each of the past nine seasons.
"If after 15 practices we can check that box that we've basically changed a little bit of our culture," Miles began, when asked about the importance of fan interest, "so that we can look forward to victory and play and fight for it. So that's, hopefully that'll be visible."
The scrimmage itself will simply match KU's offense against its defense in a four-quarter format, with a running clock in the second half.
The fact that the exhibition, which the athletics department has rebranded as "Late Night Under the Lights," is in the evening and even includes a post-scrimmage rap show definitely has those who call the Anderson Family Football Complex home eager for the program's first true stage since Miles took over.
"I didn't know what to think," junior quarterback Thomas MacVittie admitted of his initial reaction to learning the spring game would be at night, with a Grammy-nominated rapper providing the finishing touches. "The night game's pretty interesting with the lights and everything. Hopefully the weather holds off. And we got Rick Ross coming out. That's going to be cool."
Although weather forecasts are calling for a chance of rain and temperatures in the low 50s Saturday evening, KU's players have been looking forward to the event for some time and plan on giving the fans a show.
"It should be exciting, from the first whistle 'til Rick Ross leaves," senior cornerback Hasan Defense said. "We're all looking forward to it. Once we all heard Rick Ross was coming, we were just excited. We're ready to produce, make plays, and then have some fun with Rick Ross," a laughing Defense added.
In all likelihood, the majority of the people who show up to the stadium will be there to survey the current state of the football team.
On the defensive side of the ball, Defense said fans should expect "physicality," adding that starts up front.
"Our box is, they're playing like an SEC box now. They're physical and there's a lot going on," Defense shared of new defensive coordinator D.J. Eliot's scheme. "And with our secondary, we're making a lot of plays on the ball. You know, last year, we were up there in turnover margin (plus-16, second in FBS). And we haven't fell off at all. If anything I think we're just building more and more on it."
Even though it's not the way offensive coordinator Les Koenning and KU's quarterbacks want the evening to turn out, Defense said he and his teammates on the other side of the line of scrimmage won't be happy unless they pull off some takeaways during the exhibition.
"Even after practice, even if it's a short practice, we're upset if we don't have many picks. We get chewed out," Defense said. "We get chewed out even for not trying to strip the ball."
KU's spring game, which is free for fans, is scheduled to begin at 6 p.m. on Saturday. It will be available to stream on ESPN+ and broadcast locally and throughout the state on various cable platforms.
KU football spring game activities
• 3-5 p.m.: Bike and helmet fair (Lot 91, south of practice fields) — bike inspections, safe ride course and custom helmet fitting for children
• 3-6 p.m.: Hawk Zone (on KU practice fields) — inflatable games, face painting, balloons, etc.
• 3-6 p.m.: Gameday on The Hill (bottom of Campanile Hill) — Food trucks, live music, tailgate games
• 3:30-5 p.m.: Egg hunt (Campanile Hill) — for children 10 and younger
• 4, 4:50, 5:30 p.m.: BMX bikers (Lot 94, east of stadium) — free show
• 4 p.m.: Student flag football championships (in stadium)
• 5 p.m.: K-Club alumni flag football game (in stadium)
• 6 p.m.: Spring game
• Postgame: Rick Ross performance (in stadium)