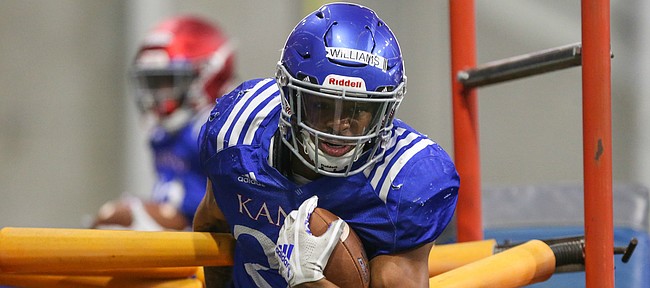 Considering how crowded the backfield seemed for Kansas ball carriers the past couple of seasons, the contrast during practices and scrimmages this spring could have felt jarring for Dom Williams.
While KU's coaches brought in some walk-ons to help increase the number of available bodies at the running back position, it's basically just Williams and Khalil Herbert splitting the significant carries during 11-on-11 situations.
And according to Williams that workload has not proven to be too much; just unfamiliar.
"It's kind of weird having that low (number) of backs," Williams said. "Based on when I first came in there was probably like eight or nine. And it's real different just having two going back and forth."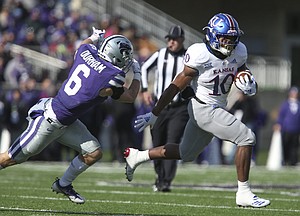 Indeed, when Williams arrived in Lawrence as a true freshman, the 2017 roster featured nine running backs.
Right now, at least for the spring, KU lists six backs on its roster, and one is Pooka Williams, who is suspended from team activities for a yet to be determined period of time, dating back to his misdemeanor domestic battery charge this past December.
Outside of Dom Williams, a junior, and Herbert, a senior, the other currently active running backs for KU are Donovan Franklin (played two games at Army), Pelumi Okeowo (from Goddard) and Kelsey Williams (played receiver at Iowa Central Community College in 2018).
The numbers at the position will look different by the time preseason camp gets here in August — regardless of whether Pooka Williams is reinstated by then.
Head coach Les Miles' first recruiting class at KU included a couple of prospects that the staff identified as potential running backs. Rivals rates both Blue Valley North's Amauri Pesek-Hickson and Dallas Skyline's Velton Gardner as three-star signees.
Back on National Signing Day, the last time that KU assistants were made available for interviews, running backs coach Tony Hull said the staff would be open to moving some running backs to other positions once the rest of the 2019 signing class gets on campus.
"A lot of those guys that played running back play multiple positions," Hull said. "So we'll evaluate them when they get here and we'll see what best fits them, but also what best fits the team, also."
For now, as well as on Saturday night at David Booth Kansas Memorial Stadium, where the Jayhawks will play their spring game (6 p.m. kickoff), it will be heavy doses of Dom Williams and Herbert in KU's backfield.
"I feel like we feed off each other," Williams said. "We kind of like know when each other are tired and sub each other in and out. I feel like that helps a lot."
In 2018, Herbert averaged 4.4 yards per carry and rushed for 499 yards and five touchdowns in 12 games. Williams averaged 4.2 yards per run and finished with 231 yards on the ground, while playing in 11 games and dealing with a nagging knee injury.
Over the past few weeks, Williams related, he, Herbert and the rest of their offensive teammates have begun feeling more comfortable with the schemes and plays they're learning from new offensive coordinator Les Koenning.
The running back from McKinney, Texas, also reported that the Jayhawks' overall approach to spring football has assisted such improvements.
"It's never a low-energy practice," Williams shared.
RBs on KU roster this spring:
No. 1: Pooka Williams, soph. (suspended)
No. 10: Khalil Herbert, sr.
No. 23: Donovan Franklin, R-jr.
No. 25: Dom Williams, jr.
No. 31: Pelumi Okeowo, soph.
No. 32: Kelsey Williams, jr.
RBs in KU's 2019 signing class:
Amauri Pesek-Hickson (Blue Valley North)
Velton Gardner (Dallas Skyline)