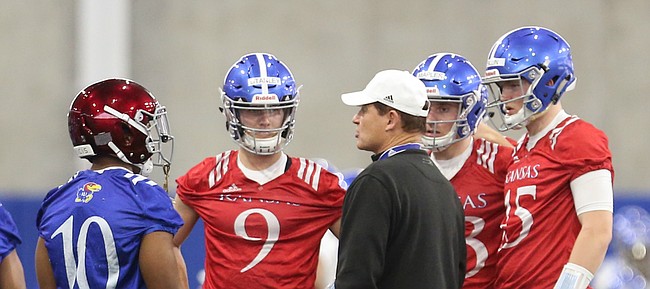 Each of the past two Saturdays, the Kansas football team has broken up the necessary and monotonous drills and repetitions of spring practices with a scrimmage day.
While head coach Les Miles chose not to divulge much about what occurred behind the closed doors of the program's new indoor practice facility during those sessions, which double as rudimentary versions of a game day in the fall, he did make it known that he has seen some promise from the Jayhawks.
"Thomas MacVittie and the quarterbacks seem to be throwing the ball better," Miles began earlier this week, when asked about his observations from the scrimmages.
KU's head coach also said MacVittie and other unspecified QBs could have performed at an even higher level in those scrimmage settings, but noted that the pass protection from the offensive line was "not quite what we wanted."
On the opposite side of the line of scrimmage, Miles shared that he thinks the defense has displayed some progress, but was sure to keep his public analysis vague.
"I think they made less mistakes and played well," he said. "And I think our offense is talented and making some shoot-me-in-the-foot mistakes. If we get that fixed ..."
Before completing that thought, seemingly catching himself from revealing more than he cared to during an interview session, Miles jumped into his evaluation of KU's specialists.
"I think special teams have come along. I think we're punting and kicking and doing those things that we need to do," Miles said, again not singling out any specific players for their contributions.
"We're going to be a good football team. It's just a matter of when," Miles concluded.
Asked specifically whether any skill position player had surprised him or caught his eye during the first few weeks of spring practices, Miles was willing to commend one Jayhawk in particular.
"I think," Miles responded, "Andrew Parchment probably is coming a little bit faster than people may have thought."
Parchment, rated a two-star junior college prospect by Rivals, is in his first semester with the program, after signing with KU this past December.
Originally from Fort Lauderdale, Fla., Parchment will be a junior receiver this coming fall at Kansas. The 6-foot-2, 185-pound wideout played previously at Northern Illinois and Iowa Central Community College.
The Jayhawks will have a third spring scrimmage this coming Saturday. Their fourth and final scrimmage, on April 13, will double as the spring game, which is open to fans, free and scheduled to begin at 6 p.m. at David Booth Kansas Memorial Stadium.