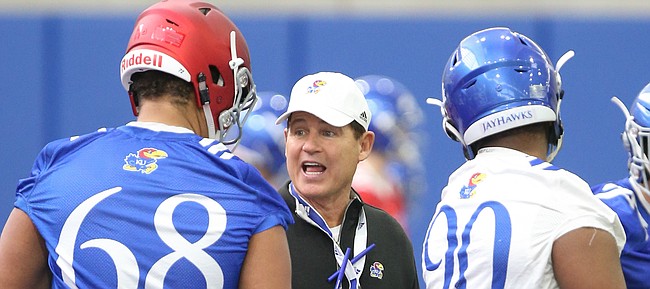 Already past the halfway mark of his first spring in charge of the Kansas football program, head coach Les Miles admitted following Tuesday's practice that there has been some dissatisfaction with the Jayhawks' progress — and that lack of fulfillment isn't only being expressed by Miles.
"I think our team is kind of getting upset with being held back — little penalties, things that stop drives or extend drives if you're the defense. We're sloppy right now," Miles said while speaking with reporters at the conclusion of KU's ninth spring practice. "But we are a very capable team. But one that's going to have to eliminate some mistakes."
While Miles only gave a couple of examples of some slip-ups that spawned the exasperation, he indicated that players on both sides of the ball have been at fault when an official's yellow flag gets thrown during a practice rep.
"It's all mental," KU's first-year coach added of the penalties that have plagued the team.
As an example, Miles cited one instance when one of KU's centers — redshirt junior Api Mane, senior Andru Tovi, sophomore Joey Gilbertson and sophomore Jack Williams took snaps at the position during individual drills on Tuesday — mistimed his delivery to the quarterback. Miles said it happened because the unnamed center was thinking about the cadence and looking for his assignment when it came time to snap the ball.
"He's got to just concentrate on his first step and the snap and those kind of things," Miles stressed.
The coach also made it clear that costly errors haven't been limited to the center position on offense.
"It's a number of guys. We had guys downfield. Why are they downfield when we're throwing it?" Miles said. "Things like that are disruptive to a drive. And we have to realize it, and I think that's going to be the message for the remainder of the week. And if not into next week."
At this point, the Jayhawks already are 60 percent of the way through their spring schedule. There are two more sessions this week, two the following week, the April 13 spring game and the 15th and final practice of the spring after that.
"The good news is, I've had practices like that in my career," Miles said of blunders derailing a team's advancement. "But we have to get rid of those (flaws) in the next six."
According to Miles, it hasn't been all bad for the Jayhawks during the closed periods of practice, when both the offense and defense get to install the plays they'll be using this coming fall and see wether they can manage to make everything work with their personnel packages.
The coach emphasized following the ninth of 15 spring practices that KU has a "talented" team.
"I think we threw the ball and caught the ball well," Miles said. "The protection was difficult. The defense was coming up the field on us. And, again, a couple of mistakes that can be corrected, must be corrected, as we go forward."
While players are not available after Tuesday practices — they speak with media members once a week, on Thursdays — Miles shared that the dissatisfaction over miscues is evident from both the coaching staff and the players on the field when they transpire.
"I think we're in this thing together. It's not like, you know, the coach is just mad at the players — it's not that at all," Miles said. "We're in this thing together, and frankly, it's the only way it works. And we'll have to see how we respond. If it's important to us, this'll be a short, slow period and we'll get (out of the funk) pretty quickly."
Nothing new regarding Pooka Williams
Fielding questions for the first time since running back Pooka Williams agreed to a domestic violence diversion this past week, Miles didn't indicate Tuesday evening whether that development would have any impact on Williams' status with KU football.
"I have no information at all," Miles said, when asked whether there had been any re-evaluation of the situation.
Miles suspended Williams from all team-related activities this past December, after KU police arrested Williams and he was charged with domestic battery.
This past Friday, Jim Marchiony, associate athletic director for public affairs, released a statement on behalf of KU Athletics saying that Williams remained suspended from the team.
"We continue to take this matter very seriously," Marchiony said.
Per his diversion agreement, Williams is required to complete 40 hours of community service by Nov. 30. He must also undergo a domestic violence offender assessment by April 30, and barring additional recommendations from the evaluator, he would have to complete an anger management course by Nov. 30.
If Williams completes the diversion program successfully, criminal charges will be dropped in the case.