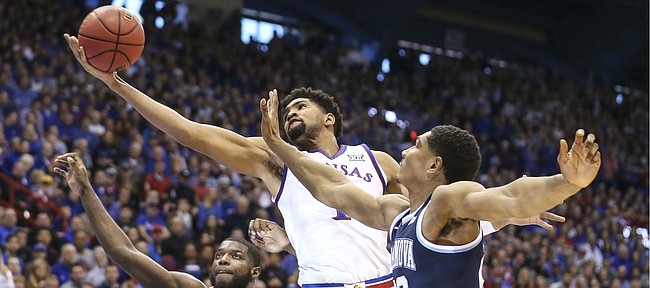 If the 2018-19 season does in fact go down as the only season for Dedric Lawson at Kansas, the junior forward from Memphis sure got his money's worth.
Lawson on Tuesday landed on yet another postseason All-American team, this one a third team honor handed out by The Associated Press.
That news officially made Lawson a consensus third team All-American, which is determined by adding up the various honors handed out by the four major All-American teams — The AP, the USBWA, the NABC and The Sporting News.
Lawson's honor marks the fourth consecutive year that the Kansas program has had a consensus All-American, with Perry Ellis earning second team honors in 2016 and Frank Mason III and Devonte' Graham earning first team honors in 2017 and 2018.
Lawson becomes the 13th Jayhawk in the Bill Self era to earn consensus All-American honors.
Lawson concluded his first season at Kansas averaging 19.4 points and 10.3 rebounds per game, leading the Big 12 in both stats and becoming the first Jayhawk to average a double-double since All-America Thomas Robinson who averaged 17.7 points and 11.9 rebounds in 2011-12. The Memphis native also earned 2019 Big 12 Newcomer of the Year and unanimous all-Big 12 First Team honors after recording 22 double-doubles in his first season with the Jayhawks.
Sometime in the next week or so Lawson is expected to make a decision about his future and many people close to the program believe that the 6-foot-9 forward with guard skills will elect to at least test the waters on a pro career.
If Lawson does so without hiring an agent, he will be eligible to return to KU for his senior season.
ESPN.com's latest ranking of the Top 100 NBA prospects in college basketball, released earlier this week, had Lawson listed at No. 46, which would place him in the middle of the second round of this June's NBA Draft.
One thing that typically plays a huge role in how the draft plays out is set for May 14-19 in Chicago, where the NBA will host its pre-draft combine, an invite-only showcase for the country's top draft prospects.
Stay in touch with KUsports.com throughout the week and weeks ahead for the latest on all of KU's players with decisions to make as well as information and updates on what the Jayhawks will do to replace them.
Here's a quick look at this year's AP All-American teams:
FIRST TEAM
RJ Barrett, Duke (Fr., F)
Ja Morant, Murray State (So., G)
Grant Williams, Tennessee (Jr., F)
Zion Williamson, Duke (Fr., F)
Cassius Winston, Michigan State (Jr., G)
SECOND TEAM
Jarrett Culver, Texas Tech (So., G)
Carsen Edwards, Purdue (Jr., G)
Rui Hachimura, Gonzaga (Jr., F)
Ethan Happ, Wisconsin (Sr., F).
Markus Howard, Marquette (Jr., G)
THIRD TEAM
Brandon Clarke, Gonzaga (Jr., F/C)
Kyle Guy, Virginia (Jr., G)
De'Andre Hunter, Virginia (So., G)
Dedric Lawson, Kansas (Jr., F)
PJ Washington, Kentucky (So., F)
Kansas Consensus All-America selections under Bill Self
2005 - Wayne Simien (first team)
2009 - Sherron Collins (second team)
2010 - Sherron Collins (first team), Cole Aldrich (second team)
2011 - Marcus Morris (second team)
2012 - Thomas Robinson (first team)
2013 - Ben McClemore (second team), Jeff Withey (second team)
2014 - Andrew Wiggins (second team)
2016 - Perry Ellis (second team)
2017 - Frank Mason III (first team)
2018 - Devonte' Graham (first team)
2019 - Dedric Lawson (third team)
Dedric Lawson 2018-19 Honors:
Consensus All-America Third Team [2019]
Associated Press All-America Third Team [2019]
NABC All-America Third Team [2019]
USBWA All-America Third Team [2019]
Big 12 All-Tournament Team [2019]
The Sporting News All-America Second Team [2019]
All-Big 12 First Team [2019]
Big 12 Newcomer of the Year [2019]
Karl Malone Power Forward of the Year Award Finalist (1 of 5)
Naismith Trophy Semifinalist (1 of 10)
Naismith Trophy Midseason Team (1 of 30)
Karl Malone Power Forward of the Year Award Watch List (1 of 10)
Oscar Robertson Trophy Final Midseason Watch List (1 of 12)
Wooden Award Midseason Watch List (1 of 25)
3x Big 12 Player of the Week (11.12, 11.26, 12.26)
5x Big 12 Newcomer of the Week (12.2, 12.17, 1.14, 1.28, 2.11)
Oscar Robertson Midseason Watch List (1 of 20)
NIT Season Tip-Off Most Valuable Player
Wooden Award Preseason Watch List (1 of 50)
NABC Player of the Year candidate (1 of 20)
Preseason Associated Press All-America
Karl Malone Power Forward of the Year Award Candidate (1 of 20)
Preseason All-Big 12 First Team