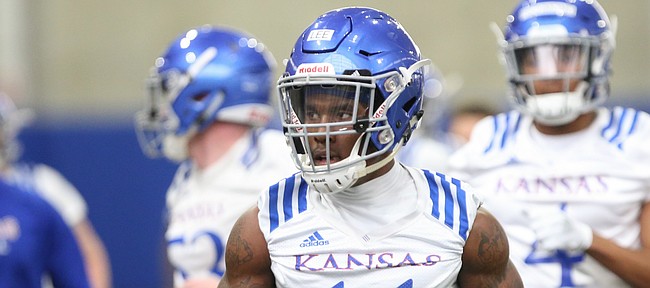 As returning members of the Kansas football team's defense learn the schemes, calls and nuances of new coordinator D.J. Eliot's playbook, safety Mike Lee is thrilled about one component in particular.
Over the course of his first three seasons with the Jayhawks, Lee has played in 32 games, made 215 total tackles, picked off four passes, forced five fumbles and built a reputation as a hard-hitter in the secondary.
But thanks to some assignments that will pop up within Eliot's 3-4 base defense, the 5-foot-11 safety from New Orleans anticipates adding a new element to his bag of tricks this coming fall, Lee's senior season with the Jayhawks.
In some coverages, Lee will get to match up with a slot receiver and exhibit his coverage skills.
Exactly how often did Lee do that during the past three years?
"Mostly not enough," Lee replied. "I was always, like, back deep. But this year, I'm mostly going to be covering the slot."
The formation of the offense will dictate if and when Lee gets to line up across from a slot receiver or tight end, so it won't be a philosophy-altering adjustment for the man known most for obliterating passing targets and/or ball carriers. And it's a variation he welcomes.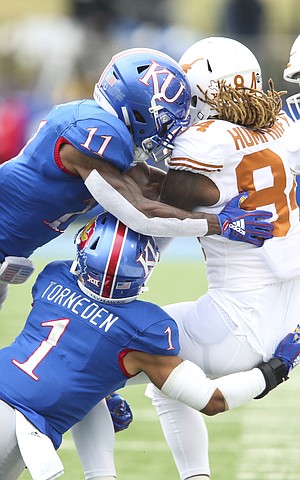 "I like it," a grinning Lee said of the chance to go one on one versus a receiver or tight end. "I like to cover. And most people, they say I can't cover; I'm just a hitter. So I'm going to show them I can do both."
As one might expect, Lee's mentality in his new role won't be too different from the way he approaches the game when he's positioned deep in the secondary and reading and reacting to a play.
When he's lined up directly across from someone he's about to cover, Lee intends to make his presence felt.
"I'm really a physical guy. I like to play physical," Lee said. "Obviously, I like contact. That's just me. And I want to show my abilities, that I can cover."
During closed periods of KU practices this spring, Lee shared that he has been able to test his coverage skills, not only when Saturday scrimmages come along, but also in certain team periods, when the Jayhawks are taking reps in their man defense or going over various red zone coverages.
"I can come down and cover and put my hands on, it'll either be the tight end or the slot receiver," Lee said. "I get physical with them."
Lee is one of several experienced players returning in KU's secondary, which figures to be a strength of the defense in Les Miles' first season as head coach. The Jayhawks should be able to feature in their defensive backfield this coming season some combination of Lee, senior safety Bryce Torneden, junior safety Ricky Thomas, senior cornerback Hasan Defense, sophomore cornerback Corione Harris, senior cornerback Elmore Hempstead Jr., senior safety Jeremiah McCullough and redshirt junior corner Kyle Mayberry. And there's still plenty of time for others to emerge between now and the start of the season, an Aug. 31 home date with Indiana State.
"We're still going to put five DBs on the field," Lee said of the secondary. "Everybody's getting reps. Everybody's getting the feel of the game. Everybody knows what they've got to do."