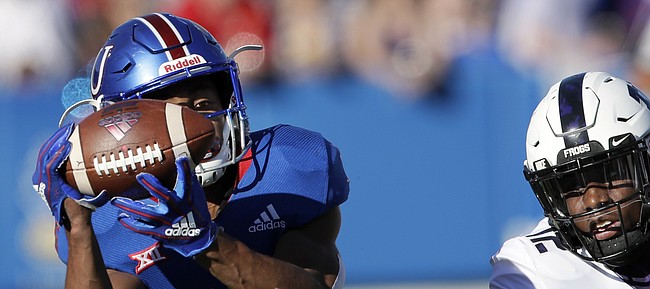 Outgained by close to 200 yards in an upset home win over TCU this past Saturday, a few flashbulb moments for the Kansas football offense provided just enough for the Jayhawks to leave David Booth Kansas Memorial Stadium victorious.
A hot start to the third quarter and an 11-play, 77-yard drive for a touchdown proved to be crucial in ending KU's four-game losing streak.
And no play on that series seemed as improbable as a 31-yard catch by Stephon Robinson.
Trailing 10-7 at the time, the Jayhawks (3-5 overall, 1-4 Big 12) were a failed 3rd and 7 away from punting the ball back to TCU.
Six-foot Horned Frogs cornerback Jeff Gladney lined up across from the 5-10 Robinson at KU's 38-yard line, stepping up close to the line of scrimmage to play press coverage.
It was then that Robinson figured he and Kansas senior quarterback Peyton Bender had a chance to make TCU pay.
And they did. Robinson beat Gladney deep down the right sideline. Bender put his pass at a spot where only Robinson could catch it. And Robinson transitioned smoothly from a sprint to a dive, hauling in a reception that flipped KU's field position.
"I kind of had a feeling that he was going to throw me the ball on that, because they were pressed," Robinson recalled. "That's a win ball right there. I just knew he was going to throw it up. He put it in the right spot and I made the play. So big ups to Peyton for that."
It was a career-long snag for the first-year Jayhawk, a transfer from El Camino Community College (Calif.), leading to a personal best 59 receiving yards on the day, too. Two of his four catches were 3rd down conversions.
Bender, who completed 19 of 29 passes for a season-best 249 yards, as well as two touchdowns, said KU has a "ton of talent" at the skill positions, and the offense just needs to get players such as Robinson the ball in space.
"Incredible catch by Stephon," Bender described of their 31-yard connection, while discussing it on "Hawk Talk," KU's weekly radio show. "He's the type of guy that does that every weak at practice. During the game I didn't see how good of a catch it was. I just saw the official waving it was caught, and ended up seeing a video of it later on Saturday and it was pretty incredible."
The most remarkable of Robinson's four catches was one of three 3rd down conversions for KU on that scoring drive.
Later in the third, Bender hit senior receiver Jeremiah Booker along the left sideline on 3rd and 10 for 34 yards, which helped set up a Gabriel Rui field goal.
"Those are third downs against the best third down team in the league," KU head coach David Beaty declared during his weekly "Hawk Talk" radio show.
The Jayhawks converted 10 of 17 3rd downs overall, bolstering their chances of ending a 14-game Big 12 losing skid.
"Which if you can do that," Beaty added, "you're going to lead the country. That's by far the best we've been this year."
On the season, KU has converted just 36 percent of its 3rd downs, which ranks last in the Big 12 and 90th nationally.
While discussing KU's passing game potential, fourth-year head coach Beaty repeated a sentiment he has referenced throughout this season, amid good times for the offense and bad.
"We have really good players on the perimeter. We really do," Beaty said. "Guys that can really run, that can get behind folks. A couple of weeks ago, we had a definite shift in philosophy in how we attack folks with those perimeter players."
Against TCU, four different Jayhawks caught Bender passes for 20-plus yard plays: Booker, Robinson, Pooka Williams (20, 27 and 28 yards) and Steven Sims Jr. (20 yards).