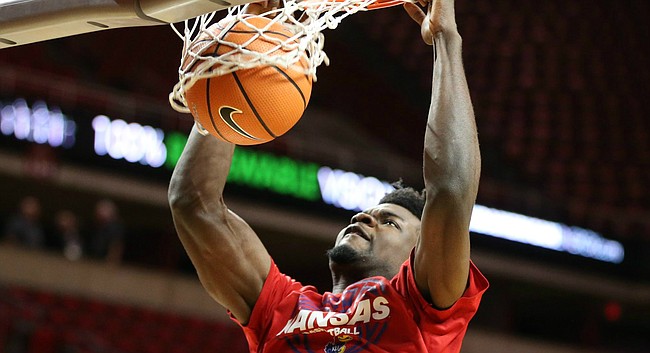 The day before Kansas played Emporia State at Allen Fieldhouse in the exhibition opener, coach Bill Self spoke in interesting fashion about the contrasting styles of his two tallest starters, Udoka Azubuike and Dedric Lawson.
"We've got the past and the future," Self said.
Prototypical centers of a bygone era stayed close to the block and powered their way to points and rebounds. Today's big men are equally comfortable attacking from the perimeter with drives, 3-pointers and passes.
One day after Self talked about the past and the future, Azubuike, who represents the past, scored two points and turned it over six times in the 93-55 blowout against Emporia State.
In the same game, Lawson, who embodies the future, totaled 31 points and 15 rebounds in 23 minutes. He made 11 of 16 shots.
That stark production disparity between the two bigs doesn't mean Azubuike is yesterday's news, Lawson tomorrow's.
Azubuike is the least skilled player on the team, Lawson the most skilled. Consequently, the center from Nigeria needs help from plays designed to create open air for him near the hoop. He wasn't about to get any of that last week and won't again Thursday in the exhibition vs. Fort Hays State.
Why not? Because Kansas opens the season against 10th-ranked Michigan State and doesn't want coach Tom Izzo and his staff to have any idea what plays they'll be running. Looking at last season's games won't help Izzo much either, because KU is a completely different team.
Lawson, being the team's most skilled player, doesn't need nearly the help that Udoka does to pick up points. So it stands to reason that the exhibition season brings the worst out in Azubuike.
Once the curtain is drawn up on the real season, the plays will be drawn up for Udoka. A series of passes, screens and cuts will leave the defense scrambling, trying to account for everybody, and the next thing you know, Azubuike's hands will be way above the rim, catching a lob and flushing it.
An athletic player for someone who is 7-feet tall and weighs 270 pounds, Azubuike still plays a vital role in the college game and will have a spot in the NBA, even if it's as a backup, his likely role.
"There are very few big men who are the Shaquille O'Neal-type big men," Self said. "But I will tell you this: If Shaquille O'Neal played today, teams would adjust to his talent and play differently to make sure they utilized him. But there are just not many guys out there like that. There isn't anybody like that. The game has gotten smaller. And even if it hasn't gotten smaller, it's gotten more skilled, where big guys who can shoot have become more of a priority than they ever have been."
Versatile big men create mismatches that send defenses into panic mode and they can put pressure on a defense handling the ball the way Lawson did vs. the Hornets. If their versatility can extend to the other end of the floor, they have great value because they can guard anybody on a switch. Think: Willie Cauley-Stein.
Might old-fashioned centers before long be sent to the Smithsonian, stored next to the telephones with the rotary dials?
"I don't believe that. I think talent will prevail," Self said. "If you have a true 5, people will play with it. But if you don't have a true 5, you don't have to play to it anymore like you thought you had to in the past."
Kansas has a true center and he'll have big games, but don't look for the Fort Hays State exhibition to be one of them.