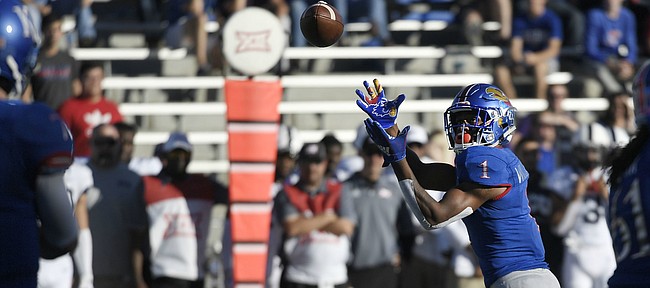 It didn't matter Saturday against TCU that Kansas running back Pooka Williams recorded a season-low 33 rushing yards on 11 carries.
Williams' versatility in the passing game, with seven receptions for 102 yards and two touchdowns (all personal bests for the freshman from Louisiana), played a crucial role in the Jayhawks winning their first Big 12 game in nearly two years, 27-26, at David Booth Kansas Memorial Stadium.
KU head coach David Beaty said Monday during the Big 12 coaches media teleconference he realized how impactful Williams could become as both a rusher and receiving threat long before the 5-foot-10, 170-pound running back arrived on campus.
In early February of 2017, Williams became the first official member of KU's 2018 recruiting class when he verbally committed to the Jayhawks, in part due to his connection with fellow Louisianan Tony Hull, KU's running backs coach.
"We were able to see, obviously, a ton of his games and a ton of what he did over that time," Beaty said. "Obviously, could see that on video and the allowable chances that we had to go watch him. So when you go see a guy warm up, that's when you actually get to see him get reps at catching the football, and you see this dude grabbing it with one hand."
Upon shaking hands with the running back from Hahnville High, Beaty realized how Williams made it look so easy.
"His hands look like they belong on a 6-5 guy," Beaty said. "It's just really weird. It's unique. Johnny Manziel was that way, too. He was 6-foot, but his hands were so long. It's just really rare to have that long of hands."
Williams may not play wide receiver, but he has more than earned the trust of his teammates and coaches as a pass-catcher, with 21 receptions for 217 yards in seven collegiate games.
"He's got really good hands. We knew that from the very beginning," Beaty said. "When you've got a player that you feel like is one of your better players, I think you've got to do a good job as a coach trying to find and manufacture ways to get him a job — get him the ball — in all the ways he's capable of using it."
Both of Williams' touchdown catches against TCU came in the second half. KU (3-5 overall, 1-4 Big 12) took a 14-10 lead early in the third quarter, when senior quarterback Peyton Bender scrambled to his right to keep a 3rd and goal play alive. As the QB looked toward the middle of the field for an open Jayhawk, he spotted Williams drifting toward the end zone on the right side and threw it to the improvising running back just in time for a score.
"Going into this week," Bender said following the win, "we thought we had a good matchup with Pooka on some of their linebackers. So in our game plan, we emphasized trying to get him the ball in space, one-on-one with those guys. We thought he'd be able to beat them."
Bender was asked: Isn't Williams a good matchup against every linebacker?
"Yeah, I'd say so," the grinning QB replied. "He's pretty good."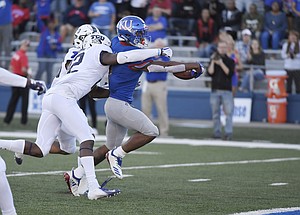 Williams also scored KU's go-ahead TD with 6:13 left in the fourth quarter. The success on that play was more about its design than finding a way to make a play, backyard-football style.
Bender said the KU offense tries to put a linebacker "in a bind" by making the defender decide whether to cover Williams or a receiver running a stick route. If the linebacker sits back on the route?
"Just flip it out to (Williams) real quick, and let him go make a play," Bender said.
Indeed, Williams did the bulk of the work on a 28-yard TD, catching it in the left flats before making a pair of Horned Frogs defenders miss near the line of scrimmage. Williams then sprinted toward the middle of the field and delivered a stiff arm on another would-be tackler near the 5-yard line, before extending the ball with his right hand at the goal line.
"That's just what he does," Bender said of Williams, who now has 1,034 all-purpose yards for KU this season. "He's that type of player. That's why we try and isolate him in space. You just try to get him the ball with a lot of room to run, because you never know what's going to happen."
Big 12 honors for Pooka and Rui
Williams' success this past weekend in a rare KU conference victory helped him become the Big 12's Newcomer of the Week for the third time this season.
The back from Louisiana became the first true freshman in Big 12 history to have a 100-yard rushing game and 100-yard receiving game in a debut season. His two 100-yard rushing games to date came in his first two appearances at the college level — 125 at Central Michigan and 163 versus Rutgers.
Meanwhile, KU senior kicker Gabriel Rui was named co-Special Teams Player of the Week in the Big 12.
Rui drilled two critical second-half field goals in the Jayhawks' win, from 34 and 27 yards, and made all three of his PAT attempts.
Rui, from Hinton, Okla., shared the award with Oklahoma State punter Zach Sinor.
Williams on Hornung Award honor roll
Williams' huge day against TCU also landed him a spot on the Paul Hornung Award Honor Roll.
The Paul Hornung Award, now in its ninth season, is given annually to the most versatile player in major college football by the Louisville Sports Commission and football legend and Louisville native Paul Hornung.
Sunflower Showdown set
KU's next two games will kick off at 11 a.m.
This Saturday, the Jayhawks play host to Iowa State (4-3, 3-2) at David Booth Kansas Memorial Stadium (FOX Sports Networks).
The Big 12 announced Monday that KU's Nov. 10 game at rival Kansas State (3-5, 1-4) also will kick off at 11 a.m. and air on FOX Sports Networks.