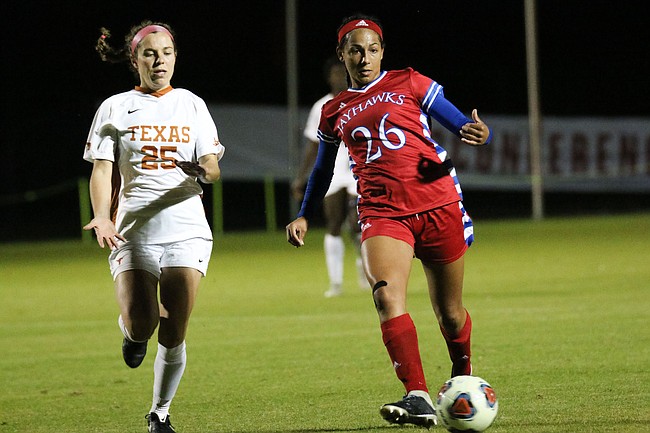 KANSAS CITY, MO – Unlike other freshmen at Kansas, Sarah Peters is familiar with playing on Children's Mercy Victory Field. Peters played in her high school state final for Lee's Summit North less than a year before Sunday. Coincidentally, North sat just over 11 miles away from the goal in which she stood.
Except heading into Sunday, Peters and Texas goalkeeper Nicole Curry had only allowed 12 goals, including three when the two teams last played.
Peters made four saves in the Jayhawks' 3-1 (0-0 regulation) penalty kick loss to Texas Sunday night. Kansas was eliminated in the first round for the third straight year.
"We definitely had enough chances tonight to take care of it, but unfortunately, it didn't work out that way," coach Mark Francis said.
The two teams combined for just seven shots with two on target, as it was a first half filled with anything but action. Frigid conditions slowed opportunities in the box, as Miriam Melugin caused Curry to slip, though her ball was stopped by a Longhorn defender.

With the rest of the conference playing throughout the day, Kansas joined seven teams who were unable to score in the first half.
Minute by minute, the two teams would not let their guards down. The teams put five shots on goal in the second half, with Peters adding another three saves to finish the night with four.
The Longhorns had the best chance of the night late into the 85th minute, but junior defender Addisyn Merrick took off running to catch up to tackle and get in the way of a breakaway by Texas forward Alexa Adams.
Instead of defending offensive chances, Kansas started to create them. With four shots and one on target, Ceri Holland forced a Texas defender to make a save in the box after Curry was beat for a team save and kick off another sudden-life second overtime.
After 120 minutes and 38 shots, with nine on target between the two teams, the players went to penalty kicks. Kansas switched goalies for the first time this season, putting in senior Lauren Breshears for the penalty kicks.
Holland was able to score on Curry, but Breshears allowed three goals for the Longhorns. Texas took the win after a scoreless draw through two overtimes.
"Based off practice this week, (coach Francis) decided to go with Lauren," Peters said. "Lauren made her save, she just didn't finish."
Breshears saw action in just three matches for the Jayhawks in her five seasons prior to Sunday, all in 2015, her redshirt freshman season.
"Penalty shootouts are a bit different, it's just strictly a shot-stopper," Francis said of his decision for Breshears. "The role of being a backup goalkeeper is not an easy one because it's not like we could put you somewhere else on the field … She's a phenomenal teammate, she just exemplifies what a teammate should be."
With Kansas' (11-5-3, 5-4-0 Big 12) tournament hopes secured well before the conference tournament, the Jayhawks will hope to host a first-round matchup of the NCAA tournament.
More like this story on KUsports.com