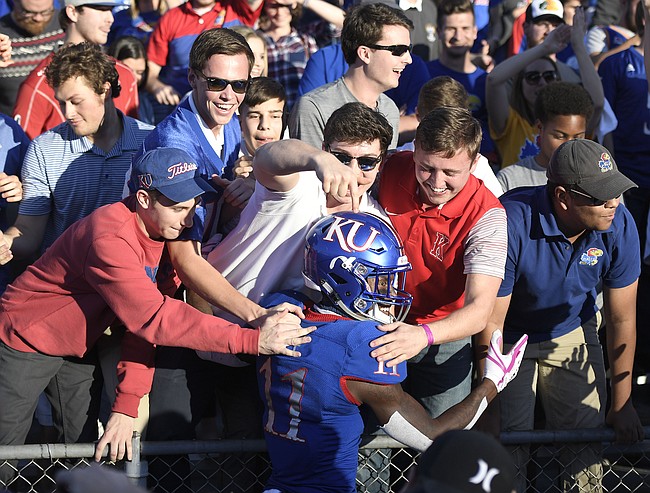 With a rare Kansas football victory at stake, senior quarterback Peyton Bender had to run. Backward.
And then throw the ball out of the back of the end zone.
And if all of that went perfectly, the Jayhawks would beat TCU Saturday at David Booth Kansas Memorial Stadium.
Actually, as it turned out, just one miscalculation in the final seconds of the fourth quarter wouldn't sting the charmed-for-a-day Jayhawks. Bender successfully executed the safety, but left a single second up on the game clock.
It was enough time for TCU to field a Liam Jones squib kick but not enough to do anything with it and surpass a 27-26 KU lead, which proved to be the final score once Horned Frogs redshirt freshman La'Kendrick Van Zandt fielded the ball.
Photo Gallery
KU football vs. TCU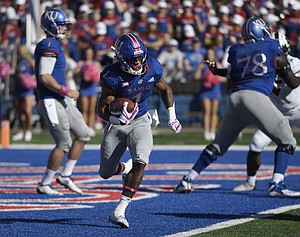 The Kansas football team knocked off TCU, 27-26, at David Booth Kansas Memorial Stadium on Oct. 27, 2018.
Irate TCU coach Gary Patterson told reporters afterward the plan was to not field the kick.
"Everybody was told fall on the ball, then the clock doesn't start, and then you've got a chance to kick the field goal. Everybody was told fall on the ball," Patterson said, using those last three words seven different times before he got done describing the game's final play.
The preceding play from scrimmage proved even wilder, with KU aiming to avoid giving the ball back to the Frogs (3-5 overall, 1-4 Big 12) by any means.
"We were just trying to run out the clock," Bender said of a play call that followed two consecutive KU timeouts with seven seconds to go in the fourth.
KU's coaches asked Bender to field the 4th and 13 snap from the Jayhawks' 16-yard line and begin retreating.
"Run into the end zone and just try and buy as much time as you can and throw the ball up," Bender said of the plan, which hit a snag when his legal backward lateral hit a canopy behind the south end zone, leaving one second.
"It's a hectic play, it's something I hadn't experienced," Bender admitted. "So just trying to not fumble the ball, one, in the end zone, and, two, just not take a big windup to throw it. Just get it out quick."
The oddity of the scene fit the victory, which ended KU's 14-game Big 12 losing streak, dating back to a home win over Texas in 2016, David Beaty's second as head coach.
The Jayhawks (3-5, 1-4) had a butt fumble to thank for TCU's final offensive series concluding seven yards shy of the goal line with a little over a minute remaining.
TCU junior running back Darius Anderson took a handoff on 1st and goal, made a cut and bounced into sophomore offensive lineman Austin Myers' backside, which popped the ball loose.
"I just couldn't believe he dropped the ball," KU senior defensive lineman KeyShaun Simmons, who pounced on it, recalled. "It was just like, 'Wow. He really dropped the ball right here.' I just hopped on it."
The 6-foot-2, 295-pound Simmons never thought about doing anything other than falling on the ball.
"Yeah, I felt like if I wouldn't have got it, somebody else would have from TCU," Simmons said. "I just had to get on it. Get the win for my team."
Especially for the eldest Jayhawks on the roster, a rare case of good fortune felt overdue.
Said redshirt senior linebacker Joe Dineen: "Games break one way or another, and to be on the side that it breaks for, it's a little bit of a change and it's exciting. I'm really happy for our guys."
The turmoil of the game's final minutes eventually spilled onto the postgame turf, as a couple hundred fans joined the Jayhawks in celebration.
"I couldn't believe it. I got confused," sophomore receiver Stephon Robinson shared. "People were running on the field and people were hugging me. I didn't know who they were, saying 'Good game,' picking me up. I didn't know what was going on."
In a game high on drama for the announced 15,069 in attendance, a late go-ahead touchdown for the home team in the fourth quarter from Pooka Williams Jr. had to be reviewed.
After KU's stud freshman running back showed off his juke-ability and strength to turn a short pass from Bender into a 28-yard sprint to the end zone, the ball began slipping out of Williams' right hand after he extended it toward the goal line with two defenders closing in.
After winning his second Big 12 game as KU's head coach, Beaty said "quite a few" nerves accompanied the review, at the 6:13 mark of the fourth quarter.
"That's the deal that, obviously, our rule is that we don't ever reach the ball, that if we have to reach the ball, we usually put it in jeopardy, and usually that happens," Beaty said, referencing a possible fumble, though officials determined Williams' TD stood. "He's a young guy. He's a freshman. And as unbelievable as a player he is, he's human. Fortunately for us, it stood, and I don't know exactly where everything else went. But from that standpoint, that was a big play. He made a heck of a run. I thought he did some really nice things for us today, some things that maybe people won't see unless you were really watching the tape close. He did some really good things away from the ball."
Power Five's constant underdogs opened the final quarter by taking their first fourth-quarter lead in a conference matchup since defeating Texas in Lawrence nearly two years ago.
Senior kicker Gabriel Rui nailed his second field goal of the afternoon on the first play of the fourth, putting KU briefly ahead, 20-17, with a 27-yarder.
The Jayhawks could have used more out of the possession, though. The offense got to start 13 yards away from the south goal line after senior KU linebacker Keith Loneker Jr. easily picked off a Michael Collins throw. But the offense picked up only 3 yards.
Collins (23 of 33 passing, 351 yards, TD, interception) would add a 3-yard rushing score to put TCU back ahead before the late-game chaos unfolded.
The Big 12's worst football program didn't dig itself a massive hole in either half, enabling the Jayhawks to truly compete in a conference matchup for a change.
Stops by Simmons and Corione Harris as the KU defense opened on the field in the third quarter forced TCU to go three and out.
The Jayhawks' offense didn't squander the newfound momentum, either. On a series highlighted by Robinson laying out to secure a 31-yard pass down the sideline from Bender on 3rd and 7, the Jayhawks benefited from a TCU facemask penalty on Vernon Scott, too, on a separate Bender-to-Robinson connection.
Bender even bounced back from a hurried misfire on a potential TD throw to Jeremiah Booker, to scramble on 3rd and goal at the 7-yard line and find Williams in the end zone, giving KU a 14-10 lead early in the third quarter.
In what proved to be a low-scoring first half, despite KU marching down the field in the game's opening minutes for a touchdown, TCU outgained KU 279-89 in total offense. The Horned Frogs averaged 7.3 yards per play before intermission and KU just 3.1.
Bender didn't impress in the opening half, either, going eight of 12 for 67 yards and suffering two sacks on KU's last series of the second quarter.
But Beaty stuck with his QB, just as he did throughout the previous week's loss at Texas Tech, and Bender finished 19 of 29 for 249 yards, with two touchdowns and no interceptions.
Beaty said there was "no question" about taking Bender out in favor of one of KU's backups.
"It wasn't their fault. It wasn't Peyton's fault," Beaty said of some first-half struggles. "It falls on me. We kind of got out of some of the things we were doing, and it really kind of played into their hands a little bit. Even though they were things that looked good on paper, they're pretty good at what they do. So we have to do what we do."
The game actually began as close to flawlessly as KU could hope for, upon the Horned Frogs winning the coin toss and deferring, allowing KU to receive the opening kickoff of the sunny Big 12 matinee.
KU's offense started by humming along for a change, with the help of a TCU pass interference penalty, before calling a timeout on 1st and 10 at TCU's 28 less than three minutes into its opening drive.
However, Kansas successfully avoided a potential stall-out.
With four consecutive rushing plays, involving three different running backs (Khalil Herbert, Dom Williams and Pooka Williams), the Jayhawks reached TCU's 12-yard line.
After Bender hit Jeremiah Booker for a near-touchdown on an 11-yard connection, Herbert took a direct snap, which he momentarily mishandled, one yard for a TD.
For just the third time this season and first in Big 12 play, the Jayhawks scored first, with an 11-play drive that covered 75 yards.
Afterward, Dineen, who led KU with 13 total tackles, described the feeling that accompanied winning a Big 12 game.
"All the work you put in and you're not seeing the results, you're not seeing the results, but you keep grinding it out," Dineen said. "To finally see the reward is pretty awesome."
Upon moving to 6-38 as KU's head coach and 2-30 against Big 12 competition, Beaty choked up when asked what a conference win meant to him after going without one for nearly two years.
"It means more to our kids and our fans. For me, as a coach, I don't get to live in that world. I get to live in the job at hand, right? There's emotions that are attached to the people you care about, particularly the players who have taken — you know, they've taken some tough hits along the way that I'm not sure many kids can handle," Beaty said.
But, Beaty said, the "kids in that room" are really good men.
"I think they give you a chance. They keep coming back," the KU coach added. "They don't let the world beat them down. They're their own men. They think their own way."
Beaty said he's happy for the fans and those who have invested in the program.
"I'm happy for our AD, our administrations. Anybody that's a Jayhawk in any way, I'm happy for them," Beaty continued. "Ultimately, that's why we're here is to make the brand better and help people who love this thing be happy about it. Today, we were able to do that."
KU plays host to Iowa State (4-3, 3-2) next Saturday.
SCORING SUMMARY
FIRST QUARTER
9:24 — Khalil Herbert 1 run. Gabriel Rui kick. Eleven-play drive for 75 yards, in 5:36. (KU 7, TCU 0.)
SECOND QUARTER
12:49 — Jonathan Song 31 field goal. Eight-play drive for 39 yards, in 2:12. (KU 7, TCU 3.)
2:47 — Jalen Reagor 56 pass from Michael Collins. Song kick. Six-play drive for 92 yards, in 2:14. (TCU 10, KU 7.)
THIRD QUARTER
9:17 — Pooka Williams 7 pass from Peyton Bender. Rui kick. Eleven-play drive for 77 yards, in 4:42. (KU 14, TCU 10.)
5:36 — Collins 2 run. Song kick. Nine-play drive for 81 yards, in 3:36. (TCU 17, KU 14.)
2:28 — Rui 34 field goal. Nine-play drive for 58 yards, in 3:08. (TCU 17, KU 17.)
FOURTH QUARTER
14:58 — Rui 27 field goal. Five-play drive for three yards, in 1:44. (KU 20, TCU 17.)
10:38 — Collins 3 run. Song kick. Eleven-play drive for 75 yards, in 4:20. (TCU 24, KU 20.)
6:13 — Williams 28 pass from Bender. Rui kick. Nine-play drive for 79 yards, in 4:19. (KU 27, TCU 24.)
0:01 — TCU team safety. (KU 27, TCU 26)