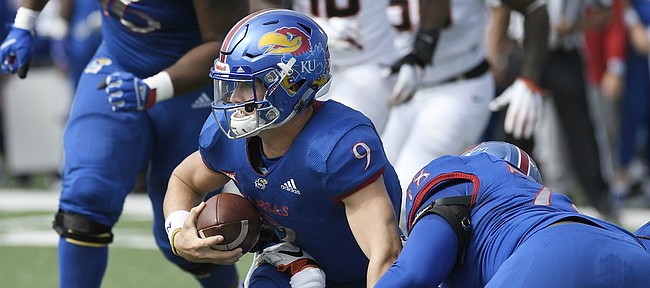 — Kansas (2-5 overall, 0-4 Big 12) vs TCU (3-4, 1-3) • 2 p.m. kickoff, David Booth Kansas Memorial Stadium • Game-time forecast: 68 degrees, mostly sunny, 0% chance of rain • TV: FOX Sports 1 • Radio: KLWN, FM 101.7 / AM 1320
— Log on to KUsports.com for our live game blog and follow our coverage team on Twitter: @KUSports, @BentonASmith, @TomKeeganLJW and @SJacksonLJW
Keys for Kansas
1. Correctly identify the QB who gives you the best chance
Who will start at quarterback for Kansas this week?
Who knows?
Head coach David Beaty gave the job back to Peyton Bender following a bye and the midseason firing of former KU offensive coordinator Doug Meacham. But Bender, a senior in his second season with the Jayhawks, never looked fully comfortable until the latter stages of a 48-16 loss at Texas Tech a week ago.
Bender completed only 43.9 percent of his 41 passes in the defeat, a number so low that it landed in the neighborhood of arguably his two worst days as a KU QB, when he went 8 for 19 (42.1 percent) at Iowa State and 7 for 16 (43.8 percent) at TCU in back-to-back shutout blowouts in October of 2017.
Ahead of TCU playing in Lawrence, Beaty said the QB job would be determined at practices this week.
Podcast episode
On an abbreviated episode of the KU Sports Hour, KU football beat writer Benton Smith and sports editor Tom Keegan answer your Twitter questions — from timeouts and quarterbacks to KU's one-man recruiting class and a hot seat for David Beaty.
So only Beaty and those with whom he works closest know at this point which of KU's three QBs — Bender, redshirt junior Carter Stanley or sophomore Miles Kendrick — impressed enough to earn the start against TCU.
"When we get open receivers in the Big 12, you can't afford to miss those guys. You've got to make those throws," Beaty said earlier this week.
With five games left in the season, KU still doesn't have a definitive starting QB. If the Jayhawks want to nab a win or two before 2018 has come and gone, they had better land on one now.
2. Defense rising to 'the moment'
Obviously KU's offense didn't give its defense much help at Texas Tech. Still, the Jayhawks' defenders allowed 553 yards of total offense (second-most this season, behind 568 versus Oklahoma State).
KU particularly struggled against Tech QB Alan Bowman, who hit on 36 of his 46 passes for 408 yards and three touchdowns, often exploiting in-air mismatches by connecting with Tech's 6-foot-5-and-over receivers, Antoine Wesley and T.J. Vasher.
When asked to identify what other issues plagued KU's defense at Tech, Beaty said the Jayhawks spoke this week about winning in what he repeatedly called "the moment of truth," referring to 50-50 battles.
"When there's a play to be made, that's where we have to be able to step up and be able to provide ourselves with more than the opposing team does," Beaty said.
Third down has proven to be a breaking point for KU's defense this season. Through four Big 12 games, opponents are converting on almost half of their third downs (25 of 51). Texas Tech went 8 of 14.
"We let them get out of it," Beaty said, "and we can't do that."
3. Pounce on takeaways
By Gary Patterson standards, TCU has struggled with protecting the football and winning the turnover margin this season. The Horned Frogs are 106-14 all-time under Patterson when coming out on top or finishing even in that category.
But this fall, TCU (3-4 overall, 1-3 Big 12) already has lost in turnover margin six times.
Not since the Frogs' season opener versus Southern (plus-three) have they finished a game with more takeaways than giveaways. They're minus-10 in turnover margin on the season and minus-nine against their conference opponents to date — Texas, Iowa State, Texas Tech and Oklahoma.
Causing turnovers, of course, happens to be one of the KU defense's specialties. With 12 interceptions from 10 different Jayhawks — junior safety Hasan Defense leads the way with three — Kansas ranks sixth in the nation in picks.
Add KU's nine recovered fumbles — former Free State High standouts Joe Dineen and Bryce Torneden have secured two apiece — and the Jayhawks rank second nationally in both turnovers gained, with 21 (one behind Georgia Southern's 22), and turnover margin, at plus-14 (also behind Georgia Southern, at plus-19).
Playing without receiver KaVontae Turpin (suspended) and QB Shawn Robinson (injured) for the first time this season, TCU's offense could prove susceptible to mistakes. If that's the case, KU's defense must capitalize for the home team, nearly a 14-point underdog according to Las Vegas, to pull off an upset.
Mega Matchup
Pooka Williams vs. all comers
Since his first game in a Kansas uniform, in Week 2 at Central Michigan, running back Pooka Williams has embodied hope for the offense with his open field ability.
As opposing defenses quickly figured that out, though, it became difficult for Williams, a 5-10 true freshman from New Orleans, to consistently dominate.
Still, it's obvious at this juncture of the season that KU needs a Williams-centric offense to maximize its potential. With 14 catches for 115 yards, Williams is the Jayhawks' fifth-most productive receiver, as well as easily their best rusher (88 carries, 620 yards, four touchdowns).
"Pooka," Beaty said, "I don't know if I have the words for how well that guy's played for us. Just phenomenal."
As the season winds down the challenge for Beaty, who named himself offensive coordinator upon firing Meacham, will be involving Williams as much as possible.
The difficult task for the freshman back will be finding new ways to make game-breaking plays when everyone on the TCU defense will be gunning for him.
Jayhawk Pulse
With TCU playing outside of the Texas state borders for the first time in 2018 and having lost four of its previous five games, this very well could be the most winnable game left on the schedule for a Kansas team that hasn't won a conference game since 2016 — 14 Big 12 losses in a row.
The KU defense figures to enter the Jayhawks' first home game in four weeks fired up and focused. But can the offense do the same and give the Jayhawks a chance?
A win against TCU could provide KU with the jolt it needs to compete the next couple of weeks, with matchups against Iowa State (3-3, 2-2) and at Kansas State (3-4, 1-3) ahead.
Yet another loss, however, could potentially prove demoralizing, even for the most resilient veterans on the roster.
Tale of the Tape
KU ….. TCU
KU run D vs. TCU run game √
√ KU pass D vs. TCU pass game
KU run game vs. TCU run D √
KU pass game vs. TCU pass D √
Special teams √
Prediction
TCU 33, KU 17