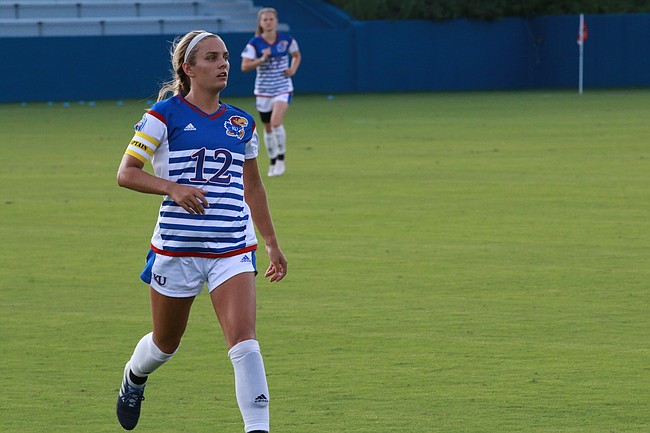 Katie McClure's golden goal in the eighth minute of overtime closed out the regular season on a high note as the University of Kansas women's soccer team upset No. 13 West Virginia, 1-0, Thursday night inside Dick Dlesk Stadium.
Kansas ended the regular-season at 11-5-2 and 5-4-0 in league play. The Mountaineers closed out their season with an 11-4-3 record and a 7-2-0 mark in the Big 12.
McClure is used to the late game heroics, scoring her sixth game winner of the season on the assist from senior forward Grace Hagan. McClure's goal in the 98th minute was her third golden goal in KU's seven overtime appearances.
"I don't know if I've ever been more proud of a group, this group has been unbelievable this year just in terms of how they compete," head coach Mark Francis said in a team release. "I thought West Virginia is a very, very good team, tough to beat here. We had a good game plan and I thought the kids really executed it well, especially the defensive part of it."
Kansas now enters the Big 12 Championship as the No. 6 seed and will play No. 3 seed Texas at 2 p.m Sunday in the quarterfinals at Swope Soccer Village.