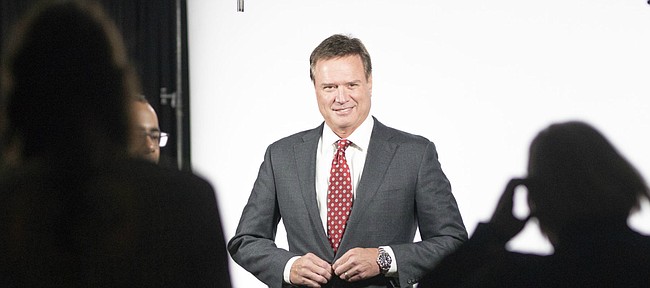 Kansas City, Mo. — Despite a host of new faces and the absence of some key veterans, Kansas coach Bill Self has remained the same coach as he always has been during the early stages of the 2018-19 season.
So says KU junior Dedric Lawson, who watched closely as Self coached his team to the Final Four last year and sees many of those same traits coming out already this season.
"I definitely say he's the same coach because he had the same expectations for Devonte' (Graham) as he does Devon (Dotson)," Lawson said. "He had the same expectations for Frank (Mason) as he does Charlie (Moore). So coach has them up here at the same level so he expects the same from them and at the end of the day that's going to make those (current) guys better."
Asked if he has had to change his approach with more depth and talent but less experience, Self said simply, "Philosophy hasn't changed. Tweaking how we get to it has changed."
"We still have to get paint touches. Well, last year it was off the bounce, this year it may be more off the pass. What we think wins, we will still have to get to. But we may have to go about it a little different getting there. That's where I think coaching is."
Redshirts?
With 12 scholarship players all worthy of minutes, Self remains in the process of trying to figure out how to work out the rotation and get quality time for his entire roster.
Photo Gallery
KU basketball at Big 12 media day in K.C.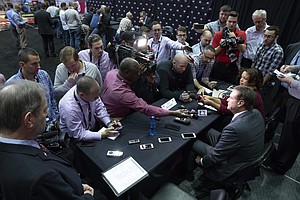 Kansas basketball coach Bill Self and Jayhawks Lagerald Vick, Dedric Lawson and Udoka Azubuike spent Wednesday, Oct. 24, 2018, at Sprint Center, in Kansas City, Mo., for Big 12 media day.
Asked Wednesday if KU had any redshirt candidates that might help with that, Self mentioned just one name.
"Yeah, I do think we have one," he said. "I think (freshman guard) Ochai (Agbaji) could be a redshirt possibility, even though I haven't talked to him about that. You could make a case, well you could redshirt a big, since we have five of them, but I haven't talked to anybody about that. But if there's anybody that could be a possibility, Ochai would be the one, in large part because you can't redshirt any of the other guys because they've already been redshirted."
The quest for No. 15
Although the exhibition games do not count and KU's defense of its 14 consecutive Big 12 regular season titles will not officially begin until January, there always is plenty of talk this time of year about continuing the streak.
Lawson on Wednesday was asked about his first jump into helping KU add to the title streak and, his thoughts echoed those of so many who came before him.
"That's what we're working toward," he said. "A lot of people thought the team last year was not going to do it. I don't think this team really understands that pressure yet because no one really played in the Big 12 but Udoka (Azubuike) and Lagerald (Vick) and we've got a lot of new faces."
Starters for Thursday night
Self on Wednesday said he was still in the process of evaluating his overall rotation and, more specifically, was still trying to decide who he would put on the floor to start Thursday's exhibition opener.
One hint he offered was that Udoka Azubuike, Dedric Lawson and Lagerald Vick — the three Jayhawks who represented the program at Big 12 media day in Kansas City, Mo. — likely would be three of the five starters.
"After that, I don't know if we'll go with some experience or we'll throw the young kids out there," Self said. "I wouldn't be surprised if we go two different starting lineups in the first two (exhibition) games just to see how they react. But don't read into who starts."
Freshmen Quentin Grimes and Devon Dotson, along with sophomores Marcus Garrett and Charlie Moore are the most likely candidates to snag those two final starting spots.
Big 12 tourney here to stay
Wednesday's media day opened with Big 12 commissioner Bob Bowlsby announcing that the conference had reached a deal to keep the postseason men's basketball tournament in Kansas City, Mo., through 2024, a four-year extension on the current agreement.
In addition, the Big 12 women's postseason tournament, held recently in Oklahoma City, will return to Kansas City beginning in 2019-20.
"We don't really have much debate about the site of our tournament," Bowlsby said. "I think our men's tournament has been one of the best in the country. Kansas City has become synonymous with Big 12 basketball. The excitement around the men's championship is contagious with the crowds inside Sprint Center and the surrounding Power & Light District. We look forward to bringing our men's and women's championships back together and continuing to build upon this atmosphere."
Big 12 vs. Big East
Bowlsby also announced Wednesday that the Big 12 had agreed to a four-year deal with the Big East Conference to host an annual head-to-head challenge that is similar to the current Big 12-SEC Challenge.
The Big 12-Big East showdown will include all 10 teams from each conference and is slated to begin next season. KU's first game in the series will be the 2019 matchup with Villanova in Philadelphia.
The new series will run as an additional nonconference matchup and will not replace the Big 12-SEC Challenge, which Bowlsby said he saw continuing for the foreseeable future.
"I was actually good with that," Self said of the new series. "We want to play St. John's. We're playing Villanova home-and-home. So I would think that whatever we want to do from a scheduling standpoint, that could be part of that."
KU will play at Kentucky in late January in this season's Big 12-SEC Challenge matchup. Future Big 12-Big East clashes are expected to take place in December.