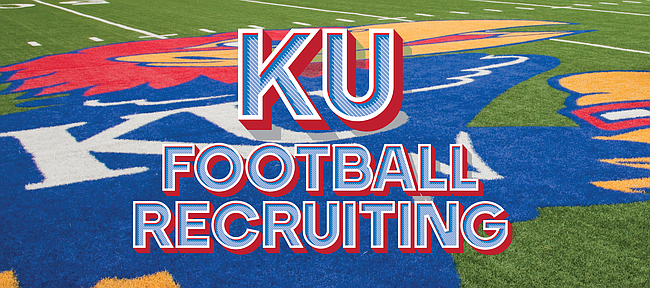 Either during college football's early December signing period or on National Signing Day in February, one would have to believe, some football players will join lone wolf Cole Mueller, the only prospect from the Class of 2019 currently committed to the University of Kansas.
A two-star running back from Wentzville, Mo., Mueller became the Jayhawks' one and only recruit for the class earlier this month when Clay Cundiff, a three-star tight end from Wichita, backed out of his nonbinding verbal commitment to KU in order to align with Wisconsin.
Back in August, Lance LeGendre, a four-star quarterback from New Orleans, decommitted.
With Dec. 19-21, the early signing period for football this year, less than a couple months away, KU head coach David Beaty was asked Tuesday to comment on the state of the program's 2019 class.
"You know, we can't talk specifics," Beaty began, referencing rules that prohibit coaches from talking about players before they sign.
The fourth-year KU coach went on to say he and his staff have been "very pointed and direct" with their approach on the recruiting front, according to what they need and what they're working with from a scholarship standpoint.
"We don't have a whole lot to give, believe it or not," Beaty said, apparently referencing how he and his staff have utilized blueshirts — athletes who don't sign letters of intent but join the program on scholarship and count toward the following year's recruiting class. "So it's one of those deals where knowing exactly what you need and what your needs are, are very important."
Beaty also offered up the idea that "the recruiting game has changed" in terms of what it takes to sign players.
"And where and when do you pull triggers, right? There's guys running all over the fields in places we're playing and in the SEC, of guys that were committed to us," Beaty said. "I mean, we've got to learn from that. So being very smart about how we do things and making sure that we're just not the guys that just put people on radars. That make sense?"
During KU's recruiting efforts for the 2018 class, 11 players committed to the team at one point but had backed out by the time the early signing period came around:
• Ja'Marr Chase, now a receiver at LSU
• Aaron Brule, a linebacker at Mississippi State
• Nelson Jenkins, a defensive tackle at LSU
• Devonta Jason, a receiver at Mississippi State
• Cartez Crook-Jones, a defensive end at Kansas State
• Clayton Tune, a quarterback at Houston
• Tevailance Hunt, a receiver at TCU
• Zach Burks, a defensie lineman at Ohio
• Josh Smith, who signed with Prairie View A & M
• Jonathan Lolohea, who left Washington State in August
• Charles Cameron, a defensive tackle at Florida Atlantic
As of Tuesday, according to Rivals, eight other Big 12 programs had at least 15 commitments for the Class of 2019, and Kansas State had eight.