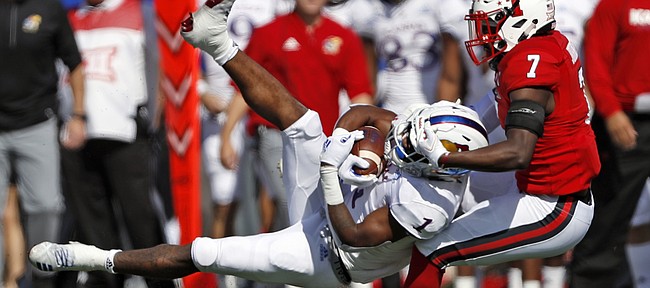 Lubbock, Texas — At various stages of the fourth quarter during another Kansas football loss, some heads on the Jayhawks' east sideline hung low.
A few Jayhawks, with their hands on their hips, watched in disbelief. Others stared defiantly into the late afternoon sun, doing their best to stomach the final minutes of a 48-16 defeat at the hands of Texas Tech.
All of the looks were suitable for a day on which the KU defense gave the ball to the offense 10 or fewer yards away from the end zone twice and the Jayhawks still finished their trip to Jones AT& T Stadium with only three points off their three total takeaways.
The Jayhawks' offense, led by head coach David Beaty instead of fired offensive coordinator Doug Meacham for the first time this season, went kaput out of the gate, in front of a crowd of 54,402.
KU freshman cornerback Corione Harris delivered the game's first big play, stripping Red Raiders senior receiver Zach Austin as he tried to extend for extra yardage after a catch. When the ball came loose, junior Hasan Defense easily snagged it, setting the KU offense up with a two-yard field.
An illegal formation penalty on KU negated what would have been a pass interference call on starting quarterback Peyton Bender's third-and-goal throw to senior Jeremiah Booker in the back, left corner of the end zone. With offsetting penalties calling for a replay of the down from the 1-yard line, Bender handed the ball off to Khalil Herbert (eight carries, 42 yards), only to see the junior running back stymied in the backfield by Dakota Allen for a two-yard loss.
KU settled for a 20-yard Gabriel Rui field goal to tie the game at 3 apiece, instead of truly capitalizing on the takeaway with a touchdown.
"Honestly, it pisses me off," senior receiver Steven Sims Jr. told the Journal-World. "I don't know what else to say. That's just frustrating. We're on the 2-yard line, we've got to lock in. We've got to get two yards, things like that. It's just frustrating. But we can't hold our heads on that. We've got to keep pushing forward and keep playing, because there's more time in the game. We can't hang our heads."
A Joe Dineen fumble recovery in the opening minutes of the fourth quarter, with KU already facing a 34-9 deficit, didn't even amount to some morale-boosting points for the Jayhawks' offense.
Dineen secured a fumbled exchange by quarterback Alan Bowman at Tech's 10-yard line. But after Bender hit Daylon Charlot for a five-yard gain on 1st and goal, Douglas Coleman picked Bender's next throw off in the end zone.
Unlike what transpired after KU's defensive takeaways, however, the Red Raiders turned their good fortunes into an 80-yard TD drive that buried the Jayhawks, 41-9, with 9:38 remaining.
Just how improbable is it for an offense to get three measly points on two extremely short fields?
"I'm not sure how to answer that question," Beaty replied during his postgame press conference, after Tech's offense outgained his, 553-308, in yardage. "I know you expect to win and get in the end zone down there. The 10-yard line, your odds of getting in there, you have to feel pretty good about it, right? That's just on us as a group. We've got to convert and get in the end zone. They had a kid (Coleman) drop and make a really nice play. They were in a coverage that we've seen them be in. We've just got to read it better."
Bender, who took every snap for KU (2-5 overall, 0-4 Big 12), finished with an 18-for-41 passing day, with 221 yards, two touchdowns and an interception after a lethargic start.
He addressed the feeling that accompanied the empty short fields off turnovers.
"It's definitely a situation you want to take advantage of. We've talked about how we haven't taken advantage of the turnover opportunities," Bender added, in reference to ongoing conversations the past several weeks "It's something you've just got to work at. When you get down there and the field's a lot shorter and everything's condensed it's tough to get those few yards. You've just got to focus a little bit more. I threw a pick right to the guy. Wrong read. Should've thrown it underneath. So just more focus, and it's repetitive, but we've just got to execute better."
The Red Raiders (5-2, 3-1) didn't really begin to create separation with their offense until late in the second quarter, when they added 14 points in the final 4:26 before halftime.
But the KU offense only covered more than 19 yards of turf on one of its eight possessions before intermission.
On KU's first offensive series, when Beaty made his 2018 debut as the team's offensive coordinator, a seven-yard Pooka Williams rush to open the drive was followed by four pass attempts, only the first of them completed (a 13-yard reception for Stephon Robinson) by senior quarterback Bender.
In-Bender's-face pressure from Tech forced a couple of incompletions, one of which could have been picked off had Sims not briefly become a defensive back, keeping the Red Raiders from intercepting the hurried throw.
The Jayhawks' second series only lasted five plays when Bender overthrew an open Sims deep down the left sideline on 3rd and long.
"I think I was just off a little bit for whatever reason," Bender said of his first-half issues, which began with him misfiring on six of his first eight attempts. "I'm not exactly sure. Didn't really play well the first half on my part. Early on I had that deep ball to Steven down the left side, just kind of overthrew him — if we connect on that we would've scored. Missed Mavin (Saunders) over the middle on another one that would've been a big play."
What had all the makings of a productive offensive series to open the second quarter blew up inside the Red Raiders' 5-yard line when freshman back Williams (16 rushes, 70 yards), whose multiple gains helped put KU in position to score, fumbled the ball as John Bonney hit him, allowing Allen to recover and resulting in the Jayhawks' fourth lost fumble of the season.
The giveaway didn't directly lead to Red Raiders points, as KU's defense responded with a three-and-out, but the blown chance certainly seemed to carry a cumulative effect for the Jayhawks in their fourth consecutive loss, the 14th straight Big 12 setback for fourth-year head coach Beaty, whose overall record dropped to 5-38 overall and 1-30 against conference competition.
"Disappointing," Bender went on, regarding the offense's inability to compete in the first half. "We drove it down, fumbled down there near the goal line. I think if we have those three plays (the aforementioned deep pass for Sims and pass to Saunders), and then punch it in when we kick the field goal (off the turnover), I mean, we get off to a fast start and I think we're rolling. After that I think we just had a hard time executing and I think I just attribute it to some missed throws and just not putting the ball where it needs to be and just not executing properly."
The half concluded in perfectly miserable fashion, too. After Hasan Defense picked off a deep Bowman pass, giving him and the unit KU's second takeaway of the game, the junior defensive back returned his pick 37 yards, giving KU's offense one last shot at Tech's 41-yard line with 10 seconds left until intermission.
"Took a quick look up at that clock and it was like, 10, 15 seconds or something. I just tried to get us close to field goal range. If I couldn't get it I was going to throw it back to somebody so we could get it as a team," Defense explained of the sequence. "Hopefully something lucky will happen."
Instead, at Tech's 41-yard line with 10 seconds left before halftime, Bender threw an incompletion to Khalil Herbert and Williams ran for eight yards to close the second quarter.
"We're disappointed," Beaty said of the offensive output or lack there of, "because with didn't do enough to help us win. Obviously talking to our players after that, we had a firm understanding of what we were doing. I think everybody felt comfortable there. They were engaged the entire time. It was just a matter of connecting on some of those throws early in the game that were contested, heavy box stuff that we see on tape. We've just got to put the ball on that guy, give him the chance, because those turn into big plays."
Though the third quarter concluded with KU's first touchdown of the road loss, a 30-yard gem of a connection between Bender and Sims on fourth-and-7, the possessions that preceded it went three-and-out when the Jayhawks needed at least a semblance of something positive offensively in order actually challenge the Red Raiders.
Beaty had a hard time getting over the muddied offensive start and, of course, lack of points off takeaways.
"You score on that first drive, you score on the one we turn it over, might be a different game. Might be a different game. But you don't get to go back, right? You have to go convert on them," Beaty said. "One of the stats that I'm most disappointed in today is that we got three turnovers from our defense and we were able to get three points out of it."
While KU's offense faltered, Tech eventually found a rhythm in Bowman's return. The true freshman went 34 of 46 through the air for 408 yards and three touchdowns, with the one interception. He often feasted by finding too-tall receivers for KU's secondary to cover, such as 6-foot-5 Antoine Wesley (nine catches, 155 yards, TD) and 6-6 T.J. Vasher (five catches, 79 yards, TD).
"They did their job offensively," Beaty said of the Red Raiders. "We didn't do the job there. That falls on me."
KU returns to Lawrence next week to face TCU (3-4, 1-3).