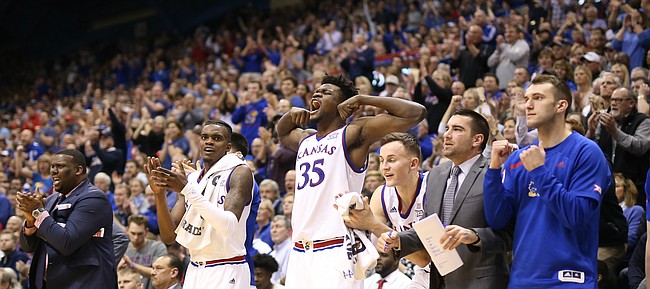 The Kansas men's basketball team, for the eighth consecutive year, is the preseason pick of the Big 12 coaches to win the 2018-19 Big 12 title.
The Jayhawks were a unanimous selection, receiving all nine available votes from the Big 12's head coaches. Coaches cannot vote for their own team and Kansas coach Bill Self indicated last month at a Coaches vs. Cancer fundraiser in Kansas City, Mo., that he voted for Kansas State, which finished second in the preseason voting.
"Bruce's team is good," Self said of Kansas State at the event. "I picked 'em to win the league this year. I think that they deserve that. They had a great run last year and it sets up what should be a real exciting league race."
The Jayhawks, of course, are looking to add to their NCAA record of consecutive conference regular season titles by pushing the number to 15 in a row. By winning the conference during the 2017-18 season, KU snapped a tie with UCLA for most consecutive regular season conference titles.
The Jayhawks have won the Big 12 regular season crown, either outright or via a shared title, in 18 of the 22 years of the Big 12's existence and also have recorded an NCAA record 61 overall conference titles.
Over the years, Kansas has backed up the preseason Big 12 supremacy prediction 15 of 17 times, including the first preseason poll in 1996-97 in which only a media poll was conducted.
The Jayhawks open the 2018-19 schedule Thursday with an exhibition game against Emporia State — 7 p.m. at Allen Fieldhouse — and will open the regular season on Nov. 6 vs. Michigan State at the Champions Classic in Indianapolis.
KU opens Big 12 play at home against Oklahoma on Jan. 2, 2019.
Here's a look at the complete preseason coaches' poll:
2018-19 BIG 12 PRESEASON POLL
Team (First-place votes) - Points
1 - Kansas (9)x - 81
2 - Kansas State (1) - 72
3 - West Virginia - 61
T4 - TCU - 54
T4 - Texas - 54
6 - Iowa State - 41
7 - Texas Tech - 36
8 - Oklahoma - 21
9 - Baylor - 20
10 - Oklahoma State - 10
x - Coaches are not allowed to vote for their own programs.