The director of human resources for Kansas Athletics since 2009, Frank Reeb was promoted to assistant athletics director, human resources, KU's first-year athletic director, Jeff Long, announced Monday.
Reeb supervises a staff of seven human resources, payroll and administrative professionals for Kansas Athletics and is responsible for all human resources functions, including employment and recruiting, payroll, compensation and benefits, retirement plans, employee relations, and a Human Resources Information System.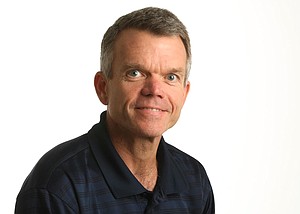 Reeb joined Kansas Athletics after serving eight years as the director of administrative services and city clerk for the City of Lawrence. He also worked previously in the Johnson County government, and served as a staff attorney for the Kansas Department of Revenue.
A veteran of the U.S. Air Force, Reeb served as a mission director on WC-130 aircraft investigating hurricanes, typhoons, and extra-tropical weather systems worldwide.
Reeb earned his bachelor's degree from KU and his juris doctorate from the University of Kansas School of Law.