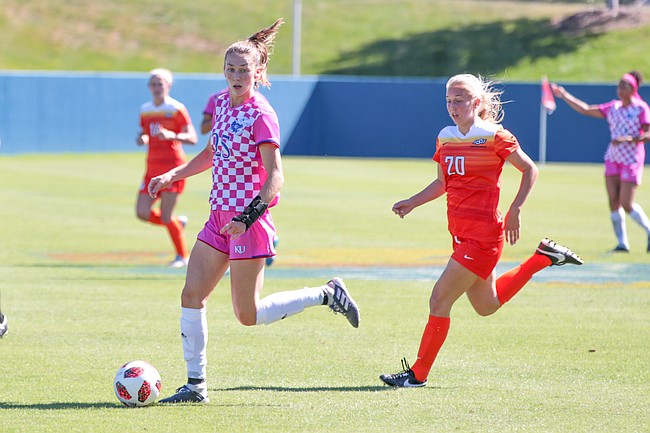 Eva Eliasdottir's goal in the second minute of overtime proved to be a crucial score for the University of Kansas women's soccer team.
The score, which gave head coach Mark Francis his 250th collegiate, helped Kansas finish off a 2-1 win over TCU Friday night at Rock Chalk Park. The goal also helped the Jayhawks extend their win streak to three consecutive games.
"I'm more excited about the fact that we won and that we're 4-1 in the Big 12 now," Francis said in a team release. "It's cool, I've just been around for a long time. That's what it really means."
With the win, Kansas improved to 10-2-2 overall and moved into second place in the Big 12 with a 4-1-0 record. TCU fell to 9-4-2 in the 2018 season and dropped to 2-3-1 in league play.
Grace Hagan scored the first goal of the match, gifting the Jayhawks an early lead. A loose ball on the TCU end line was gobbled up by the senior forward before she slotted inside the near post to record her fifth goal of the season.
Less than seven minutes later, freshman Maddy Warren of the Horned Frogs sent in her sixth goal of the year with a strike from 30 yards out to even the score before halftime.
"Whichever team lost that game, it was going to be a travesty," Francis said. "It was just a great game of soccer. Anyone who was watching on TV saw a great representation of our conference."
Kansas plays host to Texas Tech at 1 p.m. Sunday.
More like this story on KUsports.com