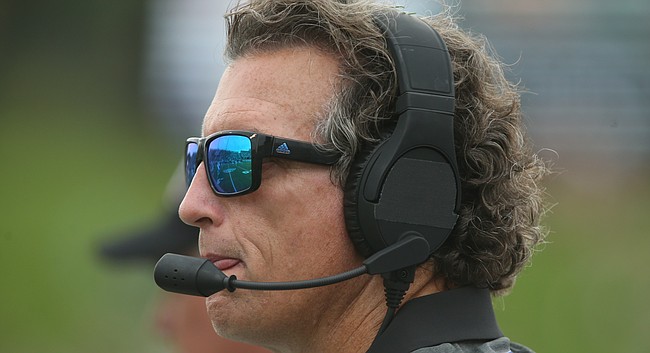 Fourth-year Kansas football coach David Beaty engaged his itchy trigger finger yet again Wednesday, firing offensive coordinator Doug Meacham in a two-paragraph press release.
Beaty said he will handle in-game play-calling and will coach quarterbacks, duties Meacham handled for the first half of a 2-4 season.
Meacham was hired as offensive coordinator before the 2017 season.
"None of us are satisfied with the progress we are making on the offensive side of the ball," Beaty said. "We hope that with this change we are better able to put our players in the best position to be successful."
Statistically, this has been KU's best offense under Beaty.
In Big 12 play, Kansas is 0-3 and ranks eighth in the conference with 19 points per game. Kansas was 10th, last, in points per game in Big 12 play in each of Beaty's first three seasons: 2017 (14.3), 2016 (17.8), 2015 (12).
In a 48-28 loss to Oklahoma State, the season's fifth opponent, KU had its second-highest scoring output in a Big 12 game under Beaty, ranking behind only the 34 points Kansas scored in a 22-point home loss to West Virginia in last season's Big 12 opener.
Meacham was not quoted in the release and did not respond to a text requesting comment from the Journal-World.
This is the second time Beaty has taken over as OC and quarterbacks coach.
After Kansas went 0-12 in Beaty's first season, the head coach demoted Rob Likens from offensive coordinator to what the head coach termed "walk-around guy." Likens is in his second season at Arizona State and first as offensive coordinator.
Beaty has shuffled quarterbacks the way he does assistant coaches during his time at Kansas.
He has used three quarterbacks this season. Senior Peyton Bender has started four games, redshirt junior Carter Stanley two. Sophomore Miles Kendrick was second-string QB until suffering a shoulder injury in the Big 12 opener at Baylor.
A look at the various coaches instructing Stanley since he came to KU from Vero Beach High in Florida demonstrates the instability of Beaty's staff.
Stanley's quarterback coaches, in chronological order: Likens, Beaty, Garrett Riley, Meacham, Beaty.
Stanley's offensive coordinators: Likens, Beaty, Meacham, Beaty.
The position coaches for the receivers Stanley targets: Klint Kubiak, Jason Phillips, Meacham, Justin "Juice" Johnson. Phillips started his lone season in the program in charge of punt returns until Beaty announced at a weekly press conference that he had taken over those duties, to go along with his head coach and offensive coordinator titles.
During Saturday's 38-22 loss to West Virginia in Morgantown, television cameras captured Beaty grabbing a headset from a colleague when his didn't work and passionately chewing out somebody watching from upstairs, Meacham's vantage point during games this season after spending last year on the sideline.
Beaty does not hold his weekly press conference during bye week and has been unavailable to answer whether Meacham was on the other end of his eruption.
Beaty takes a 5-37 overall record and 1-29 Big mark into an Oct. 20 game at Texas Tech.
His contract includes a $3 million buyout if he is terminated without cause.
More like this story on KUsports.com