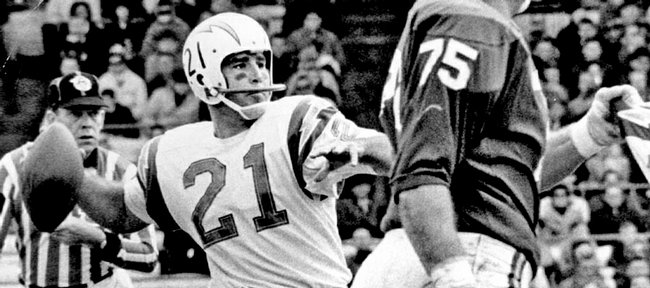 Sure, John Hadl's name helped him to do his job so well for the Williams Fund, but his ears were an even greater tool in his former role as Kansas closer on big gifts to the athletic department.
Hadl's a good listener and genuinely interested in what's going on in the life of the person with whom he converses. He has a natural curiosity and doesn't feel the need to dominate conversations.
So, through the years, the big donors who were excited to meet him naturally developed friendships with him because hanging with Hadl is such a stress-free, enjoyable experience. He'll share stories when prompted, but generally speaking, he spends more time listening than talking.
John, who grew up in Lawrence, and wife, Diana, a Texan, welcomed me into their Lawrence home recently to discuss his retirement from KU and, because I'm fascinated by the AFL, his days with the San Diego Chargers and beyond.
"I think they treated us pretty well," Hadl said of the Kansas athletic department. "I'll miss the camaraderie with the people in that office, but I'll get to see them all the time."
He said the same goes for the donors who quickly became friends. Some remember his days as an All-American for KU at halfback and then quarterback. Others just remember him from his professional career.
A scrambling, bold quarterback who played with a style similar to Brett Favre, Hadl never was as fast as he was elusive. He is neither now, moving ever so slowly in his walker and taking advantage of the convenience of a new wheelchair when attending games.
He said he never felt as if he bounced back all the way from a fall in his garage three years ago that led to a two-week hospitalization.
That doesn't keep him from being so interesting to listen to when talking about his playing days and friendships with quarterbacks from his era and beyond.
"I can't believe it," Hadl said. "All the sudden I'm 78."
And in a moment, he's 28 and I'm 9 and we're both watching Joe Namath lead the Jets to a 16-7 shocker of a victory over the Baltimore Colts in Super Bowl III. Hadl, star quarterback of the San Diego Chargers, is sitting in the Orange Bowl stands watching, and I'm crammed in a small den with my father and five brothers, with one eye on the TV and one on my older brothers to see how I'm supposed to react.
One more difference: I didn't get to join Namath after the game. Hadl did.
"Jim Hudson and Namath were roommates and Namath, Hudson and I went out after the game," Hadl said. "Namath would walk in and the place would go crazy. He's a great guy. Good man. Doesn't take himself seriously at all."
Nobody of sound mind gave the Jets a shot because they were in the upstart, flashy AFL, not the established, stodgy NFL. A few days before the Jan. 12, 1969, game, Namath was called to the podium to receive the Miami Touchdown Club's outstanding player award. A fan in the crowd heckled him, telling him the Jets were going to get blasted.
Namath simply responded that the Jets were going to win the game and added, "I guarantee it."
This sort of brashness was unheard of and it was all anybody talked about until kickoff.
"When we went out after the game, I asked him, 'Why did you talk like that, making that guarantee?' He said, 'I was just telling the truth. I knew we could beat them.'"
Then the Jets proved it, and to this day remain the only squad to win a Super Bowl despite scoring just one touchdown. Hudson, who later in life would become a real estate partner of Hadl's in Austin, Texas, had a big interception late in the first half.
"Those were the days, my friend. We thought they'd never end," Hadl said with his signature deep chuckle.
He said he talks with Namath on the phone every month or so and also hears regularly from his favorite receiver, the great Lance "Bambi" Allworth and ex-Los Angeles Rams quarterback Roman Gabriel. Hadl also remains friends with John Elway.
"Elway's a hell of a guy," Hadl said. "He's a great guy. He's the best quarterback who ever played, as far as I'm concerned."
Hadl said he was an assistant coach under then-Denver Broncos head coach John Reeves when all the assistants were asked to pitch in watching films of college prospects.
Hadl: "At the end of every film, I said, 'Get Elway. Get Elway.' Finally, John Reeves said, 'You really like Elway, don't you?'"
He still does and hopes to see him when the Broncos play at Arrowhead Stadium on Oct. 28.
Hadl spent a year as Elway's first quarterbacks coach, including one day when he chased Elway out to the parking lot to convince him to return to practice after Reeves told the entire team Elway wouldn't be playing the next game because of all the mistakes he made.
Hadl's recollection of the conversation in the parking lot:
Hadl: "John, where are you going?"
Elway: "I'm getting the (expletive) out of here."
Hadl: "No, you're not. Get your (posterior) back in there. You're an NFL quarterback and a big one. You're going to get cheered. You're going to get booed. You have to take it all."
Elway returned to practice.
"His old man called me and told me, 'Thanks for getting John back in there because he was getting ready to make a big mistake.' He was too," Hadl said.
After Elway's 1983 rookie season, Hadl took a job as head coach of the Los Angeles Express of the USFL in 1984 and 1985, where he tutored another quarterback who would make it to the Hall of Fame: Steve Young.
Despite retiring with what at the time was the fourth-highest passing yardage total in professional football history, Hadl never has made it to the Hall of Fame — a travesty.
Might he one day be enshrined?
"I seriously doubt it if they haven't done it yet," Hadl said.
Oh well. He's over it, and he's happy to be home in Lawrence, happy among longtime friends, cheering for his alma mater. He counts Kansas head football coach David Beaty as a friend.
"The players play hard for him," Hadl said. "They don't quit. They just don't have enough good players, especially on the offensive line, but this year is better. I think a lot better."
He'll never stop believing that. One of the greatest players and fundraisers in KU history, No. 21 never will stop being one of its biggest fans.
More like this story on KUsports.com