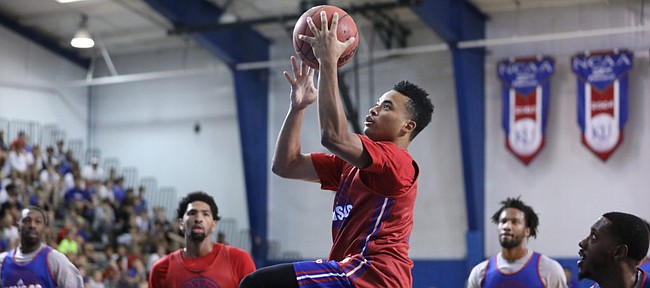 During the past two seasons, the Kansas men's basketball program and its adoring fan base witnessed two of the best individual seasons ever turned in by KU guards.
In 2016-17, Frank Mason III rumbled his way to consensus national player of the year honors and became the first player in Big 12 history to average 20 points and five assists in a single season.
Asked to walk in those dinosaur-sized footprints, Devonte' Graham delivered a first-team All-American season during 2017-18, averaging 17.3 points and 7.2 assists in leading the Jayhawks to the Final Four.
While it's unfair to expect anything close to those numbers from freshman Devon Dotson during the fast-approaching 2018-19 season, it's not quite as hard to imagine the 6-foot-2, 185-pound point guard from Charlotte getting his career off to a faster start than either of those two All-Americans who came before him.
For one, he steps into a wide-open situation with no KU veterans at the position ahead of him. For two, plenty of people close to the program have said Dotson's talent level today is ahead of what Mason and Graham brought to the program at the start of their freshman seasons.
"I think he could be a great one," KU coach Bill Self recently said of Dotson. "I mean, not a good one, a great one."
The biggest reason for Self's confidence in Dotson and the high bar he has set for him is the guard's tenacity and elite athletic ability.
Dotson demonstrated both — along with his own dose of confidence — throughout his prep career at Charlotte's Providence Day School, where he became a McDonald's All-American and left as the school's all-time leading scorer with 2,607 points.
While a good chunk of those points came off of jump shots and at the free throw line, the majority of them came right at the rim, with Dotson using his superior speed and strength to blow by opponents throughout his career.
"If you're going to recruit somebody, especially in the backcourt, the first thing you probably look at is explosiveness, quickness, and he's got probably about as much as anybody we've had here," Self said of Dotson. "He's in the same league as Frank as far as explosiveness and fast. I'm not saying he's Frank, now. But he's probably further along than Frank when he got here."
And it might not be that difficult for Dotson to stay there.
As a freshman during the 2013-14 season, Mason played in 35 games and made three starts but averaged just 16.2 minutes per night.
A year later, when Graham was brought into the fold, the Raleigh, N.C., native played in 28 of 36 games, with no starts, and averaged just over 18 minutes per night during his freshman season.
Dotson, of course, is not a lock to eclipse those numbers. But he figures to get the chance to, especially if he winds up winning the job as KU's primary point guard, which many believe he can.
Like the two legends who came before him, Dotson will be surrounded by all kinds of talent during his first season as a Jayhawk. But while names like Perry Ellis, Andrew Wiggins, Joel Embiid and Wayne Selden carried the weight for the early Mason and Graham teams, Dotson, by virtue of his potential role as this team's lead guard, could play as big of a role as just about anyone on the 2018-19 roster in helping the Jayhawks get where they want to go.
There still is plenty of work to do, however. And whether it's learning how to play for Self, improving his all-around offensive game or figuring out how to fit into the pace and speed of the college game, Dotson still has a steep climb ahead of him.
But he's starting a few rungs higher on the ladder than most Kansas point guards. And that alone could be enough to expedite his growth and progress.
"If he continues to develop — he's got to develop a better stroke, but it is getting better — he'll be hard to guard," Self said.