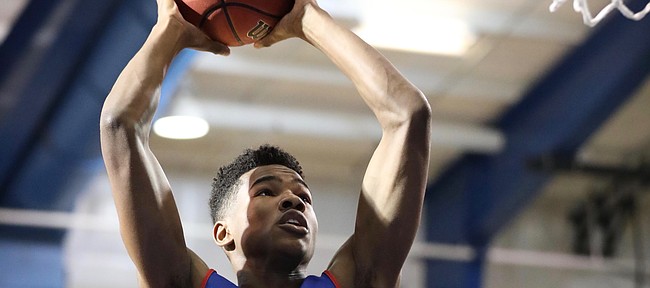 For all but the final months of his high school career, Ochai Agbaji mostly went unnoticed on the cutthroat basketball recruiting scene.
Even college coaches who grew to appreciate Agbaji as a shooting guard prospect thought of him as a role player on the AAU circuit. No one perceived him as a star.
Still, the time Agbaji invested complementing teammates with MOKAN Elite powered the evolution of his game.
It was a process assistant coach Norm Roberts, who led his Kansas recruitment, respected as he saw it all play out, beginning in the months leading up to Agbaji's senior year at Oak Park High, in Kansas City, Mo.
Not long after his prep career concluded, Agbaji went from unranked in the Class of 2018, to a three-star shooting guard with a final ranking of No. 145 in the nation, according to Rivals.com.
"I think he kind of built himself up," Roberts said. "And once he got into his high school (senior) season, he got much more aggressive, and his level of play really increased and got better. And I think he just did a great job of working on his game and improving his game."
Soon after, Agbaji was on KU's campus for classes and workouts this summer. It didn't take too many sessions for his new coaches to appreciate the unheralded freshman's athletic ability and, as Roberts labeled it, the way the 6-foot-5, 210-pound Agbaji brings a "quiet toughness" to everything he does related to basketball.
"He doesn't say boo. But you're also not gonna push him around," Roberts assured. "He can do a lot of different things. And we recruited him as a guy that we were saying down the line, a year and a half from now, you'll be saying, 'WHOA. I'm glad we got him.'"
Still, when KU coaches got their first cracks at working with and monitoring Agbaji up close with regularity this summer some wondered if they underestimated his trajectory.
Just because coaches calculate a player's growth will follow a specific path doesn't mean that his future is set in stone.
While it could take a couple of years for observers to think as highly of Agbaji as his KU coaches do, Roberts said he's not ruling out that happening faster.
To be clear, the KU assistant wasn't about to place the incoming freshman guard in the same vaunted space as another Jayhawk who fast-tracked through the program a few years back, but Roberts said when the staff recruited Joel Embiid, they thought the Cameroonian center would play inside Allen Fieldhouse for three years, not one.
"And it changed," Roberts said. "So you never know how kids will grow and get better and what light comes on and how quickly a light may come on."
Early indications this summer, Roberts added, made him think Agbaji was ahead of schedule.
Far more fanfare accompanied KU's signings of five-star recruits Devon Dotson and Quentin Grimes, as well as four-star big man David McCormack, all of whom played in the McDonald's All-American Game this past spring.
But Agbaji, who has been disregarded before, doesn't feel like some also-ran in the Jayhawks' multiskilled freshman class.
"Obviously, they recruited me for a reason," Agbaji said. "They wanted me for a reason. So I feel like it's a place I belong. I'm working to get better for me, for the school, for the program."