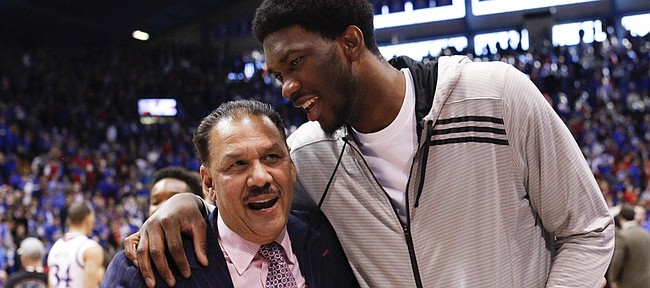 Everybody knows the names that inspire many to say that all college basketball roads lead to the University of Kansas.
Wilt Chamberlain, the most dominant player in the history of the game, spent three seasons here, one playing for a freshman team that was better than the varsity, and two for the varsity.
James Naismith, basketball's inventor, was the school's first coach and, to date, the only one with a losing record. Phog Allen is considered the father of modern basketball coaching.
Two of the five winningest coaches in Division I men's college basketball history — Kentucky's Adolph Rupp and North Carolina's Dean Smith — played at KU for Allen.
No other school can match the back-to-back-to-back consecutive coaching murderer's row of Larry Brown, Roy Williams and Bill Self, all Hall of Famers, as are Rupp and Smith.
So maybe it's fitting that a basketball lifer — who, before ever working his first practice at KU, had already crossed paths with so many basketball giants — ended up here to become the longest tenured assistant coach in the history of the school's men's basketball program.
Running with Bruins
Kurtis Townsend, 60, and a native of San Jose, Calif., is younger brother to former UCLA guard Ray Townsend, and that was his ticket to watching UCLA's practices run by 10-time national champion John Wooden.
It also landed him on the UCLA men's gym court as a high schooler, playing summer pickup games against the likes of his brother's famous teammates, Marques Johnson and Richard Washington, and Bruins from the NBA such as Kareem Abdul-Jabbar, Sidney Wicks, Curtis Rowe and numerous other NBA players back on campus.
"I wouldn't get picked," Townsend said. "I would sometimes play on the second court, but if we won, I got to move over."
Townsend played for head coach Gene Keady and assistant Clem Haskins at Western Kentucky and for George Karl in the Continental Basketball Association.
Townsend was an assistant coach at California, when the Golden Bears had not just Shaeef Abdur-Rahim and Lamond Murray, but also Hall of Fame point guard Jason Kidd and soon-to-be Pro Football Hall of Fame tight end Tony Gonzalez.
As an assistant at Michigan, Townsend coached Jamal Crawford.
Townsend, in his 15th season on Self's staff, has coached 11 NBA lottery picks at KU and was the chief recruiter for two players ranked No. 1 in their high school classes by Rivals. It also was Townsend who discovered and recruited hidden gem Frank Mason III, national player of the year as a senior.
Townsend has a fascinating basketball story to tell, but is just as happy working in the shadows of Bill Self, leaving the headlines to others. It took Self undergoing hernia surgery and Townsend pinch-hitting for him in rappelling down the seven-story 888 Lofts building downtown for Townsend to make the front page.
He agreed to sit down in his office recently for an interview about his basketball career. The more he talked, the more his life sounded like a basketball-only version of "Forrest Gump," his journey taking him on paths that intersected with a series of the sport's biggest names.
The son of Raymond Sr., who was believed to be the oldest basketball player in the history of junior college at 39, Kurtis rattled off some of the names of college basketball coaching giants who rang the Townsend doorbell to recruit his brother.
Watching John Wooden's practices
"I saw everybody in our living room," Townsend said. "Coach Wooden, Digger Phelps (Notre Dame), Lefty Driesell (Maryland), Tark (UNLV's Jerry Tarkanian) was up there a lot. All the big schools."
Raymond chose UCLA, giving his brother an inside look at the end of college basketball's greatest dynasty.
"It was good," Townsend said. "I got to know Sam Gilbert really well over four years."
Gilbert was the contractor who was a controversial booster, a friend of the players whose influence was cited in UCLA's 1980 NCAA title game appearance under coach Larry Brown vs. Louisville being vacated.
Townsend also was allowed to watch his brother practice many times, which gave him insight into Wooden's coaching style.
Self's longtime assistant compared and contrasted his current boss' practices to those of Wooden.
"His were more mapped out. Like, if they had three minutes to do a certain drill, they would do three minutes and move on to the next one," Townsend said. "This one drill they would act like they had a ball and didn't have one. He'd blow a whistle, everybody would jump up and shoot, and they'd have to run down to the same spot. Then he'd blow the whistle and they'd go right to the next drill. They'd never go over (the allowed time)."
And Self's practices?
"Coach plans a practice, but we may go over seven minutes in this area or we may trash the script and go to something different," Townsend said. "But the part they had in common is, neither one accepts less than the best you have, and I think that's why both of them have had that kind of success.
"Coach Wooden, I'm going to be honest, the years my brother was there, they had the best players in the country. I mean, they had the best players. We haven't had that here."
A freshman reserve, Raymond Townsend was in the locker room in San Diego after the victory over Kentucky when Wooden informed his players he was retiring.
"My brother came out of it saying, 'Gee, should I transfer?' But then, they hired Gene Bartow in four days and he came and sat down with my brother, and he ended up staying," Townsend said.
Bartow, by the way, went 52-9 in two seasons at UCLA and was run out of town.
"He got fired and they poisoned his dog," Townsend said.
Poisoned his dog?
"Yeah," Townsend said. "They threw steak at his dog that had poison in it. I was like, 'Wow!' It was a sad deal."
Recruited by Gene Keady
His brother played his senior season for Gary Cunningham, a longtime assistant to Wooden, and Kurtis played two seasons at a California junior college and signed a Southwest Conference letter of intent to play at Arkansas. Keady had recruited him, but left for the head coaching job at Western Kentucky and he and Haskins convinced Townsend to play for them.
Keady informed him Arkansas was recruiting Ulysses "U.S." Reed, so playing time would be sparse.
"I said, 'You didn't tell me that when you were recruiting me.' I really wanted to go to Arkansas, but I ended up going to Western Kentucky," Townsend said.
During his recruiting visit to Arkansas, Townsend met the famed Razorback Triplets (Ron Brewer, Marvin Delph and Sidney Moncrief), who led Arkansas to the 1978 Final Four.
After college, Townsend played one season for the Montana Golden Nuggets of the CBA, coached by Karl.
Townsend was an assistant at Cal from 1993-97, working all but one of the seasons for Todd Bozeman, the last for Ben Braun.
Kidd Genius
It was there that Townsend saw a basketball genius at work.
"Jason (Kidd) was unbelievable," Townsend said. "He had the highest basketball IQ of anybody I'd been around. He'd come in and sit down and watch film with me for about 10 minutes, ask a couple of questions and when the game time came, he would translate it into steals. He would know where players were going and he'd fake like he was going away with the guy, knowing where the next pass was coming. It was amazing to watch. He was such a competitive guy."
That competitiveness influenced how coaches chose sides for scrimmages.
"We had to challenge him so it would be Jason and four freshmen in practice," Townsend said. "We'd give him no-name guys and then say, 'All right, losers have to run.' And he'd be ticked because he knew you stacked the deck against him. He had an uncanny way of lifting up the young guys, making sure they got shots where they could make them, and then he would talk a lot of crap to the coaches because he ended up winning. He'd say, 'You coaches should get on the line, too.' So it made you love him because you knew he was bringing it. He was a winner, real smart."
After Kidd left, Gonzalez joined the Cal program as a walk-on freshman, doubling as the football team's scholarship tight end.
"We would always say, 'Well, he isn't going to start. He's not going to get out here until December.' And every year, he started," Townsend said. "We could not keep him off the floor. Started all three years for us. He was a real strong, tough, bouncy, athletic guy."
Tony Gonzalez 'played football like he played basketball'
Townsend's memory flashed to March 21, 1997, a Sweet 16 game in Syracuse between Cal and North Carolina.
"Tony was guarding Antawn Jamison and Dean Smith was coaching," Townsend said. "Antawn was a way better basketball player but didn't like to be physical. And Tony played basketball like he played football. He wanted to hit you every time you came through. This kid didn't like it and he had two points. And then, Tony took an ill-advised shot from the corner, and Ben Braun said, 'Get him out. He's reading his press clippings.' Tony was the No. 1 tight end in college football and everybody's talking about him in basketball, so he got mad and took him out, and I said, 'But coach, their best player isn't doing anything.' And Jamison scored 14 of their next 18 points with Tony on the bench. And we end up losing (63-57) to go to the Elite Eight."
Comparing Wiggins and Jackson
At KU, Townsend has been a recruiting ace for Self. Norm Roberts landed Joel Embiid, but Townsend brought in Wiggins and Jackson. He compared the two former No. 1 high school recruits.
"I wouldn't say different players as much as I would say different inside of them," Townsend said. "Wiggs is so talented. He could just look like he's gliding and get by because he's so talented, where Josh was a junkyard dog, like, 'I'm not going to take any, you know, stuff from anybody. This is my court. I'm not losing. I'll do anything to win. That game at Kentucky, I just remember him going, 'We ain't losing,' just yelling. You're going, 'Oh, there's something about this guy.' He was going to make sure we were going to win that game."
Townsend continued the comparison.
"Josh had that inner-city Detroit drive, that inner-city Detroit, where Wiggs was so talented, but he looked like he grew up with an NBA parent and a world-class track athlete mom," Townsend said. "He didn't grow up as tough as Josh, so they were different that way, and I would say Wiggins might have had a little more basketball talent, whereas Josh had that inner drive that when you put him on the court, he was as good as anybody."
Townsend and Roberts are, according to Self, "both basketball junkies. Kurtis' dad is (81) and he's still coaching. … Kurt can't get enough of it and Norm is the exact same way. These guys are junkies. I mean, they are junkies. Can't get enough of it. And they're good for Jarrance (Howard), because Jarrance is probably the coolest with the guys, but he certainly can learn from the other two."
'Smartest coach I've ever been around'
Townsend was around Wooden and Self and played for Keady, Haskins and Karl. The best coach he's ever seen?
"My biggest mentor was Bud Presley, my junior college coach," Townsend said of the late, great Menlo College coach. "He was absolutely the best and smartest coach I've ever been around. He helped the Warriors (as a defensive consultant) in 1974 when they won the NBA title. He was fabulous."
Presley was a defensive guru sought out by other coaches.
"Bobby Knight would call and check in with him at least once a week," Townsend said. "I was in there one day and he was talking to him, saying, 'Hey Bobby, I've got this kid,' and he was talking about me. "Bobby said, 'Ah, I don't know,' and he ended up getting Isaiah Thomas the year I was coming out."
Townsend was recruited by Fresno State head coach Boyd Grant, whose matchup zone was considered one of the best defenses in college basketball. Townsend sensed Grant might have been more interested in stealing information from Townsend than getting him to play for him.
"When he took me to his house, he brought me into his den to watch film," Townsend said. "He asked me, 'So tell me what makes Bud Presley great?' He was trying to get out of me what we did defensively."
Presley nurtured a coaching seed in a young man whose love for the game won't ever stop growing if, as is likely, he follows his father's lead.