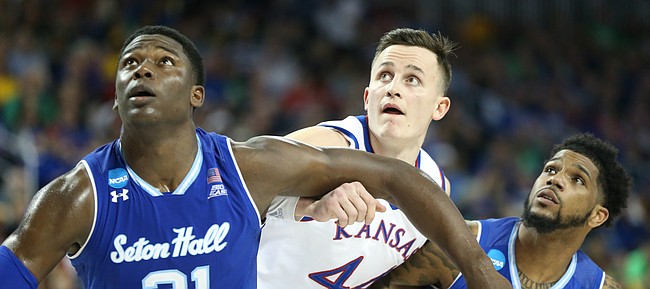 Known for his buoyant personality and adrenalized reactions to any Kansas basketball highlights that play out in front of him, a downcast Mitch Lightfoot slumped at his locker inside The Alamodome this past March.
Villanova had just competed its shellacking of the Jayhawks at the Final Four. Fielding questions both about the national semifinal defeat and its big-picture implications, Lightfoot was asked what he would take away from his sophomore year.
But he had no desire to discuss how far he had come as a player. The 6-foot-8 backup forward instead praised then-KU seniors Devonte' Graham, Svi Mykhailiuk and Clay Young, noting how much he learned from each of them.
"We've got to pick it up where they left off," Lightfoot said, "and bring it into next season."
It's that type of response that epitomizes the junior forward's approach as a key role player in the program.
KU assistant coach Norm Roberts described Lightfoot, who averaged 3.8 points, 3.1 rebounds and 1.4 blocks per game in 14.0 minutes as a sophomore, as a "winner" who genuinely wants to improve.
"And there's not a player on our roster that loves the Jayhawks more than he does," Roberts declared. "I mean, you cut his chest open there is no doubt Baby Jay's flying out. There's no doubt with that dude."
Born in Kansas City, Mo., before his family moved to Arizona when he was 5, Lightfoot grew up a KU basketball fan. His passion for the program seems to feed all the work he puts into developing into a better player, as he heads into his third year in Lawrence.
This past season, KU needed Lightfoot inside, as the roster lacked frontcourt depth, especially before freshman Silvio De Sousa proved he could be trusted with playing time as a mid-year addition.
Only time will tell whether KU's coaches decide to rely on Lightfoot as much during the 2018-19 season, now that the cast of bigs includes 7-footer Udoka Azubuike, 6-9 forward Dedric Lawson, 6-9 De Sousa and 6-10 freshman David McCormack.
To his credit, Lightfoot spent the months following KU's Final Four setback by taking some of his frustrations out on the team's weight equipment.
Roberts said Lightfoot looked markedly bigger and stronger by the time the Jayhawks began their summer workouts.
"And that's something we talked about a lot. He was just too thin," Roberts said of Lightfoot as a sophomore. "You can't play down there at (210 pounds). You can't. You've gotta get bigger and stronger, and he did that."
Now Lightfoot, at 225, has some bulk to throw at opponents and further aid his effectiveness inside.
"No one's gonna out-tough him and no one's gonna out-try him," Roberts said of Lightfoot.
In order for Lightfoot to preserve his place in the rotation, KU's coaches want him to continue to be an effective help-side shot-blocker (per sports-reference.com, Lightfoot led KU in 2017-18, blocking an estimated 10.8 percent of opponents' 2-point attempts). But they also want him to defend both forward spots, and routinely move his feet well enough on the perimeter to switch on ball screens.
After he shot 57.1 percent from the floor as a sophomore, his coaches will require Lightfoot to score easy baskets, too, following an offseason dedicated to working on his jump-hook and finishing with both hands.
Joining Lagerald Vick, Azubuike, Marcus Garrett and De Sousa as KU's only returning rotation players from its recent Final Four run, Lightfoot anticipates the 31-8 season benefiting those who experienced it — even the Jayhawks who watched during their redshirt transfer seasons, Dedric and K.J. Lawson and Charlie Moore.
"That's our goal every year, to get to the Final Four and, hopefully, win a national championship," Lightfoot proclaimed during his postgame interview in San Antonio. "So we're going to come back with that same fire. This feeling sucks, but it also can be used to get better, and we'll try to use it."