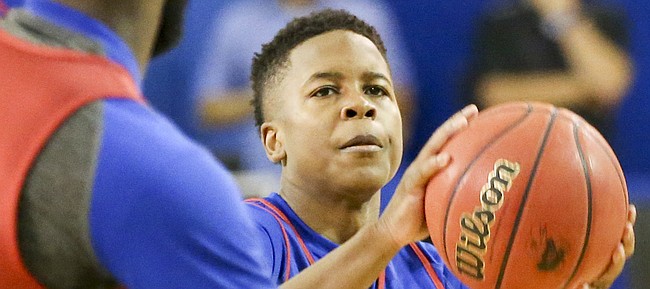 One look at his 5-foot-11, 180-pound frame is all it takes to determine that Kansas sophomore Charlie Moore is a serious contender to fill the shoes vacated by Frank Mason III and Devonte' Graham as the KU point guard.
But don't let the Cal transfer's size lock you in to thinking that point guard is the only position Moore can play.
"The thing about Charlie that people might not understand is people equate him to being a point guard just because he's not very tall," KU coach Bill Self recently told the Journal-World. "But the bottom line is this dude can score. He'll play some point for us, but he'll probably play every bit as much off the ball. He can play point guard, but I still think he'd be better if he had a point guard in the game with him."
In addition to helping Kansas make the transition from Mason and Graham to the next era of Jayhawk point guards, Moore also will look to follow in former KU guard Malik Newman's shoes as the next transfer to make a major impact on the Kansas backcourt.
Moore's opportunity to work with and learn from Graham and Newman during his redshirt season — he knows Mason a little but never really got to play with him and also has a strong bond with fellow Chicago native Sherron Collins — helped Moore advance his game by leaps and bounds since leaving Cal.
"He's improved a tremendous amount," Self said. "His body's improved and I think he's certainly more physically ready to have a big impact."
It's that improvement and the lessons he learned from the Jayhawks who came before him that have Moore's confidence at an all-time high heading into the 2018-19 season.
In addition to his practice time with the 2017-18, Final Four-bound Jayhawks, Moore twice had the opportunity to head overseas for a set of summer exhibition games in Italy, the first with Self and the Jayhawks in 2017 and the second this summer under the tutelage of Hall of Famer Larry Brown.
"Experience," Moore answered when asked why he thought he was ready for a new role at KU. "I've been here for a year under coach Self and the rest of the coaching staff and have been learning the roles and the spots. I definitely learned from Devonte'. How much pressure he had on his back, how he handled it, he was nothing short of fantastic. For me to witness it every day and practice against him, I just learned a lot and I can't wait to play."
Unlike Graham a season ago, Moore will not be asked to handle whatever point guard minutes he plays by himself. Freshman guard Devon Dotson also figures to factor heavily into the point guard production, and rather than looking at Dotson as a threat, Moore views the two as allies.
"They'll have to play together some," Self said. "If they don't play together, that means one of them's going to play 30 and the other one's going to play 10. So they'll play together."
Added Moore: "We're not Devonte' or Frank, but I think we have some great players, some great young players in Devon, Quentin and myself. And we're just trying to get better every day. We're not perfect or anything like that, but we're here to win and we're here to be Jayhawks. We're excited to play, put on that uniform, and we're going to give 110 percent every day."