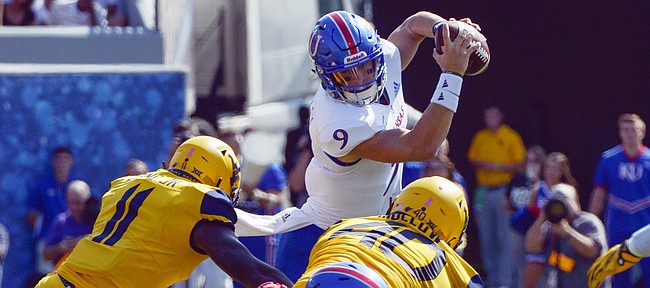 Morgantown, W.Va., holds more meaning for Carter Stanley than it does for most Kansas football players.
Stanley grew up watching West Virginia stars such as quarterback Pat White and running back Steve Slaton, with his mother, Beth, who attended WVU. Before KU's trip out east this weekend, Stanley spoke of childhood dreams about playing in Milan Puskar Stadium.
The Mountaineers' home even turned out to be the setting for Stanley's first significant contributions as a college football player. He entered in relief at WVU as a redshirt freshman in 2016 to throw for 127 yards and two touchdowns, setting him up to become KU's starting QB for the final three weeks of that season.
So few Jayhawks felt as badly about their individual performances in Saturday's 38-22 loss at WVU as Stanley, whose first-quarter struggles ultimately led to David Beaty replacing him in favor of Peyton Bender before the conclusion of the first quarter.
The first three series — the only ones given completely to Stanley until he returned for a full possession in the fourth quarter, with less than five minutes remaining and KU down 31-14 — included two turnovers, one on downs and another via interception.
It was those two drive-killing plays that disappointed Stanley more than anything else.
The first mishap came on an aggressive play call, in the opening minutes of a then-scoreless game. After a long Pooka Williams rush put KU in a 4th-and-1 situation at its own 45-yard line, Beaty opted to go for it instead of punting the ball back to the No. 9 Mountaineers (5-0 overall, 3-0 Big 12).
KU called for a zone-read play, giving either Stanley or Williams a chance at picking up the first down with their feet, but Stanley ended up fumbling the ball while pulling it away from Williams.
"It was a frustrating play, for sure," Stanley said, "just because I'm reading that defensive end and Pooka, he's got to focus on his job, I've got to focus on my job. But unfortunately, I think his glove, he wasn't really squeezing it, but his glove kind of stuck to the ball when I was trying to pull it."
The ball popped loose and bounced backward, leaving Stanley no choice but to fall on it and avoid further disaster before three closing WVU defenders got a chance to scoop it and run for a touchdown.
"If we had handed it off," Beaty said, "I think we had the first down, just based on what we were seeing. You can't miss that read. We can't miss those things. Those are things that you can't do against good teams; you can't do it against anybody in Division I football. You've got to make sure that the exchanges are never an issue."
On KU's second offensive series, WVU's David Long Jr. came into the backfield untouched and dropped Stanley for a four-yard loss when the QB tried to scramble on third down.
By the third series, KU (2-4, 0-3) trailed 14-0. On second down, Stanley spotted a receiver open, but a Mountaineer just behind the line of scrimmage skied to get his fingers on the QB's pass and the deflection headed toward defensive lineman Ezekiel Rose for an interception, KU's first of the season.
"That was tough, as well, because my read was telling me to throw the ball and I think we had a good look for it," Stanley said. "Unfortunately, it just got tipped and landed right on the guy's lap pretty much."
Stanley wouldn't attempt another pass until the fourth quarter, when he completed three of four for 14 yards. At the conclusion of his second start of the season, which was more of a cameo, his stat line read: five of eight passing, 15 yards, one interception.
Bender basically became the No. 1 QB for the remainder of the game — Beaty had no incentive afterward to declare anyone the team's starting QB moving forward, especially headed into a bye week. The redshirt senior, who didn't play at all in KU's home loss to Oklahoma State, following four consecutive starts to begin the season, completed 16 of his 25 throws for 191 yards and two touchdowns, while also throwing his first interception.
When asked whether his team had a starting QB, Beaty joked KU will "always have one," because somebody technically gets the starting nod each game.
"We'll go week to week. I think, in all fairness, let me just say this: Let me go look at the video, let me look at the tape," Beaty said, just as he did following Stanley's first start a week earlier, when the former third-stringer passed for 247 yards and three TDs against OSU. "There was so much going on on both sides of the ball today. There's no way I'm ready to announce anything like that right now."
KU plays at Texas Tech on Oct. 20, following a week off.